OSSGA Presents Student Design Awards to Landscape Architecture Students
Two groups of University of Guelph students in the Bachelor of Landscape Architecture program received awards in the Student Design Competition at the recent Ontario Stone, Sand & Gravel (OSSGA) AGM in Ottawa.
Guelph students took home both first and second place in the prestigious OSSGA Student Design Competition. A group comprised of Students Nicole Abernathy, Emilio Martinez Lara and Jenna Matthews placed first in the competition with their design, 'PollinateAir'.  The trio of Jonathan Behnke, Lisa Van Huyse and Zoe Wimmer finished second in the competition with their project 'The Forest Legacy'.
"The gravel pit rehabilitation project was a great way for our class to develop innovative solutions for a real-life site and problem," said Martinez Lara. "It also allowed us to explore a field where landscape architecture can play an important role and help accommodate the needs of the industry, the community, and the environment."
"It is reassuring to know that the members of OSSGA are open to discussing innovative ideas brought forth by students," said Behnke. "The broad array of design concepts submitted by our peers clearly demonstrate how aggregate sites can continue to provide resources to the community long after extraction has completed."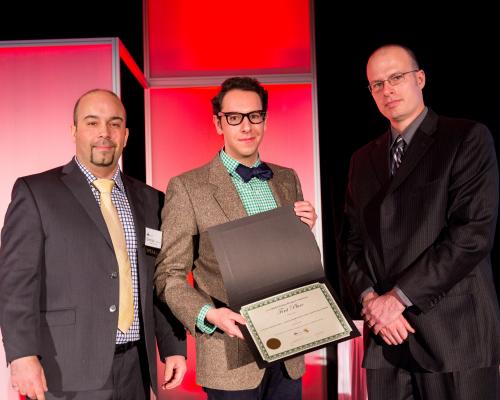 'Pollinate Air'- Student Design Award 1st place winner Emilio Martinez Lara (centre) receives first place award from George Lourenco (left) and James Gordon (right).'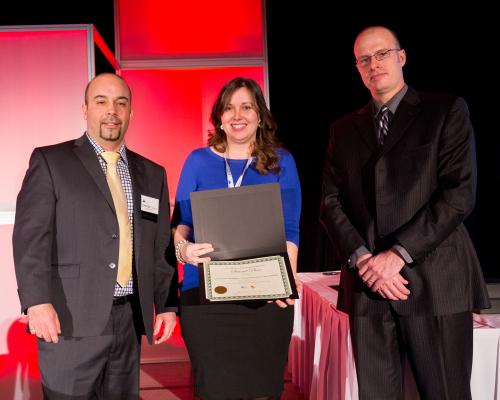 'The Forest Legacy' - Student Design Award 2nd place winner Lisa Van Huyse (centre) receives second place award from George Lourenco (left) and James Gordon (right).'
The Ontario Stone, Sand & Gravel Association (OSSGA) is a non-profit industry association representing over 280 sand, gravel, and crushed stone producers and suppliers of valuable industry products and services.  Collectively, our members supply 75% of the approximately 152 million tonnes of aggregate consumed annually in the province to build and maintain Ontario's infrastructure needs. OSSGA works in partnership with government and the public to promote a safe and competitive aggregate industry contributing to the creation of strong communities in the province.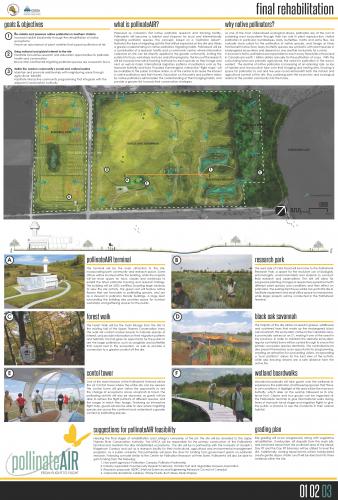 Above:  1st Place 'Pollinate Air' Design
Share this page
Find related news by keyword