SEDRD Conference: Exploring Our Potential
Graduate Students Hosted 2nd Annual SEDRD Conference
As a unique interdisciplinary department at the University of Guelph, the School of Environmental Design and Rural Development (SEDRD) brings together rural studies, landscape architecture, planning, and capacity development to look at rural development from various angles. Last year, the SEDRD annual conference served as a forum for student researchers from the four above-mentioned programs to present research, foster connections, and exchange ideas. The success of last year's conference was repeated and topped this year.
A group of three dedicated Rural Studies PhD students – Scott Brown, Sara Epp, and Simon Berge organized the second annual School of Environmental SEDRD Conference. On April 23rd and 24th, approximately 20 PhD and master's students from across SEDRD gathered in Rozanski Hall. The first day of the conference was organized as a platform for graduate students to present their research. This group of "SEDRDers", as Dr. Wayne Caldwell dubbed them, presented on topics ranging from agriculture in India to resilience in Canada, reflecting the unique and diverse nature of SEDRD.
The second day of the conference was geared towards the Rural Studies PhD Students. The proceedings of day two included keynote addresses from alumni, an information session on publishing, as well as an information session on funding. "The sessions demystified life after graduation for me and how I can turn my thesis into a book afterwards," said one participant. The conference concluded with a facilitated discussion on how SEDRDers can achieve their potential as a community of scholars and as designers, planners, and facilitators.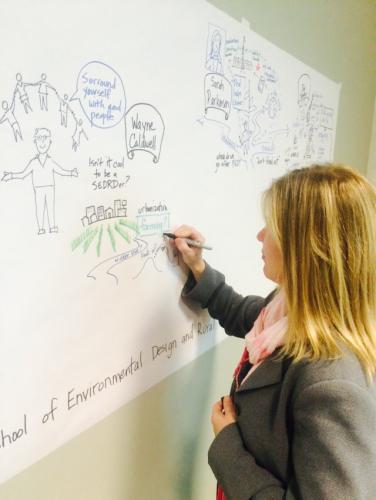 Christy Hempel drawing the moment at the 2nd annual SEDRD Conference
Christy Hempel, a Rural Studies PhD student, captured speakers and their ideas and expressed them as drawings on posters during the conference. Feeling better connected and better informed, the SEDRD graduate students left the conference with renewed commitment to their cause of creating better rural communities and a better planet. 
Share this page
Find related news by keyword