The ARC Renovations
Project Updates
SEPTEMBER 2022:
The new performance wing of MacKinnon is open! Classes, theatre performances, and music instruction are now taking place in the building. Work continues on the ImprovLab, with an expected opening date late Fall 2022.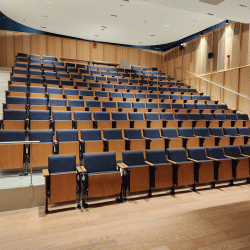 DECEMBER 2021:
Heating and cooling and lights, oh my!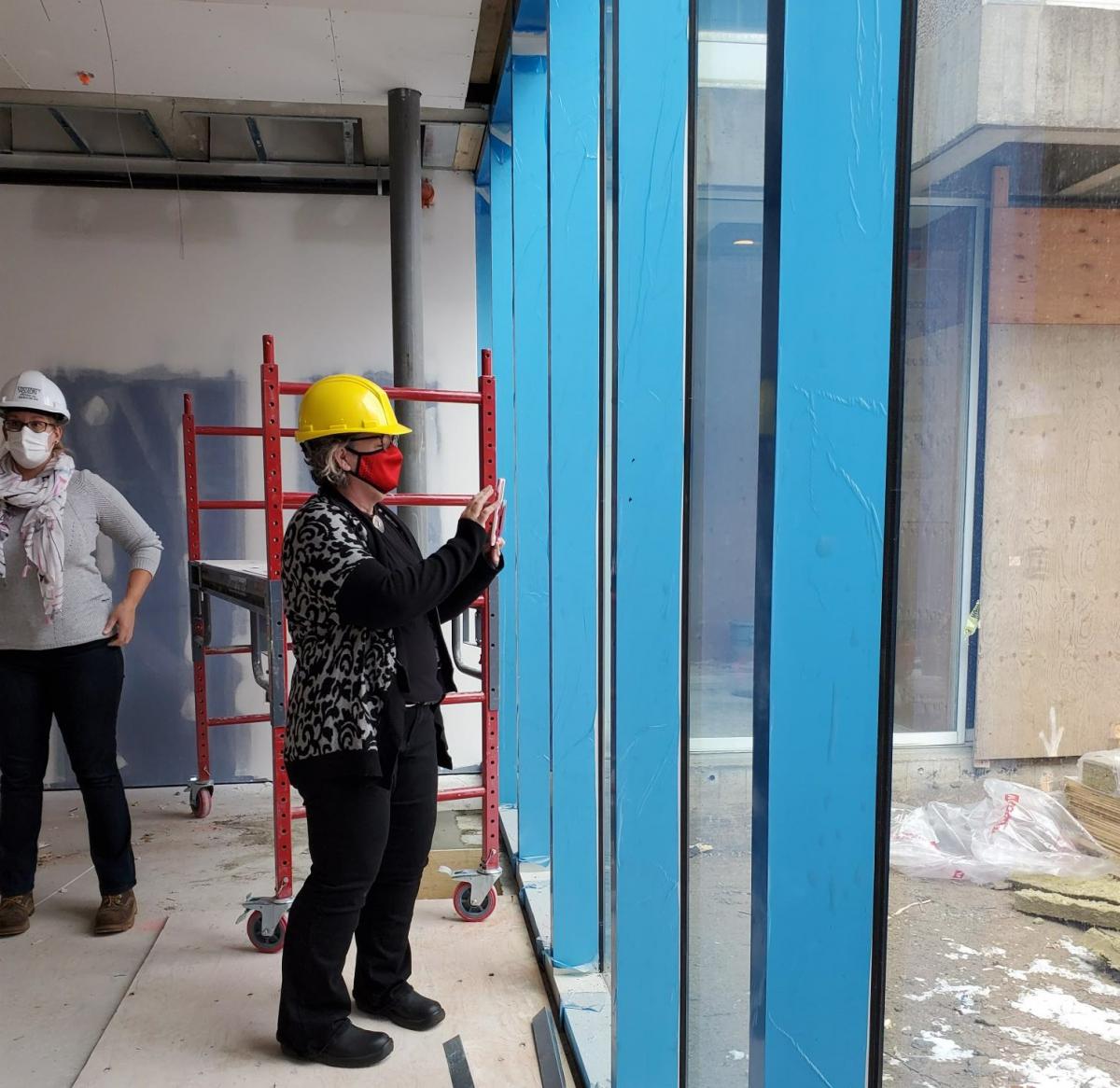 JUNE 2021:
The ImprovLab takes shape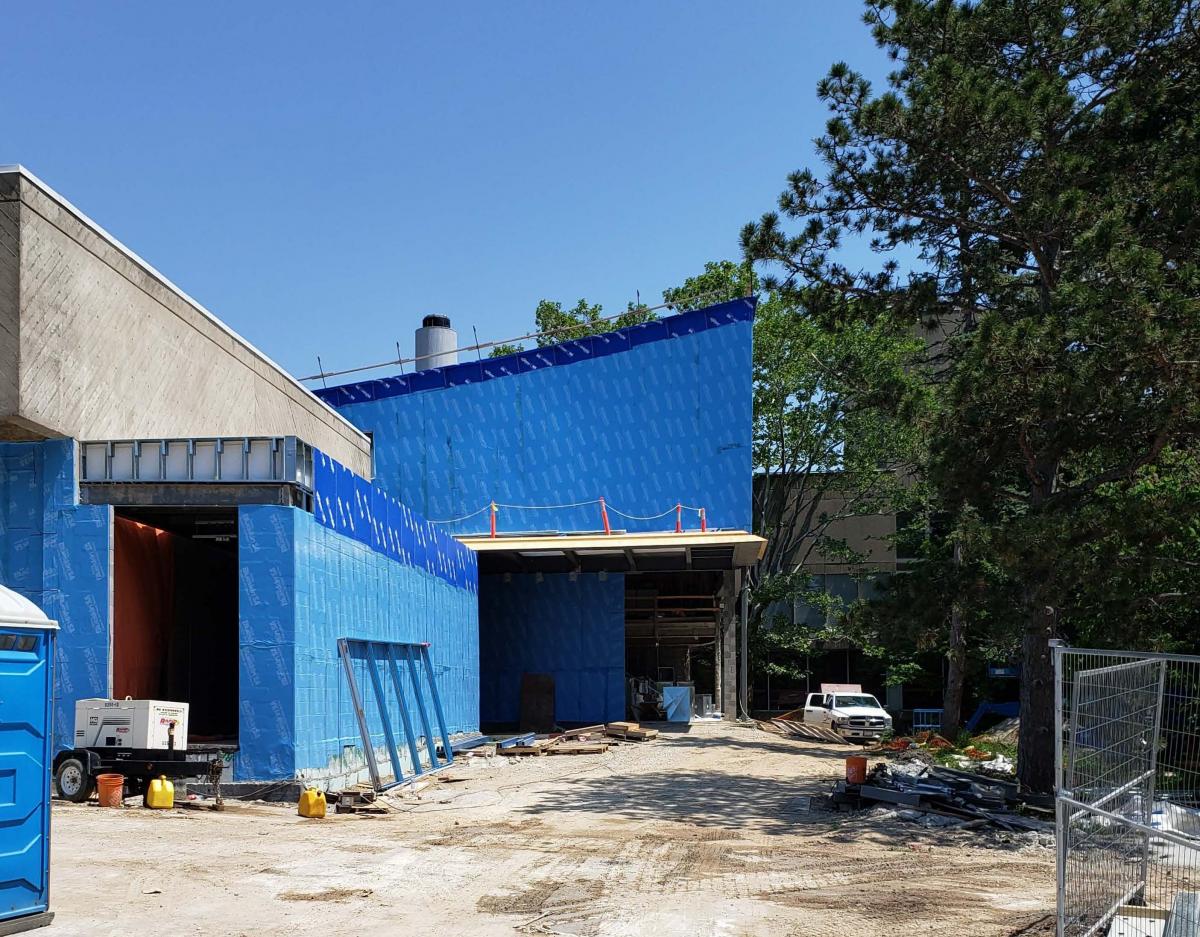 JANUARY 2021: 
Construction continues on the ImprovLab and MacKinnon Building renovations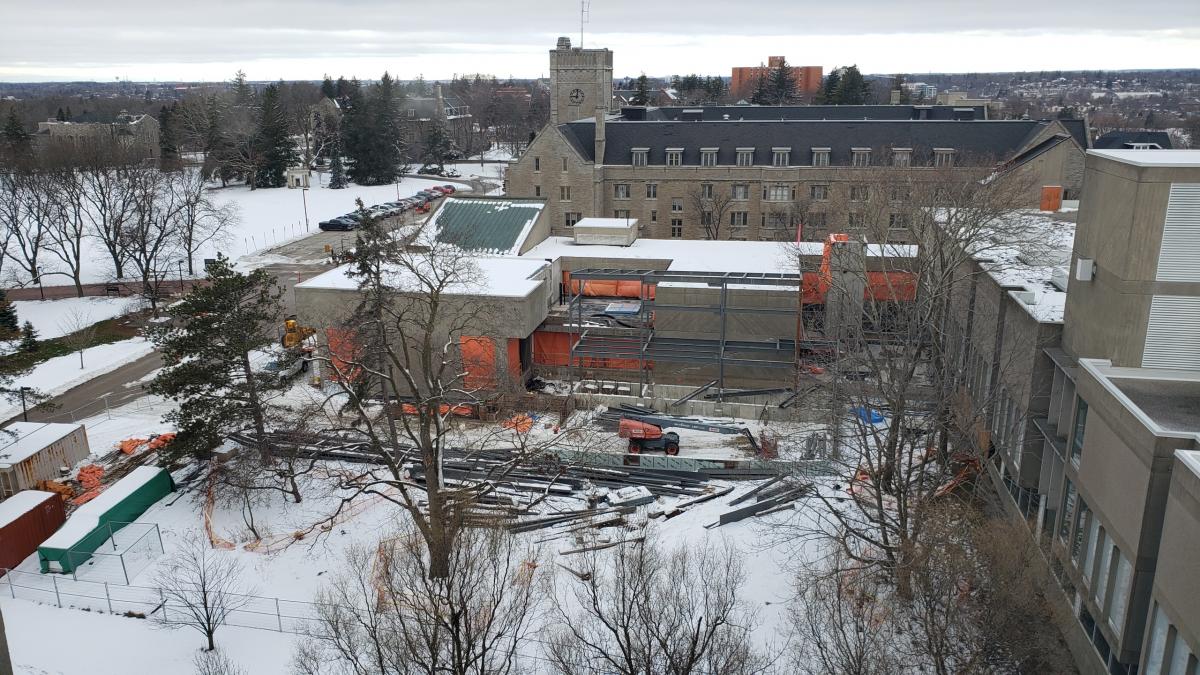 MAY 2020:
April 2020:
All MacKinnon Renovation construction activities have been paused due to the COVID-19 outbreak.
The construction site will remain closed until further notice.
2019-2020:
Construction progress can be seen in the MacKinnon courtyard as Ira McDonald Construction works on excavating for new foundations for the ImprovLab and creating space for new theatre storage in the basement of MacKinnon. Demolition is also underway in existing north wing spaces.
Details of upcoming renovation activity over the next two-weeks is available by emailing mcknreno@uoguelph.ca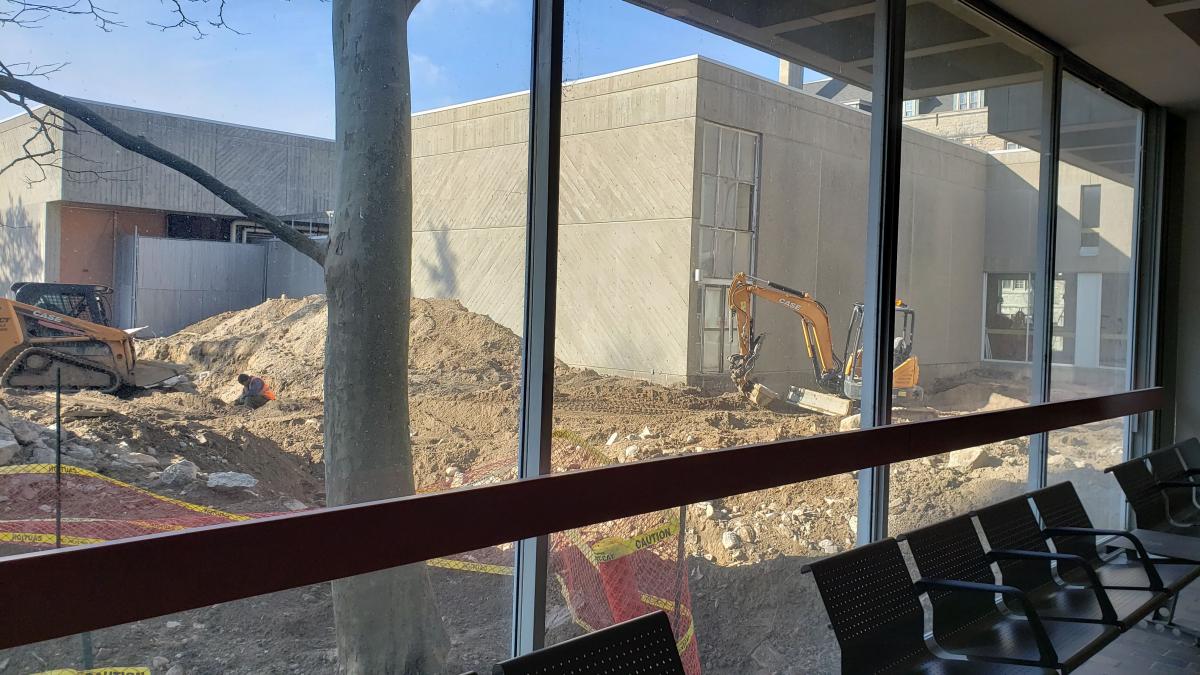 Photo Above: MacKinnon Courtyard on November 26, 2019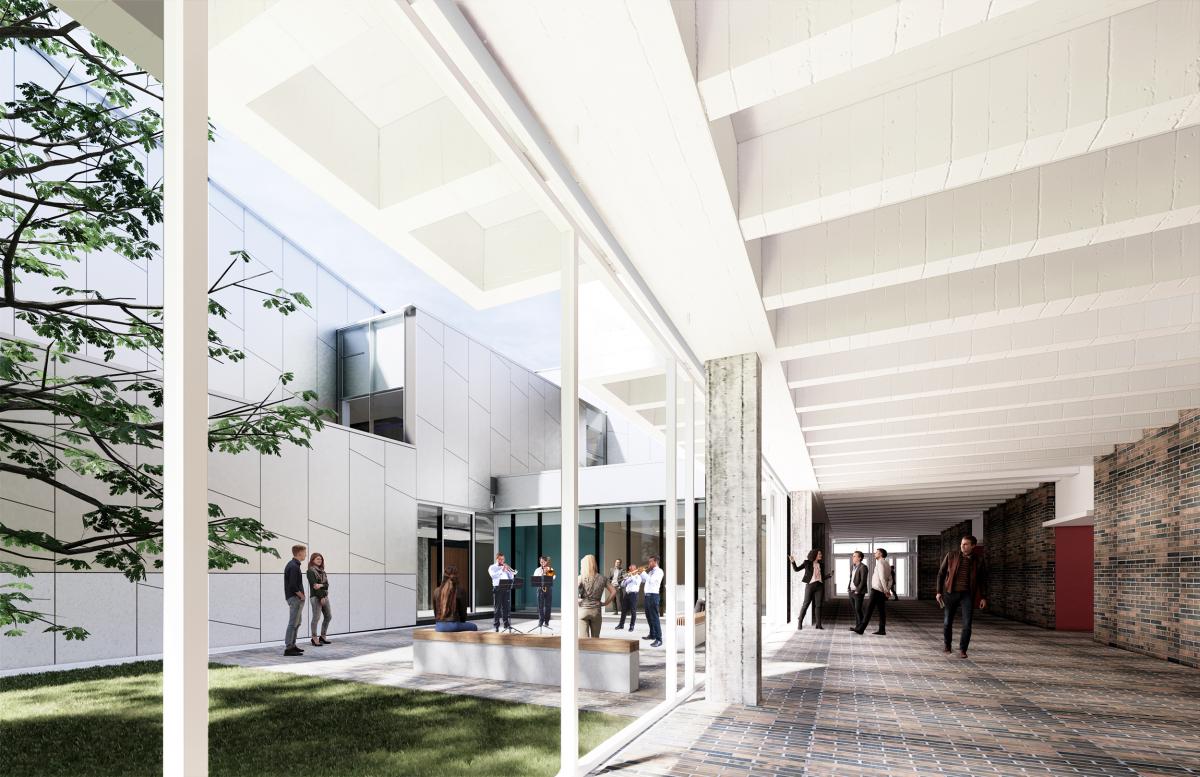 Photo Above: Artist rendering of new MacKinnon east courtyard.
Groundbreaking October 24, 2019
A groundbreaking ceremony was held on October 24, 2019 to celebrate the start of construction on the MacKinnon renovations and ImprovLab project.

Photo (left to right): Ajay Heble (Director, International Institute for Critical Studies in Improvisation), Franco Vaccarino (President, University of Guelph), Dieter Janssen (Architect, Diamond Schmitt Architects), Samantha Brennan (Dean, College of Arts)
Open House January 25, 2019
Diamond Schmitt Architects presented at a second open house event on Friday, January 25th, 2019. For individuals who were unable to attend in person, a link to the Open House presentation that was delievered is provided below.
Presentation - MacKinnon Renovation Open House January 2019
Overview 
The MacKinnon Building was constructed in 1967 and is located in the heart of campus. It houses, among other facilities, the College of Arts and the International Institute for Critical Studies in Improvisation (IICSI).  
Diamond Schmitt Architects (https://dsai.ca) have been engaged to support renovations to the MacKinnon Building. The project has obtained funding and approval to: 
Construct improvements to the north wing of the MacKinnon Building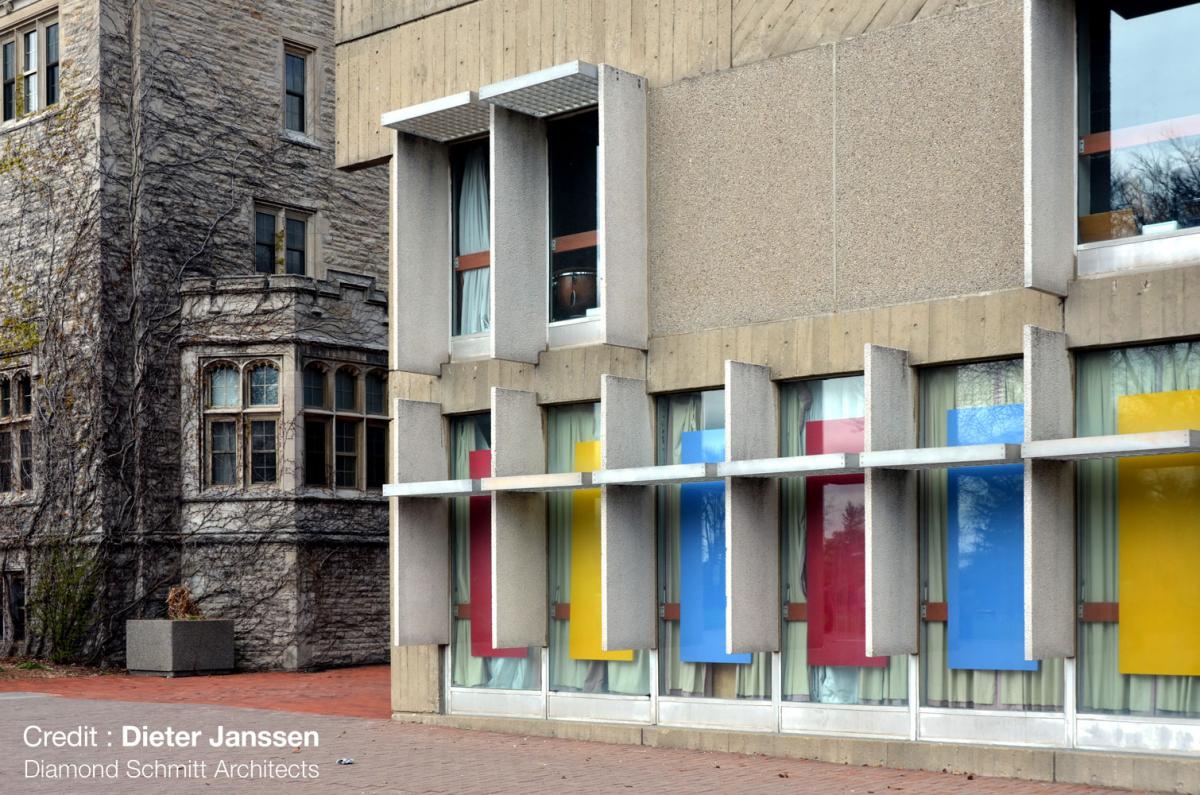 Renovations will take place across approximately 45,000 SF in the north wing of the MacKinnon Building, which currently houses performing arts. The improvements are expected to include an elevator, the addition of a new main entrance, the creation of student spaces, reconfiguring and returning the Luscombe Theatre to a black-box performance space, new practice spaces, and reworking existing spaces to address acoustical issues and provide aesthetic updates. 
 
Build a CFI-Funded ImprovLab  
IICSI is a central source for the collection and dissemination of research on improvised creative practices that is centered at the University of Guelph. The ImprovLab will be a publicly accessible multi-use research lab for the presentation, broadcast, archiving, and analysis of improvised performance, community workshops, and audience reception studies across a variety of media. The new facility will provide a space for researchers to collaborate with each other, the university population, and the broader community. It will provide a flexible research environment that can create a variety of arrangements for audience seating and research participation. The ImprovLab is supported by the Canada Foundation for Innovation.
Project Phases & Timelines 
Project management is supported by Physical Resources at the University of Guelph. There are several phases of the project, as detailed below. 
Schematic Design: February-May 2018 - Complete
The schematic design phase considers user requirements and goals. Schematics identify the scale of spaces and the relationships between those spaces. In this phase, users consider space usage and size, storage requirements, occupancy requirements, and other space needs to inform the development of the design schematics.
Schematics have been developed in consultation with stakeholders and have received approval from the University's Board of Governors. 
Design Development: April-December 2018 - Complete
The design development phase draws on the schematic designs and drills down deeper into the requirements for the individual spaces identified. Individual room requirements will be identified, including room setup, A/V, acoustical needs, seating, and aesthetics. Identified stakeholders will be involved in determining specific room requirements. 
Construction Documents: June-April 2019 - Complete
In the development of construction documents, an even greater level of detail was identified. This phase produced the tender documents. All drawings and specifications of the building are finalized in this phase of the project.
Construction in MacKinnon Basement: Winter 2019 - Complete
A renovation project in MacKinnon 026 and 026B was completed in winter 2019 to construct new facilities for a research lab that will be displaced due to the north wing renovations. 
Construction in Massey: January- November 2019 - Complete
Massey Hall will undergo renovations from January-November 2019 to provide physical accessibility to the building. This includes the addition of a elevator and accessible washrooms. In addition to other on-campus facilities, Massey Hall will be used as classroom and rehearsal space for the Theatre program during the MacKinnon renovations.
Construction in the MacKinnon North Wing: start date October 2019 - Ongoing
Construction will begin in October 2019 to create the foundations and enclosure of the new building. The construction phase also involves implementation of the plans for moving existing classes, performances, and users of the north wing to alternate locations. These arrangements may also be phased as contractors begin the renovation work. Planning is underway to determine when and where relocations will take place, and updates will be included on this webpage and disseminated to user groups as they become available.​
Anticipated Completion - Fall 2022
The project's anticipated completion date is late fall 2022. Classes are expected to resume in the north wing of the building in the fall term 2022.
Note: Due to the COVID-19 related shutdown of construction sites, the project completion date will be delayed. More information will be posted about the new schedule once further details are available.
Previous Open House - February 2018 
Diamond Schmitt Architects presented at an Open House on Tuesday, February 6th, 2018 from 1:00 – 2:00 pm in MacKinnon 107. 
For individuals who were unable to attend in person, a link to the Open House presentation that was delievered is provided below.
MacKinnon Renovation Open House PowerPoint Slides
How do I provide input?  
Consultations have been undertaken with faculty, staff, and students and focus groups have been held to identify key space needs. Design development began in April and May 2018, and has identified specific room requirements in consultation with key users of the planned spaces. Individuals who are not taking part in focus group sessions are welcome to direct feedback to mcknreno@uoguelph.ca. Diamond Schmitt Architects will also provide updates through Open House sessions. 
Make a gift to the MacKinnon Renovation Fund
 To make a financial contribution to the College of Arts MacKinnon Renovation Fund click here
Contact Information
Please email kthorne@uoguelph.ca with any questions or comments.
---
More details
The MacKinnon Building's architectural legacy
Josep Lluís Sert
Brutalism
The ImprovLab is supported by the Canada Foundation for Innovation