MacKinnon Renovations
Overview 
The MacKinnon Building was constructed in 1967 and is located in the heart of campus. It houses, among other facilities, the College of Arts and the International Institute for Critical Studies in Improvisation (IICSI).  
Diamond Schmitt Architects (https://dsai.ca) have been engaged to support renovations to the MacKinnon Building. The project has obtained funding and approval to: 
Construct improvements to the north wing of the MacKinnon Building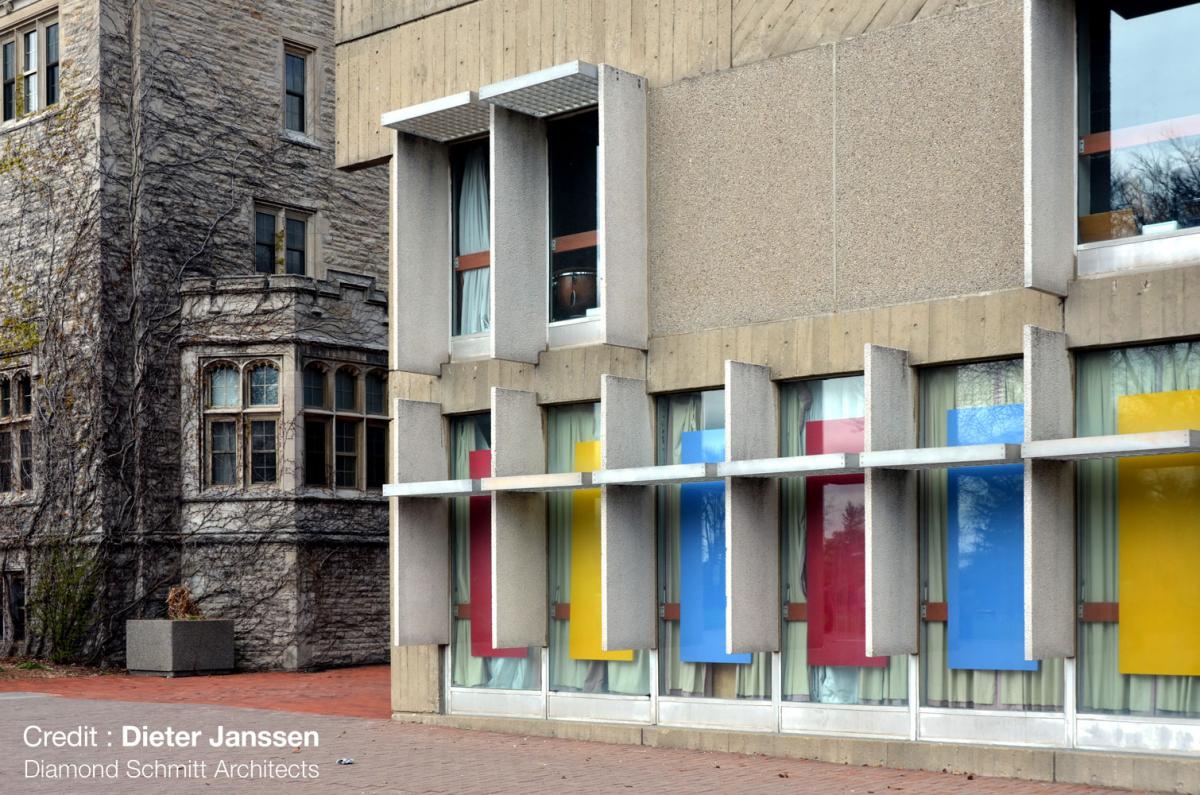 Renovations will take place across approximately 45,000 SF in the north wing of the MacKinnon Building, which currently houses performing arts. The improvements are expected to include an elevator, the addition of a new main entrance, the creation of student spaces, reconfiguring and returning the Luscombe Theatre to a black-box performance space, new practice spaces, and reworking existing spaces to address acoustical issues and provide aesthetic updates. 
 
Build a CFI-Funded ImprovLab  
IICSI is a central source for the collection and dissemination of research on improvised creative practices that is centered at the University of Guelph. The ImprovLab will be a publicly accessible multi-use research lab for the presentation, broadcast, archiving, and analysis of improvised performance, community workshops, and audience reception studies across a variety of media. The new facility will provide a space for researchers to collaborate with each other, the university population, and the broader community. It will provide a flexible research environment that can create a variety of arrangements for audience seating and research participation. 
Project Phases & Timelines 
Project management is supported by Physical Resources at the University of Guelph. There are several phases of the project, as detailed below. 
Schematic Design (February-May 2018)
The schematic design phase considers user requirements and goals. Schematics identify the scale of spaces and the relationships between those spaces. In this phase, users consider space usage and size, storage requirements, occupancy requirements, and other space needs to inform the development of the design schematics.
Draft schematics have been developed in consultation with stakeholders and are pending approval from the University's Board of Governors. Final plans will be shared following this approval process.
Design Development (April-May 2018)
The design development phase draws on the schematic designs and drills down deeper into the requirements for the individual spaces identified. Individual room requirements will be identified, including room setup, A/V, acoustical needs, seating, and aesthetics. Identified stakeholders will be involved in determining specific room requirements. 
Construction Documents (June-October 2018)
In the development of construction documents, an even greater level of detail will be identified. This phase produces tender documents. All drawings and specifications of the building will be finalized in this phase of the project.
Construction (Begins December 2018)
Construction will begin in December 2018 on the ImprovLab facility. The construction phase also involves implementation of the plans for moving existing classes, performances, and users of the north wing to alternate locations. These arrangements may also be phased as contractors begin the renovation work. Planning is underway to determine when and where relocations will take place, and updates will be included on this webpage and disseminated to user groups as they become available.​
Open House February 2018
Diamond Schmitt Architects presented at an Open House on Tuesday, February 6th, 2018 from 1:00 – 2:00 pm in MacKinnon 107. 
For individuals unable to attend in person, a link to the Open House presentation is provided below. 
MacKinnon Renovation Open House PowerPoint Slides
A second open house event will be scheduled following the approval of the schematic designs. Stay tuned for a confirmed date.
How do I provide input?  
The first phase of the process is the development of schematic designs. Consultations have been initiated with faculty, staff, and students and focus groups have been held to identify key space needs. Design development will begin in April and May 2018, and will identify specific room requirements in consultation with key users of the planned spaces. Individuals who are not taking part in focus group sessions are welcome to direct feedback to mcknreno@uoguelph.ca. Diamond Schmitt Architects will also provide updates through Open House sessions. The next Open House will take place following the approval of the draft schematic designs (date TBD). 
Contact Information
Please email mcknreno@uoguelph.ca with any questions or comments.
---
More details
The MacKinnon Building's architectural legacy
Josep Lluís Sert
Brutalism