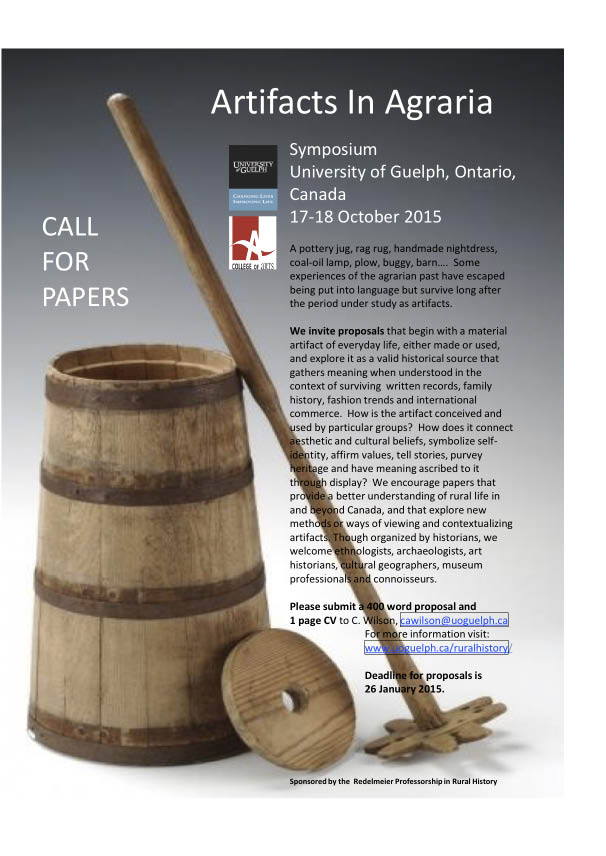 Call For Papers: Artifacts in Agraria Symposium
University of Guelph, 17-18 October 2015
A pottery jug, rag rug, handmade nightdress, coal-oil lamp, plow, buggy, barn…. Some experiences of the agrarian past have escaped being put into language but survive long after the period under study as artifacts.
We invite proposals that begin with a material artifact of everyday life, either made or used, and explore it as a valid historical source that gathers meaning when understood in the context of surviving written records, family history, fashion trends and international commerce. How is the artifact conceived and used by particular groups? How does it connect aesthetic and cultural beliefs, symbolize self-identity, affirm values, tell stories, purvey heritage and have meaning ascribed to it through display? We encourage papers that provide a better understanding of rural life in and beyond Canada, and that explore new methods or ways of viewing and contextualizing artifacts. Though organized by historians, we welcome ethnologists, archaeologists, art historians, cultural geographers, museum professionals and connoisseurs.
Please submit a 400 word proposal and 1 page CV to C. Wilson, cawilson@uoguelph.ca
For more information visit: www.uoguelph.ca/ruralhistory/
Deadline for proposals is 26 January 2015.
Sponsored by the Redelmeier Professorship in Rural History