MFA graduate wins $30,000 Joseph Plaskett Award in Painting
Recent graduate of the Master of Fine Art program, Azadeh Elmizadeh, is the 2020 recipient of the Joseph Plaskett postgraduate award in painting.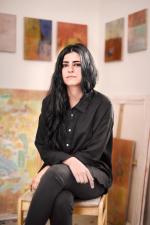 "I am truly honoured to be the recipient of the 2020 Plaskett award," says Elmizadeh. "Thank you to the Joe Plaskett Foundation and the jurors for supporting the painting practice of many emerging artist."
Elmizadeh's work has been described as a delicate balance between the historical and the new, with her complex palettes and masterful approach through simplicity (Canadian Art).
"The School of Fine Art and Music is delighted that Azadeh Elmizadeh has received the 2020 Joseph Plaskett Award," says Martin Pearce, Director of the School of Fine Art and Music. "Ms. Elmizadeh is an extraordinary painter and the school offers her their warm congratulations. This is the second consecutive occasion and fourth time in the last ten years that University of Guelph MFA students have been recognized with this most prestigious award."
"I'm delighted -- but not surprised! -- that one of our UofG MFA graduates has received the Joe Plaskett Award," says Dr. Samantha Brennan, Dean of the College of Arts. "Our world-class faculty and the calibre of graduate students contribute to the excellence of the MFA Studio Art program at the University of Guelph. Many congratulations to you, Azadeh, on this immense achievement."
Established in 2004, the Joe Plaskett Foundation began selecting an outstanding emerging Canadian painter as the recipient of the prestigious award. The $30,000 award allows the freedom to create art or travel throughout Europe for a required minimum of six months. Elmizadeh will be taking this opportunity to develop her practice in Europe for six months, once international travel is permitted. "I intend to base my studio practice in Berlin," says the artist, "where I will have access to the significant collection of Persian manuscripts at the Islamic art museum in Germany. I […] will continue to explore my research interests with visits to the Bibliothèque Nationale de France and the Victoria and Albert Museum in England."
Prior to her completion of the MFA program at Guelph, Elmizadeh completed her Bachelor of Fine Arts at OCAD University, as well as a Bachelor's degree in Visual Communication and Graphic Design at the University of Tehran, Iran. In the Fall of 2020, Elmizadeh launched her solo exhibition titled "Subtle Bodies" at the Franz Kaka Gallery in Toronto. Her work has been featured in galleries across Toronto, the Greater Toronto Area, Guelph, and Tehran.