Juried Art Show & Silent Auction
Location
Boarding House Gallery, 6 Dublin St. South, downtown Guelph, Ontario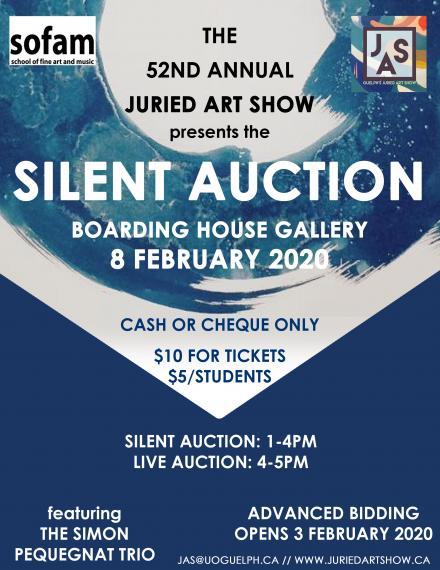 Details
The School of Fine Art and Music invite everyone to attend their annual Juried Art Show Silent Auction.  The benefit auction is open all week at the Boarding House Gallery.  There are over 100 artworks to bid on, including pieces from SOFAM's faculty, undergraduate and graduate students.  The Silent Auction acts as the main fundraiser for the Juried Art Show where all proceeds go back to the students, predominantly through student awards.
Advanced bidding is open Monday, February 3 to Friday, February 7 from 12:00 pm to 5:00 pm daily.
The Live Auction runs from 4:00 pm to 5:00 pm with live music featuring The Simon Pequegnat Trio. The Trio will perform from 1:00 pm to 4:00 pm.
Tickets are available at the door; $10 for general admission and $5 for students. Only cash and cheque payment will be accepted. 
Don't miss your chance to purchase an original piece of artwork! All are welcome!