Lucy-Mae Von Sichartshofen Schenk - Published Author and Hotel and Food Administration Student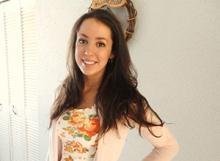 Every year The College of Management and Economics proudly welcomes first year students and endeavours to help them become life-long learners through applied learning opportunities.  Many students embrace the challenges set by CME and prove themselves both academically and professionally.  As a first year Hotel and Food Administration co-op student, Lucy-Mae Von Sichartshofen Schenk personifies CME's values and brings a lot to the table considering she published her first novel at the age of fourteen. 
As a young girl, Lucy was fascinated with literature and expressed her creative side through writing. Initially, she wrote short stories and poems until a classroom assignment reading The Outsiders led her to write her own book. Lucy was inspired by the author and her portrayal of various issues, and she began to formulate her own story, Outcast. Her book follows a fourteen year old boy who lives in a group home and struggles on a daily basis at school. With the help of an older friend and a girl he meets in class, the boy is able to learn the meaning of love and friendship. Although Lucy's story originated as a fun project, her mother encouraged her to publish the book using a self-publishing company.
Upon finishing the book, Lucy focused on her studies in high school and soon discovered her talents in math and finance. She quickly realized her interest in the financial aspect of hotel administration and began to search for programs offered in Canada. Impressed with the cooperative education major in Hotel and Food Administration offered by CME, Lucy toured the campus and quickly fell in love. 
Lucy plans to take two years of courses before completing a one year co-op term as part of the Hospitality and Tourism Management program. According to Lucy, "I love the sense of luxury and cleanliness guests feel when staying at hotels. I hope to contribute to this experience by working with people on a regular basis in a hotel setting. I chose the co-op major because I wanted to graduate with both fundamental and working knowledge of the hotel industry." 
Along with her academic pursuits, Lucy is employed by Alumni House and she hopes to work at a resort in Alberta this summer. Lucy states, "I would love the opportunity to travel and work in various countries including Greece and Germany. I hope to begin my travels this summer by working in Alberta." Lucy also plans to become a student representative next year and hopes to get more involved with student organizations on campus.
Although Lucy is focused on her academic career at the moment, she would like to create a collection of poems one day that describes her life experiences.
Share this page
News Topics