MAR 4: Reading Week in Costa Rica
During Reading Week 2013 Prof. Justin Taillon and a group of HTMers visited Costa Rica to research best practices in hospitality and tourism sustainability.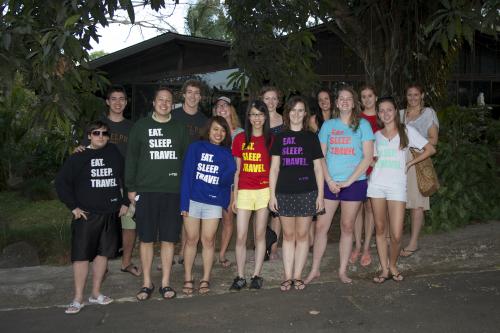 The trip focused on CST, INA, and ICT sustainability certifications earned by tour guides, restaurants, tourism establishments, and hotels. The group's tours also included adventure tourism activities such as snorkelling in the Caribbean and zip-lining through rainforest canopies, eating local cuisines, interviewing hospitality industry owners and managers, hiking through rainforests in search of monkeys, macaws, pit-vipers, and many other animal species of Costa Rica, and enjoying the beaches of Costa Rica's Caribbean coastline.

In true HTM fashion the group celebrated their final evening in Costa Rica with a picture featuring best practices in hotel, restaurant, and tourism (while OF COURSE wearing their "Eat. Sleep. Travel." shirts). This picture was taken on the grounds of a three-leaf certified hotel in San Jose, in front of a banyan tree, with a three-leaf restaurant in the background. The trip will be taken again during the Reading Week 2015 semester - you can begin preparing immediately!  
Share this page
News Topics