Professor Introduces New Column in Magazine
On April 18th, a group of students along with Professor Taillon attended the HFTP Regional Conference at the Marriott on Yonge Street in Toronto. The all-day event featured speakers and hotel industry professionals from all over Eastern Canada: from Toronto and Ottawa to Montreal and Halifax. Session topics included best practices in cash handling procedures, leadership, team-building, and management strategies for the hotel industry's multi-generational workforce.

Professor Taillon and the student attendees had an opportunity to thank the Ontario Chapter of HFTP for the help they have provided students over the past two years. Their dedication to the University's student chapter has allowed students to attend HFTP's Annual Conference in Baltimore and Minneapolis (and Los Angeles and Austin in the coming two years), attend monthly events in Toronto, and hold annual team-building pizza parties on campus.

Professor Taillon was also able to introduce his new column in The Bottomline magazine, a quarterly industry publication from HFTP. His column in The Bottomline, which has a circulation of approximately 10,000, will highlight student chapters from around the world; the article will place an emphasis on student achievements and opportunities.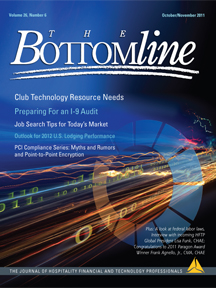 Share this page
News Topics