UGSRP's Annual Forum Featured in Guelph Daily Mercury
UGSRP's annual forum was held last Thursday evening, which featured Jonathan Bloom, Author of 'American Wasteland', Robin Poirier of Ocean Wise and HTM's Bruce McAdams. Catch highlights in the Guelph Daily Mercury article.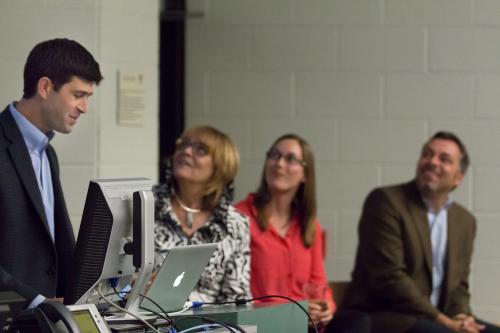 GUELPH — On one hand, 870 million people in the world go hungry. On the other hand, about a third of the food produced globally is wasted.
"If we redistributed two per cent of that waste, we could end hunger," said noted author Jonathan Bloom at a lecture at the University of Guelph Thursday night.
Sadly, that is not the case and Bloom outlined in detail how food waste begins at the farm, continues at the grocery store, and ends in restaurants and our own kitchens. It's a systemic problem, brought about in large part because consumers want their food to look perfect.
Bloom spoke to about 100 students, staff and community members at the invitation of the Sustainable Restaurant Project, an initiative of Prof. Bruce McAdams.
On the farm, food waste is often on purpose.
Fruit that is too small or misshapen is often considered unsellable and left to rot on the ground. Some of this discarded produce can be used as ingredients in soups, juices, and sauces where the imperfections aren't visible.
But a lot of food is discarded for the way it looks, Bloom said.
A percentage of food is lost in transit as well, but a good deal more because of 'best before' dates, Bloom said.
He said his first job was at a grocery store where his job was to go through shipments and throw away any food past the 'sell by' date stamped on the package.
"You still have seven to 10 days after the 'sell by' date when the food is safe to eat," Bloom said. "But stores would rather toss it than be seen as selling expired food."
There's a lot of food waste in restaurants, Bloom said, from customers who don't eat all their dinner to untouched bread baskets that can't be re-served, to cooking more food than necessary and not planning to reuse leftovers the next day.
We all know about food waste in our own kitchens. Bloom said about a quarter of the food we buy winds up in the garbage.
"We need to curb food waste because there are tragic outcomes, ethically, environmentally and economically. The juxtaposition of hunger and waste is morally callous," Bloom said.
Bloom provided the following statistics:
•870 million people in the world are hungry.
•one-third of the food produced globally is squandered. In dollars, that's $750 billion worth of food wasted globally, $240 billion in the United States.
•four per cent of the energy used to produce food, is for food that is not used.
•one-quarter of the water used to produce food, is for food that is not used.
•97 per cent of food scraps goes to landfill or an incinerator
Households are the largest source of food waste, he said, so everyone can play a part in reducing it.
Bloom said we should plan our meals ahead of time, buy what we need, store it correctly, cook the right amount, eat our leftovers, and compost and recycle as much as possible.
But not only food waste is generated in the food industry. Bruce McAdams has been investigating takeout packaging and the amount of waste it generates.
A McDonald's Happy Meal comes with 140 grams of food and 120 grams of packaging. The waste from 12 takeout meals is enough to fill half a clear garbage bag.
"Polystyrene is cheap and compostable containers are expensive," McAdams said. "Restaurants are regulated by the health inspector. No one is checking what goes down the drain or in the garbage."
Robin Poirier an account representative for Ocean Wise, explained how her organization helps consumers understand when fish has been caught in a sustainable way.
Fish caught using bottom trawlers, which scrape everything off the bottom of the ocean, or long lines, that often catch more than the intended catch, are not sustainable fishing practices, she said.
Ocean Wise has a recognizable symbol and when you see it on menus, you know low impact fishing methods have been used.
"There is a global loss of seafood. And if we don't change our methods by 2048, we'll be out fish," she said.
By Joanne Shuttleworth
Share this page
News Topics