HAFA Grad Competes on Chopped Canada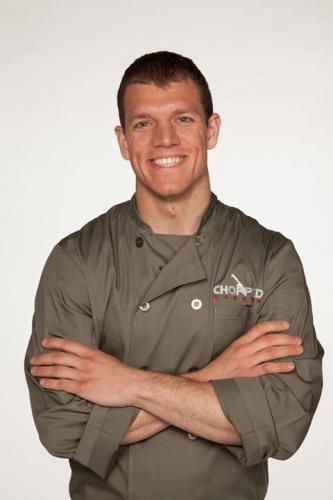 Our very own HAFA grad, Daniel Janetos will be competing against three other Chefs tonight on Chopped Canada!  Congratulations Dan!
Full Mercury Story
By Valerie Hill
WATERLOO — From the time he was a little kid, Daniel Janetos inhabited his mother's kitchen.
"I've cooked ever since I can remember and my mom supervised," said the Waterloo-born chef, who now lives in Toronto where he runs a commercial catering service and a handcrafted crème brûlée business. He is also much in demand as a food stylist, chef, consultant and more recently a reality television star.
Janetos appears tonight on the Food Network's reality show Chopped Canada, which pits four chefs against each other as they scramble to make three courses using surprise and often weird ingredients. At the end of each course, judges eliminate one chef. The winner will be the last chef standing following the dessert round.
"It's like being inside a TV, it's surreal," he said of the experience, even though this wasn't his first time in front of a camera.
Janetos was also the chef on another reality show, Junk Raiders 3, which challenges the show's work crew to remodel a space using found objects, ie: junk. In one season, the crew remodelled restaurants, which is where Janetos' skill came into play as he guided the transformation.
Being asked to use his cooking skills in front of the camera is not much different than being in the kitchen, Janetos said. Both roles are very exciting, edge-of-your- seat stuff and it seems Janetos has spent his life looking for the exciting and the challenging.
Raised in Waterloo, he loved going to the St. Jacobs farmers' market with his mother. She worked for one of the vendors and loved to cook Mennonite-style home cooking, using locally sourced ingredients and meat from ethically treated animals.
At 14, Janetos took a job as a restaurant dishwasher, all the time absorbing what the chefs were up to, building his own skill levels and passion for cooking through observation. Yet becoming a chef was not at the top of his list.
"I wanted to be a professional football player," he said. "My brother was good in sports, we have a lot of natural athletes in the family. I thought my destiny was in football but I wasn't getting played in university." Suffering from severe asthma and allergies didn't help.
Janetos was at the University of Guelph studying hotel and food administration when he realized he would have to switch gears. It shook his world.
"If I'm not going to be in football, what will I do?" he wondered.
Brimming with self-confidence and perhaps a bit of bravado, he decided to find a summer job as a waiter in one of the best restaurants in Canada and ended up choosing the five-star Banffshire Club, at the Fairmont Banff Springs hotel, even though he had zero experience.
Intending to dazzle his prospective employers with his creativity, Janetos wrote to them with some innovative ideas. His bosses must have been impressed because at only 21, he was hired and ended up being the youngest waiter the luxurious old club had ever employed.
Share this page
News Topics