HAFA Student Samantha Young Named Gryphon Athlete of the Week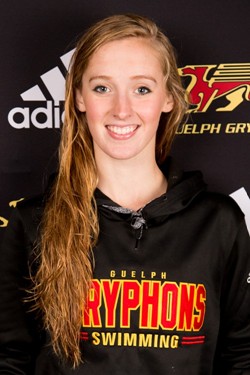 Guelph Gryphon and HAFA student Samantha Young is one of the new faces on the OUA swimming circuit.  This past weekend in St. Catherine's she proved to be one of the strongest competitors in the province.
Samantha won all three of her individual races this past Saturday at the Brock Inviational.  Sam won the 50 meter freestyle in stellar fashion, dominating the pool and winning the event by over a full second clocking in at 26.80, however just missed out by 2/100ths of a second on the CIS qualifying time. Sam also won the 100 freestyle in a best time of 59.80, and in the 200 meter backstroke beat the second place opponent by 14 seconds. Samantha did all this after coming off the previous weekend at the OUA divisional championships where she posted the best times in four different events. Sam was part of the previous weekend's women's team who placed third at the divisional championships, a fantastic placing as this division hosts the top 1/2 of the OUA.
Samantha will be heading to Florida for a 10 day training camp (Dec 13-23).
Congrats Samantha!
Share this page
News Topics