Spotlight on Co-operative Education: Q&A with HAFA alum Nicole Jackson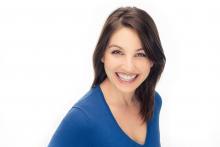 Only four years after graduating with her HAFA (Co-op) degree, Nicole Jackson is managing events at one of the most exclusive event spaces in Toronto - Malaparte. Owned by Oliver & Bonacini (O&B), Malaparte is located on the sixth floor of the TIFF Bell Lightbox and often hosts luxurious events, including celebrity parties during the Toronto International Film Festival. In addition to rubbing elbows with famous faces, Nicole simply loves her work.
In this Q&A, she talks about her co-operative education experience and how her placement with O&B transformed into the job opportunity of a lifetime.
In your opinion, what are the key advantages to co-operative education?
Co-op education gave me an edge over my competition. Before the co-op interview process, I received resume writing support and interview prep skills that I found very effective. 
The placement offered me relevant work experience in my industry. The training seminars, certification, and real life job skills I added to my resume were invaluable. 
I built a valuable network of contacts in my industry. I made connections that helped me secure a position following graduation.
What drew you to the HAFA program at the University of Guelph?
I fell in love with the University of Guelph campus on my first visit and I applied to the HAFA major because I loved to travel. I imagined working in hotels abroad and experiencing new cities. After reading the curriculum, I realized that the program offered opportunities to learn about other areas of the industry that I hadn't considered. Those opportunities excited me and secured my choice.
What did your co-op placement entail?
My co-op position with O&B included six months working through all of the Front of House positions at Biff's Bistro, followed by six months completing a management training program at the O&B Café Grill in Bayview Village, Toronto. While at Bayview, I became a part of the O&B Café Grill Oakville restaurant opening team, where I assisted in the entire recruitment, selection and training process. Also during my co-op, I was invited to a Chef/GM meeting, attended two management training seminars, and received my Wine & Spirit Education Trust (WSET) Intermediate Certificate.
What are the most important lessons you took from your co-op placements?
The co-op placement exposed me to the real world expectations of a manager, and the reality of the industry I was choosing to enter. There is no such thing as a 9 to 5 management job in the real world, 50 to 60 hour weeks are more realistic, and weekends don't always exist. 
The co-op placement also reinforced my passion for the industry, confirmed my goals and sharpened my focus once I returned from the placement.
How did co-operative education help you in landing your current role?
Being on a new restaurant opening team with O&B gave me the chance to make valuable connections, which led to opportunities in other restaurants the summer after my co-op was complete. Just as my fall semester at Guelph was about to begin, I jumped at the chance to join the opening team of O&B's Waterloo restaurant, and worked there as a key employee until graduation. 
After I completed my degree, it was an easy decision to continue growing with O&B, although I decided to shift my focus to events. O&B was expanding its event operations and within a year I joined the O&B events team. 
Could you briefly describe your current job in your own words?
As the events manager of Malaparte, I am responsible for operating the venue and leading my team through the execution of events. We take care of all setup and tear down and provide full bar service, from wine selection to custom cocktails. Our in-house kitchen is the exclusive food service provider of the space. Our ballroom and rooftop terrace are ideal for exclusive cocktail receptions, corporate dinner parties, luxurious weddings, and star-studded soirées. During the film festival, we cater to the stars in their exclusive lounge, and we are host to a number of film premiere events. I can truly say that I love my job!
What advice you would give students considering co-op?
The thought of taking a year away from school and friends can be scary, but taking that year to develop industry skills, knowledge and connections is well worth it. When considering co-op placements, don't be afraid to take a chance on a work placement outside of your comfort zone. And while on your placement, remember that the time will pass quickly so take advantage of every minute.
Share this page
News Topics