Spotlight on Co-operative Education: Q&A with HAFA alum Kai Raphael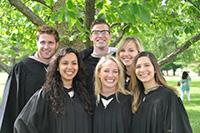 When guests of the new Delta Hotel Toronto enter the brand new glass-covered high rise in the heart of the city's downtown, a HAFA grad will be at the centre of their experience. The much-anticipated opening of the hotel has been a career highlight for Kai Raphael, an alumnus whose passion for hospitality started when he was a child and developed through his experience in co-operative education.
In this Q&A, Kai talks about how his co-op experience helped to develop his career interest and accelerate his career to where it is today.
In your opinion, what are the key advantages to co-operative education?
I am certainly an ambassador of the co-op program at the University of Guelph. Not only was my experience an integral part of my development, but the support offered by the school prepared me for interviews and was crucial to me getting hired. I also really benefitted from the post co-op class with Bruce McAdams. This allowed me to reflect on my experiences and helped prepare me to be a better leader in the future.
What is your current role like?
I am currently the guest services manager at the new Delta Toronto Hotel. While preparing for the hotel's opening I have been assisting with the recruitment and hiring process, setting up systems and processes, and creating and conducting training presentations for new colleagues.
What drew you to the HAFA program at the University of Guelph?
I was born and raised in Barbados and my dad owned a restaurant there so the hospitality industry always interested me. I enjoyed taking care of family and friends when they visited and wanted to make sure they were comfortable and had the best experience possible. This is what led me to pursue my career in hospitality and I knew the University of Guelph's School of Hospitality, Food and Tourism Management was the best place to start.
Why did you decide to pursue co-operative education as part of your degree?
Coming into this program I knew I was passionate about hospitality, but didn't have enough experience to know whether this was really a career I wanted to pursue. I saw the co-op option as a great opportunity to get some real-world experience.
Where did you complete your co-op placement?
I completed my co-op placement at the Delta Lodge Kananaskis working in the front office as a bell person and a guest services agent. I had the most incredible experience there – that property will always have a special place in my heart.
What are the most important lessons you took from your co-op placements?
I learned and grew so much from my co-op experience. One of the main things I learned was just how important it is to have a good attitude, especially working in this industry.
How did co-operative education help you in landing your current role?
If it weren't for my co-op experience I would not be in the position I am in today. Having more than a year of experience with a company under your belt is a huge asset. Also the network I gained from working there was key in giving me the opportunities I had post-graduation.
What would you tell students trying to decide on whether to take co-op or not?
If you are fortunate enough to have a program that offers a co-op option, then TAKE CO-OP!  From my personal experience, and from the experience of many of my co-op peers, it was an invaluable opportunity that accelerated us into the positions we have today.
Share this page
News Topics