HFTM student Anna Ahmad Sopian recipient of TTRA Gordon Taylor Undergraduate Award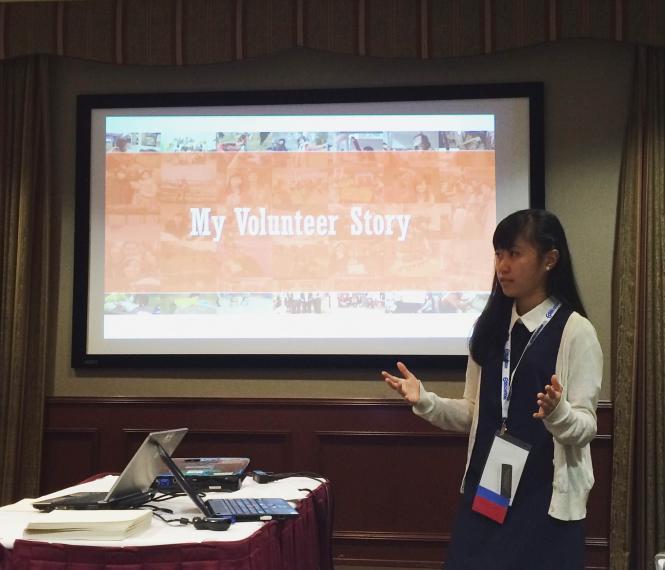 In this Q&A, Anna Sabrina Ahmad Sopian, Bachelor of Commerce in Tourism Management (2016) alumna, discusses her recent award, future goals, HFTM memories, advice and successful moments with us.  Currently, Anna is an intern to the Minister of Tourism and Culture in Malaysia and works with the Tourism Policy and International Relations Department at the Ministry.
Anna Sabrina Ahmad Sopian
Tell us about your recent award.
I received the award for Travel and Tourism Research Association (TTRA) Gordon Taylor Future Researcher Undergraduate Award for my thesis – Volunteer Tourism: Motivation and Expectation of Volunteer Tourists and presented at TTRA Canada's Annual Conference 2016 in Edmonton, Alberta. I am very happy to have this achievement.
What are your future goals?
Finishing my current internship this January with the Minister of Tourism Malaysia, Nazri Aziz with a greater understanding how the public sector facilitates the industry while having a good grasp on how politics influences it.
Further my learning through employment at a tourism think tank or the industry preferably in the sustainable tourism sector.
Continuing graduate school and furthering my education within the tourism industry. Possibly publishing a couple of research papers along the way!
Describe your best HFTM memory or moment as a tourism student.
Making my professors laugh during class presentations. I always try to go above and beyond in making presentations that are engaging for my audience. The best one so far was dressing up as Gandalf the Great when I was presenting Lord of the Rings and New Zealand's case study on the topic of film tourism. Knowing that the audience enjoys what I am presenting means that my presentation is memorable – and that is what I would always strive to achieve for.
Any words or advice for future high school students interested in the tourism major at U of G?
Tourism can go beyond hotels and restaurants. Take electives that would serve your future ambition and join the various student groups available on campus. I was an executive member of some hospitality-related student groups; but it didn't really give me the same satisfaction as when I joined the 'Student Volunteers Connections (SVC)'. I was really engaged with working with SVC that I tried to find ways on how to connect volunteerism with tourism – which resulted to my thesis on 'Volunteer Tourism'.
Also, sit in the front seats, even if your friends are seating at the back! Professors will recognize you more, you will less likely fall asleep, and it is less scary to ask questions because there won't be 40 pairs of eyes looking at you! My grades were always above 85 for classes that I sat at the front.
One or two words to describe your four years in the School.
Continuous discovery.
Looking back, is there anything you would have changed in the past four years?
I wish I was as engaged and passionate during my first and second year as I was during third and fourth year. University was like a rite of passage for many. I picked this program just because I received a full four-year scholarship from the Malaysian Government but didn't really know what to expect during those early years. Only later on, I really began to appreciate this special opportunity and discover my passion within the tourism industry.
In high school, did you see yourself where you are today?
Not at all! I was definitely one of those prankster kids that always got detention. A girl from a small town in Malaysia, I never thought I would call Canada 'home', achieve what I've managed to so far, work directly with the Minister of Tourism and Culture in Malaysia and able to connect with various admirable personalities from UNWTO, PATA and WTTC.
My most successful moment/day in life was…
Recently, my team and I at Malaysia's Tourism Policy and International Relations Department pulled off the 4th World Tourism Conference 2016 successfully in Penang, Malaysia! We had many tourism ministers from various countries attending, and having the UNWTO Secretary General (Mr. Thalib Rifai), PATA Chairman (Mr. Peter Semone), WTTC Chairman (Mr. Gerald Lawless) as some of our very engaging speakers. Some of the personal highlights for me was rapporteuring for the event and having a very exciting lunch with John Kester, the UNWTO's Program Coordinator for Tourism Trends and Marketing Strategies – whose team produces the UNWTO barometers (a constant bible for tourism students when writing papers!). Seeing them speak and how they present really shows how much more I have to go in this learning journey and I hope someday, I will be able as successful as they are.
Did any professor particularly stand out for you? Why?
Professor Marion Joppe is definitely my idol. She is knowledgeable, passionate and very graceful. She first taught me during HTM2170: Tourism Policy, Planning and Development – which had really sparked passion in me towards tourism that wasn't there before. She then taught me HTM4170: International Tourism. The reason she is an amazing teacher is because of her inquisitive style of teaching. She encourages us to question, discuss and present our justifications when answering. She is also very knowledgeable about almost everything we asked and her passion for learning is very vivid through her teaching. I was very fortunate to have her as my supervisor for my research, in which won the TTRA Gordon Taylor Undergraduate Award. I wouldn't have been able to achieve such thing without her.
My future travel plans include...
Japan this December and hopefully Spain sometime next year! I would love to try out my Japanese and Spanish language skills and interact with the local people there!
My destiny is…
To be able to contribute back to the tourism industry by becoming an educator/teacher. My goal is to learn as much as possible about the industry with hope that someday I am able to inspire future students of the industry as much as my mentors and teachers have inspired me.
Your favorite place to travel was...
Montreal, Quebec holds a special place in my heart. Its blend of culture and new infrastructure always put me in a sense of wonder. There are always things to explore and stumble upon around the corner. I am particularly in love with its red bricks and old architectures. Beautiful and historical.
Where is home for you?
This is very tough to answer. Home, for me, is where I am happiest, surrounded by people who are dear to me. Singapore (where I was born), Malaysia (where my family is from) and Canada (where I learn the most from) are all home to me. It is not easy having to travel 30 hours to get home every time though.
Share this page
News Topics