HFTM Honours Donald Ziraldo through a Celebratory Dinner Showcasing Canadian Wines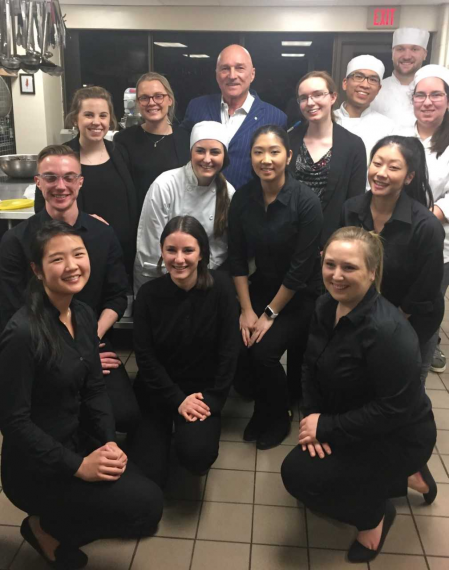 On Tuesday, February 13th, the students from our fine dining course hosted a dinner in honour of Donald for his tremendous contributions to the Canadian wine industry.
Born in St. Catherines, Ontario, Donald Ziraldo is a Canadian winemaker, businessman, University of Guelph alumni and a Member of the Order of Canada. Ziraldo and his partner, Karl Kaiser were founders of the Inniskillin Winery, in Niagara. Their most well known-accomplishment that put Canadian wines on the map, was from winning the coveted Grand Prix d'honneur at Vinexpo, France in 1991 for the Inniskillin Vidal Ice Wine. After Inniskillin was sold, in 2006, Ziraldo left and started his own brand of ice wine and Riesling table wines, under his name, "Ziraldo".
The celebration consisted of a 4-course meal and was paired with 5 iconic Canadian wines. Upon arrival, guests were greeted with Henry of Pelham's Cuvee Catherine Brut Rose sparkling wine. The dinner started off with a PEI Mussel and Fennel Chowder paired with Inniskillin's 2016 Unoaked Chardonnay, followed by Ontario Goat Cheese and Beet Salad paired with Cave Spring's 2015 Estate Riesling. Guests enjoyed Alberta Beef Short Ribs served with a Potato Parsnip Puree that was paired with Mission Hill 2015 Cabernet Sauvignon. To end the night, in celebration of our special guest, Ziraldo's 2014 Vidal Ice Wine was enjoyed with a Roasted Pear-Frangipane Tart.
It was a special night for all, and a great learning experience for the students.
Share this page
News Topics