Social Insurance Number Requirement for T2202 Forms
The University of Guelph, as the issuer of T2202 and T4A forms, has a legislated obligation to ask for and report SINs on the forms. For this reason, students are required to submit their SIN to the University of Guelph through WebAdvisor. WebAdvisor is a secure site.
Read more about the T2202 form on the Canada Revenue Agency (CRA) website.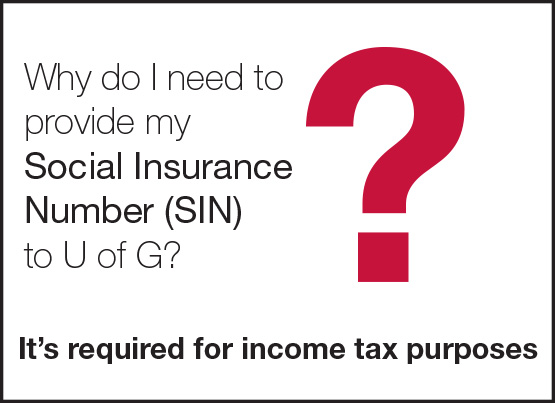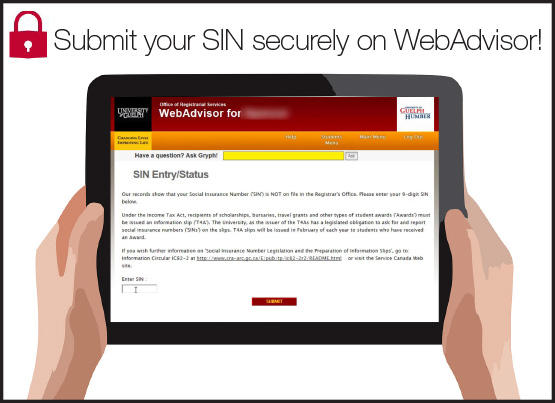 To submit your SIN, log in to WebAdvisor. In the menu on the left-hand side of your screen, under "Financial Information," click on "SIN Entry/Status." Enter your SIN and click "Submit."
T2202: The tuition tax credit allows you to reduce any income tax you may owe. The Tuition and Enrolment Certificate (T2202) for the previous tax year will be available in late February and can be accessed through WebAdvisor. After logging in, click on the "Tax Information" box. You must select the appropriate year; the tax years will display only for the years that there is actual information available. No certificate is produced if total eligible fees are less than $100 for the tax year. The PDF report will appear on the screen for printing. The University will not issue paper copies of the form.
The T2202 form will only be accessible if you still have WebAdvisor access. This access is available for approximately one year after graduation or last registration. If you no longer have access to WebAdvisor, you must request T2202 forms from Enrolment Services. You can make this request in person at Enrolment Services (University Centre, Level 3), by email to es@uoguelph.ca, or by mail to Enrolment Services, UC Level 3, University of Guelph, Guelph, ON, N1G 2W1. The request must include your name, ID number, the year required, and your signature (a scanned signature for requests by email). For further information, please call (519) 824-4120 ext. 58731 or email es@uoguelph.ca.
The CRA offers a brochure about Students and Income Tax.
T4A: A Statement of Pension, Retirement, Annuity, and Other Income (T4A) is provided by the University to students who have received awards, including scholarships and bursaries, in the previous tax year. These slips are mailed to students in late February each year. For more information, please contact Human Resources by phone at (519) 824-4120 ext. 53374 or by email at hr@uoguelph.ca.
Residence fees paid: Please see information on the Housing website.
Students who are residents of Quebec: The RL-8 slip is a tax form of the Ministère du Revenu du Québec and is intended only for Quebec residents. Please visit or email the Student Accounts Office to request your RL-8 form.
US students: US students can use the T2202 to file their US tax return, the University does not issue 1098T tax receipts.
International students: T2202 information is provided to all students to enable them to complete their Canadian tax returns. Contact a tax professional to determine whether you need to file a Canadian tax return and/or a tax return in your country of origin.