plazaPOPS receives SSHRC and FedDev funding for new round of pilots!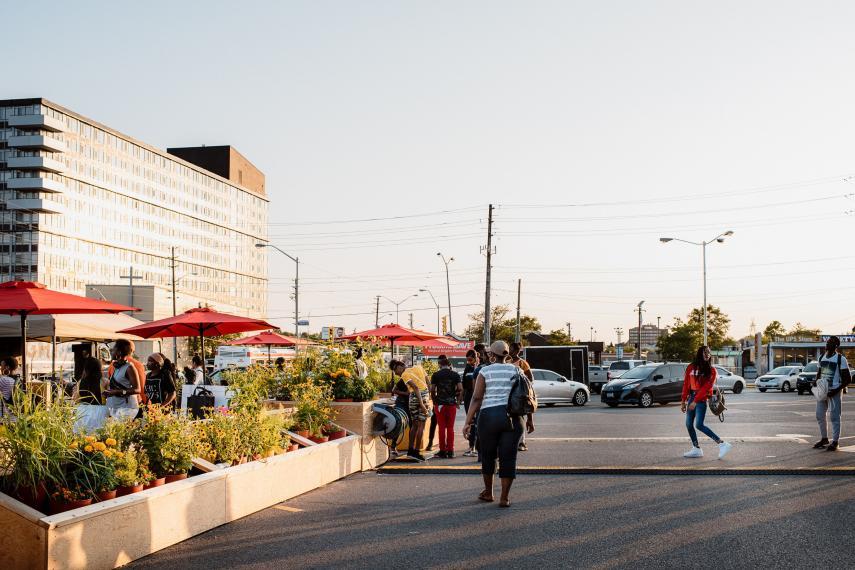 plazaPOPS, a collaborative research initiative that enhances the public realm through publicly accessible pop-up installations within the privately owned parking lots of commercial strip-malls, has received two significant new grants!
Led by Landscape Architecture Assistant Professor Brendan Stewart, in collaboration with MLA'18 graduate Daniel Rotsztain, the initiative has grown over the past three years. The seeds of the idea were developed in Daniel's Master of Landscape Architecture thesis which led to a 2019 pilot in Wexford Heights, Scarborough — known as 'WexPOPS' — funded by Park People's Public Space Incubator Grant (with financial support from Ken and Eti Greenberg and the Balsam Foundation), as well as the City of Toronto's BIA Kickstarter grant, and supported by the School of Environmental Design and Rural Development.
Following the success of the pilot, staff from several divisions of the City of Toronto expressed interest in further development of the initiative, and in 2020, joined the research team in a successful Social Sciences and Humanities Research Council (SSHRC) grant with a goal to develop a framework for the creation of a sustainable plazaPOPS program. The SSHRC research involved a working group of ten City staff from multiple divisions, who provided input and oversight through a series of virtual workshops in fall 2020 and spring 2021. The partnership led in July 2021 to a $1M grant from the Federal Economic Development Agency for Southern Ontario (FedDev). Part of a larger 'Main Street Recovery and Rebuild program' that responds to the ongoing COVID-19 pandemic, the FedDev project involves the planning, design, fabrication, installation, and programming of a number of new plazaPOPS installations from 2022 to 2024, with the design of an initial cluster in the north Etobicoke neighbourhood of Rexdale planned to open in July 2022.
A second SSHRC grant, providing three years of funding, was just announced, which will evaluate, document, and communicate the social and economic benefits of this new round of plazaPOPS pilots. To oversee the execution of the projects, plazaPOPS has incorporated as a not-for-profit, and has recruited a board of directors who bring a diversity of perspectives and experiences.
The new SSHRC will involve University of Guelph sociologists Mervyn Horgan and Saara Liinamaa, University of Toronto economist Rafael Gomez, as well as SEDRDs Karen Landman, among many other collaborators. The project will bring numerous opportunities to landscape architecture students within SEDRD, including research assistantships, and the possibility of integration into community design studios. As an initial output from the SSHRC funding, plazaPOPS is aiming to launch a refreshed website in fall 2022.  See UofG news release for additional information.
Share this page
Find related news by keyword