Heart Healthy BINGO Card: February 2023 Wellness Challenge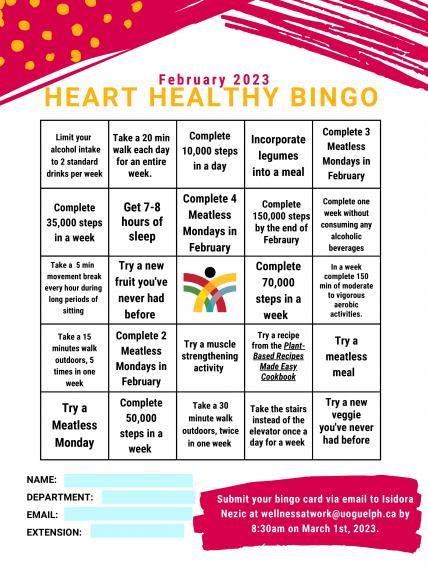 The Wellness@Work Programming Committee is challenging you to a new Heart Healthy BINGO game for February. 
Download the bingo card to participate in the Wellness@Work  BINGO challenge throughout the month of February.  Everyone who participates will be entered into a draw for a prize!   
All you need to do is print the bingo card and mark off squares as you complete them:
You have an entire month to work towards finishing the whole card!
At the end of the month, you can email or send in your card and you'll get entered to win.
You get one entry per line up to 3 lines, and 5 entries for accomplishing every square on the card. All you need to do is print the bingo card and mark off squares as you complete them.
Submit your bingo card via email to Isidora Nezic at wellnessatwork@uoguelph.ca by 8:30am on March 1st, 2023. 
Good luck! 
Resources to support your physical well-being: 
Heart disease is the second leading cause of death in Canada, but we can reduce our risk through a healthy lifestyle, and early detection and management of medical conditions. We hope that through this BINGO challenge, we can begin making slow and sustainable changes to improve our physical health that can support in building a healthy lifestyle. 
Review the slides on from a webinar with HPC Physiotherapists on how to Safely and Sustainably Increase Your Activity Level. It is recommended that we have 150 minutes/week of moderate to vigorous aerobic activity a week to support our physical health so make sure to check out the slides and learn how to manageable increase your activity levels. 
U of G Athletics offers discounted memberships to staff and faculty where we can access the fitness centre, fitness classes, and athletics facilities at an affordable monthly price. 
The U of G Yoga and Meditation Collective offers free in-person and virtual yoga classes to all U of G community members. Yoga not only helps to improve balance and strengthen muscles, it also helps us reduce stress supporting our mental and physical well-being. 
If you're looking to incorporate more plant-based protein options in your diet the Guelph Family Health Study has you covered! View their cookbook Plant-Based Protein Recipes Made Easy. 
Did you know some doctors in Canada can prescribe patients passes to National Parks? What started out as a program in BC is now nationally accessible to doctors registered in the program to support patients' physical and mental health. Data shows just how important nature and green exercise is for people. As U of G community members, we have access to trails and paths in the Arboretum. Consider taking a walk outdoors this month even for just 10 mins to get the mental and physical benefits of nature-based exercise. 
Alcohol intake can lead to an increased risk of developing heart disease. You can learn more about Canada's Guidance on Alcohol and Health. 
Share this page
Find related news by keyword