DIGICAFE

Lecture and discussion series covering a range of issues and topics in digital humanities
Fall 2017 DigiCafé Series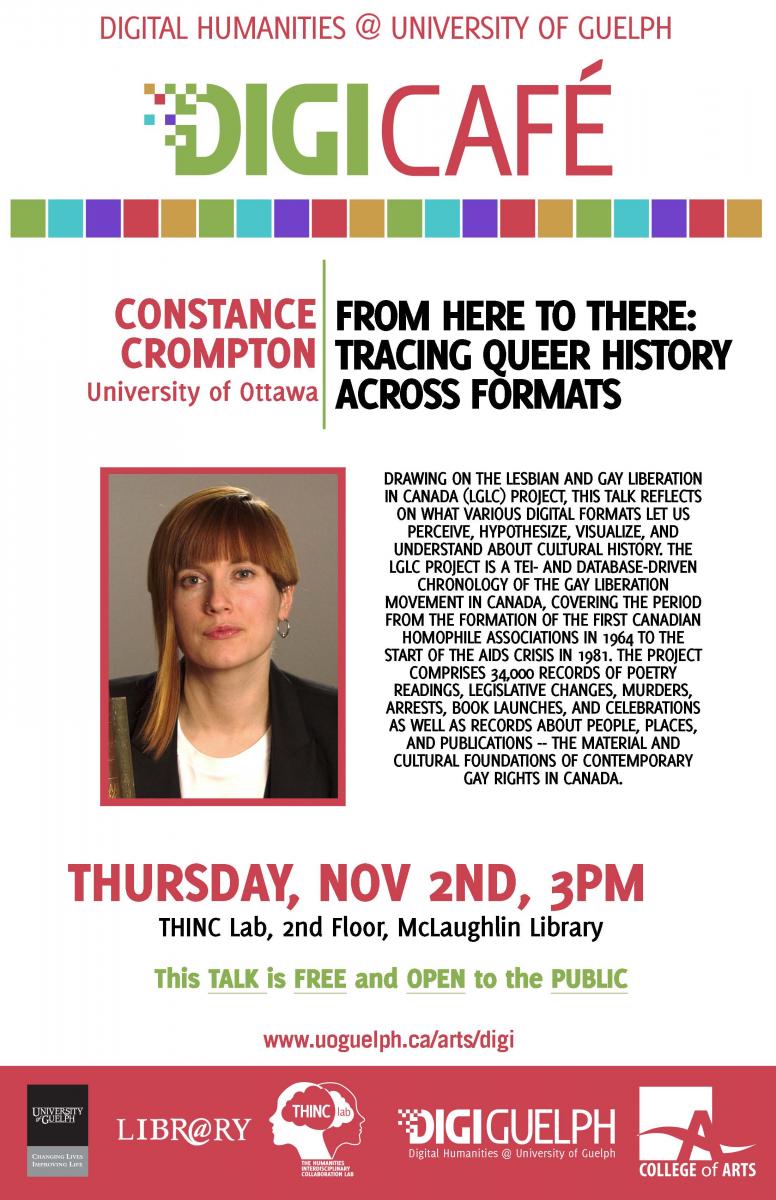 Title
: From Here to There: Tracing Queer History Across Formats 
Date: Thursday, November 2nd
Time: 3pm
Location: THINC Lab
Speaker: Constance Crompton, University of Ottawa
Drawing on the Lesbian and Gay Liberation in Canada (LGLC) project, this talk reflects on what various digital formats let us perceive, hypothesize, visualize, and understand about cultural history. The LGLC project is a TEI- and database-driven chronology of the gay liberation movement in Canada, covering the period from the formation of the first Canadian homophile associations in 1964 to the start of the AIDS crisis in 1981. The project comprises 34,000 records of poetry readings, legislative changes, murders, arrests, book launches, and celebrations as well as records about people, places, and publications -- the material and cultural foundations of contemporary gay rights in Canada. 
---
Past Events
Title: Finding What to Read: Visual Text Analytics Tools and Techniques to Guide Investigation
Date: Thursday, January 26th
Time: 12 noon
Location: THINC Lab
Speaker: Christopher Collins, Associate Professor and Canada Research Chair in Linguistic Information Visualization, UOIT
Register here!
 
Title: Authentic Originals / (In)Authentic Copies: Fostering Archaeological Engagement with 3D Models and 3D Prints Beyond the "Wow" Factor
Date: Wednesday, February 8th
Time: 3pm
Location: THINC Lab
Speaker: Beth Compton, PhD Candidate - Department of Anthropology, University of Western Ontario 
Register here!
 
Title: Digital Humanities, VR Forensics and Historical Reconstructions: Documenting Human Rights Violations During the 1976 Soweto Uprisings.
Date: Wednesday, March 22nd      
Time: 3pm
Location: MacKinnon 132
Speaker: Angel David Nieves, Ph.D., Associate Professor of Africana Studies & Digital Humanities at Hamilton College
Register here!
Title: Go Figure: Open Data in a Closing World
Date: Thursday, March 23rd      
Time: 12pm
Location: MacKinnon 132
Speaker: Deb Verhoeven, Chair and Professor of Media and Communication at Deakin University, and Director of the Humanities Networked Infrastructure (HuNI) project
Register here!