DIGICAFE

Lecture and discussion series covering a range of issues and topics in digital humanities
Winter 2018 DigiCafé Series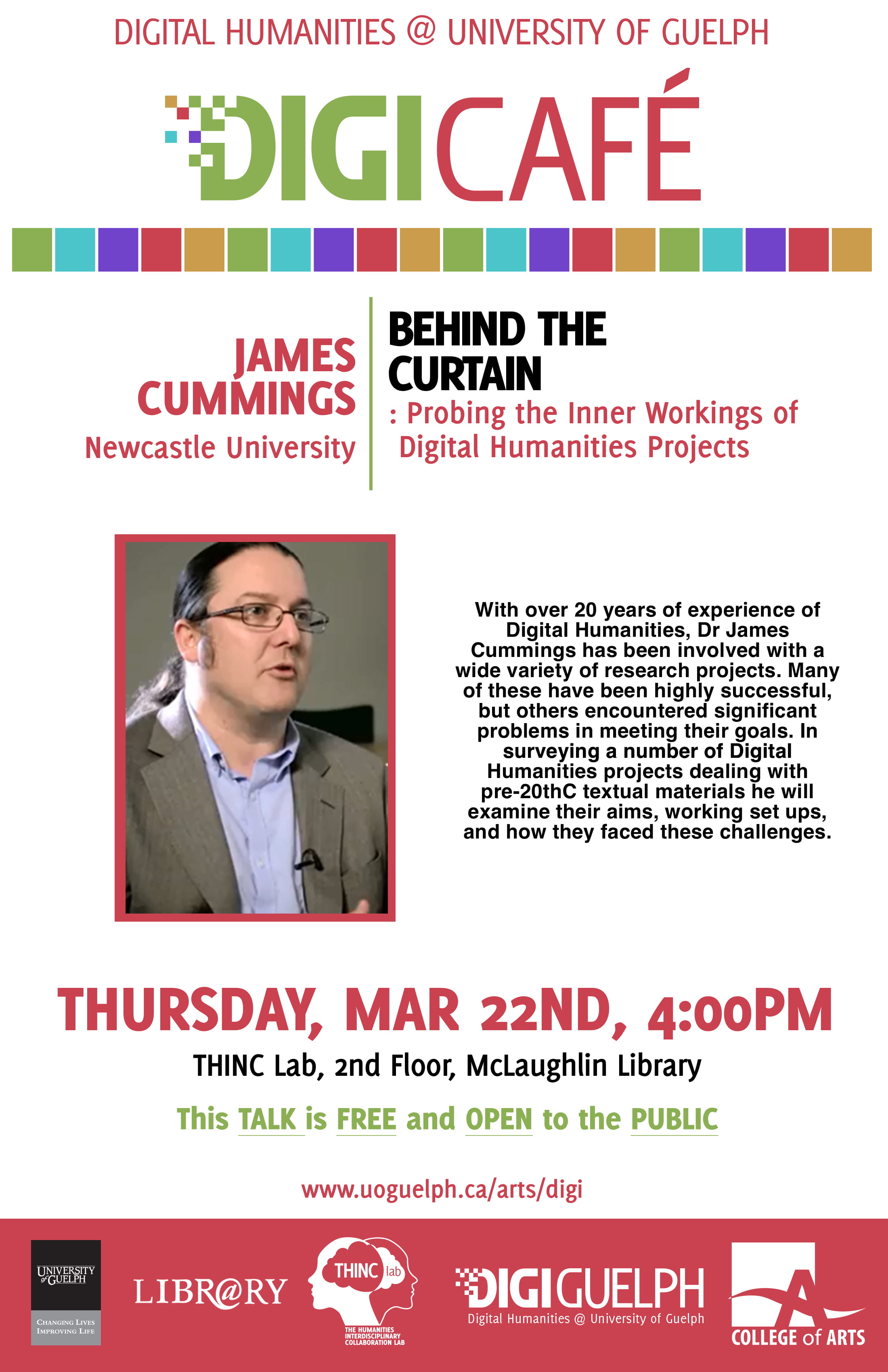 Title
: Behind the Curtain: Probing the Inner Workings of Digital Humanities Projects
Date: Thursday, March 22nd
Time: 4pm
Location: THINC Lab
Speaker: James Cummings, Newcastle University 
With over 20 years of experience, Dr. James Cummings has been involved with a wide variety of research projects. Many of these have been highly successful, but others encountered significant problems in meeting their goals. In surveying a number of Digital Humanities projects dealing with pre-20thC textual materials he will examine their aims, working set ups, and how they faced these challenges. 

Title: Social Media Data and Humanities Research
Date: Thursday, March 15th
Time: 3pm
Location: THINC Lab
Speaker: Autumn Mayes and Carol Perry, University of Guelph 
The use of social media data in academic research has steadily increased in recent years. There are many reasons a humanities scholar would turn to social media, opening opportunities to collect data that would otherwise be unavailable. However, this opportunity should be undertaken with caution, as the legal and ethical considerations of this kind of research are still being debated. Join Autumn and Carol for an informativem and compelling conversation on the best practices of using social media data.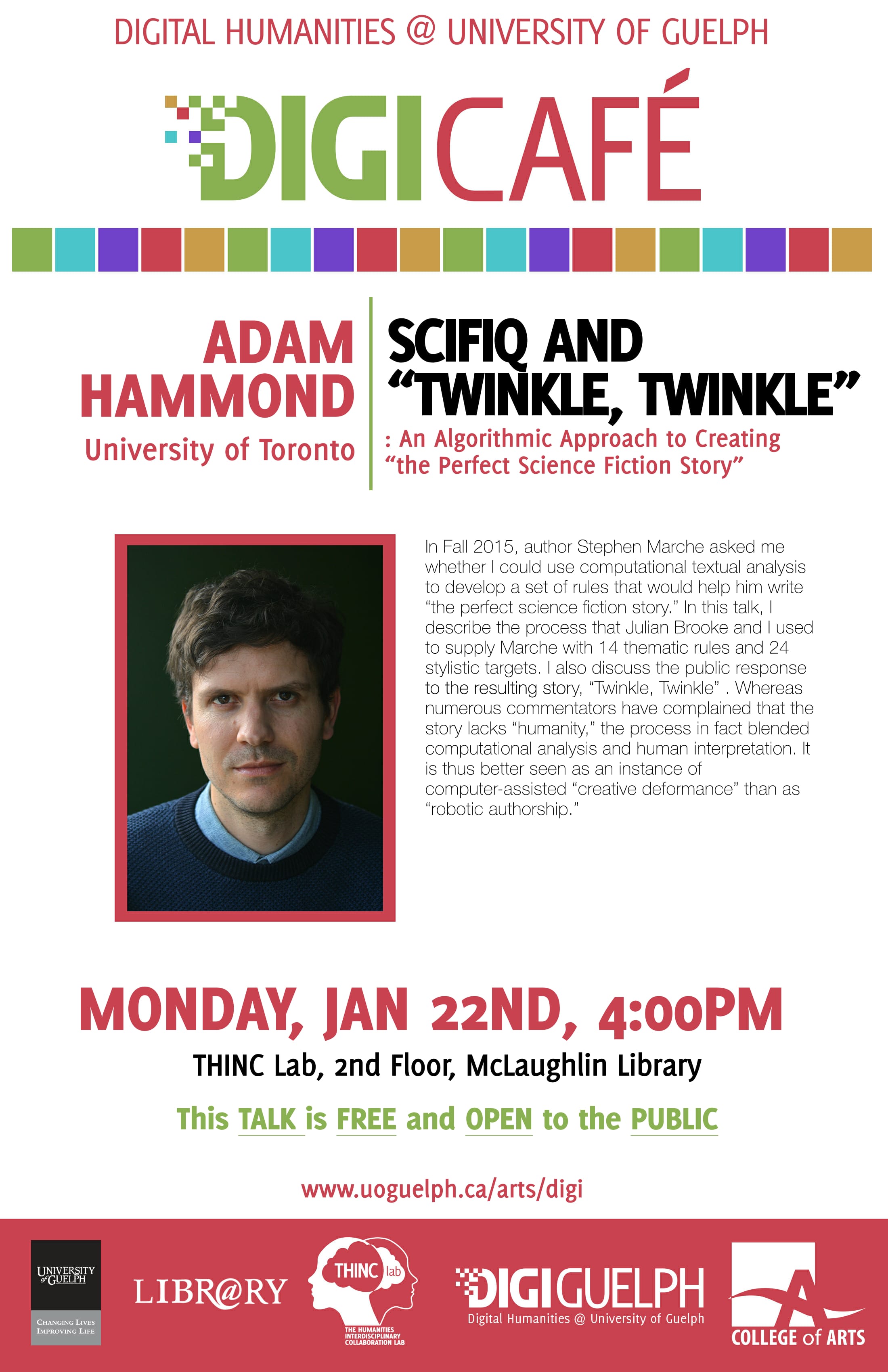 Title: SciFiQ and "Twinkle, Twinkle" : An Algorithmic Approach to Creating "the Perfect Science Fiction Story"
Date: Monday, January 22nd
Time: 4pm
Location: THINC Lab
Speaker: Adam Hammond, University of Toronto
In Fall 2015, author Stephen Marche asked me whether I cuold use computational textual analysis to develop a set of rules that would help him write "the perfect science fiction story." In this talk, I describe the process that Julian Brooke and I used to supply Marche with 14 thematic rules and 24 stylistic targets. I also discuss the public response to the resulting story, "Twinke, Twinke," published in the December 2017 issue of Wired magazine. Whereas numerous commentators have complained that the story lacks "humanity," the process in fact blended computational analysis and human interpretation. It is thus better seen as an instance of computer-assisted "creative deformance" than as a "robotic authorship." 
Fall 2017 DigiCafé Series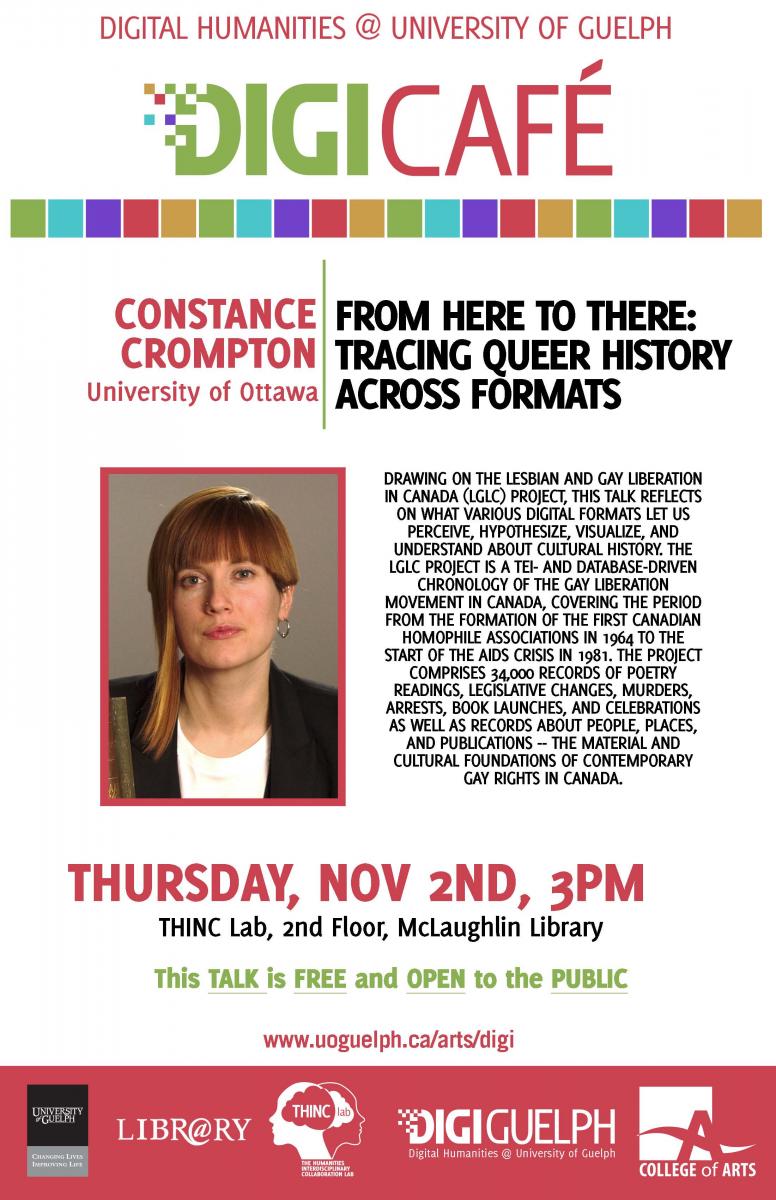 Title
: From Here to There: Tracing Queer History Across Formats 
Date: Thursday, November 2nd
Time: 3pm
Location: THINC Lab
Speaker: Constance Crompton, University of Ottawa
Drawing on the Lesbian and Gay Liberation in Canada (LGLC) project, this talk reflects on what various digital formats let us perceive, hypothesize, visualize, and understand about cultural history. The LGLC project is a TEI- and database-driven chronology of the gay liberation movement in Canada, covering the period from the formation of the first Canadian homophile associations in 1964 to the start of the AIDS crisis in 1981. The project comprises 34,000 records of poetry readings, legislative changes, murders, arrests, book launches, and celebrations as well as records about people, places, and publications -- the material and cultural foundations of contemporary gay rights in Canada.