THINC Lab workshop series

Join us in THINC Lab for this workshop series, offering practical tips and tools for working in the digital humanities.
 
Winter 2019 DIGIdo Series - Stay tuned!
---
---
Fall 2018 DigiDo Series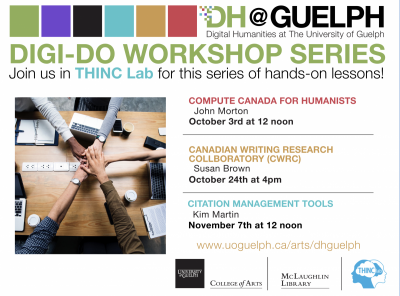 ---
Compute Canada for Humanists
Did you know that Compute Canada has a growing research suite of tools aimed at humanities scholars and social scientists. Join John Morton of SHARCNET for an introduction to Compute Canada's (
https://www.computecanada.ca/
) support for research computing.
Date: Wednesday, October 3rd
Time: 12 noon
Place: THINC Lab, 2nd floor, library
Thinking about creating a digital edition of a text? Interested in learning about Canadian digital humanities projects? Join Susan Brown for an introduction to CWRC (
https://beta.cwrc.ca/
) as a resource and production environment for digital humanities projects. 
Date: Wednesday, October 24th
Time: 4pm
Place: THINC Lab, 2nd floor, library
Struggle with bibliographies? Always looking for that resource that you read last week but didn't download? Join Kim Martin for an introduction to Citation Management tools. 
 
Date: Wednesday, November 7th
Time: 12 noon
Place: THINC Lab, 2nd floor, library