DIGIDO

Workshop series offering practical tips and tools for working in the digital humanities
Winter 2018 DigiDo Series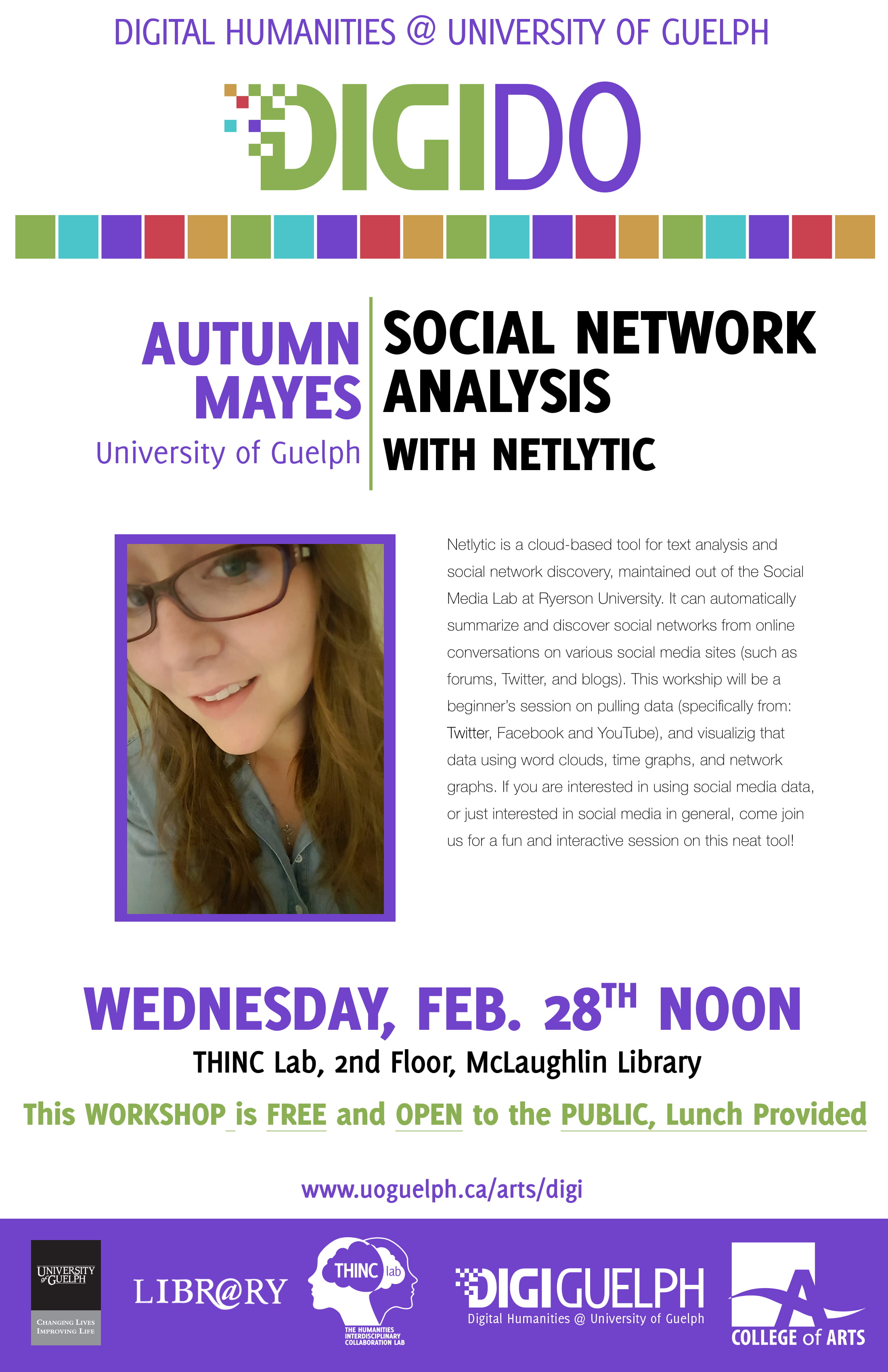 Title:
Social Network Analysis with Netlytic
Date:
Wednesday, February 28th
Time:
Noon
Location:
THINC Lab
Speaker: 
Autumn Mayes
Lunch will be provided
Netlytic is a cloud-based tool for text analysis and social network discovery, maintained out of the Social Media Lab at Ryerson University. It can automatically summarize and discover social networks from onlin conversations on various social networks from online conversations on various social media sites (such as forums, Twitter, and blogs). This workshop will be a beginner's session on pulling data (specifically from: Twitter, Facebook, and YouTube), and visualizing that data using word clouds, time graphs, and network graphs. If you are interested in using social media data, or just interested in social media in general, come join us for a fun and interactive session on this neat tool!
Register here: http://cal.lib.uoguelph.ca/event/3444506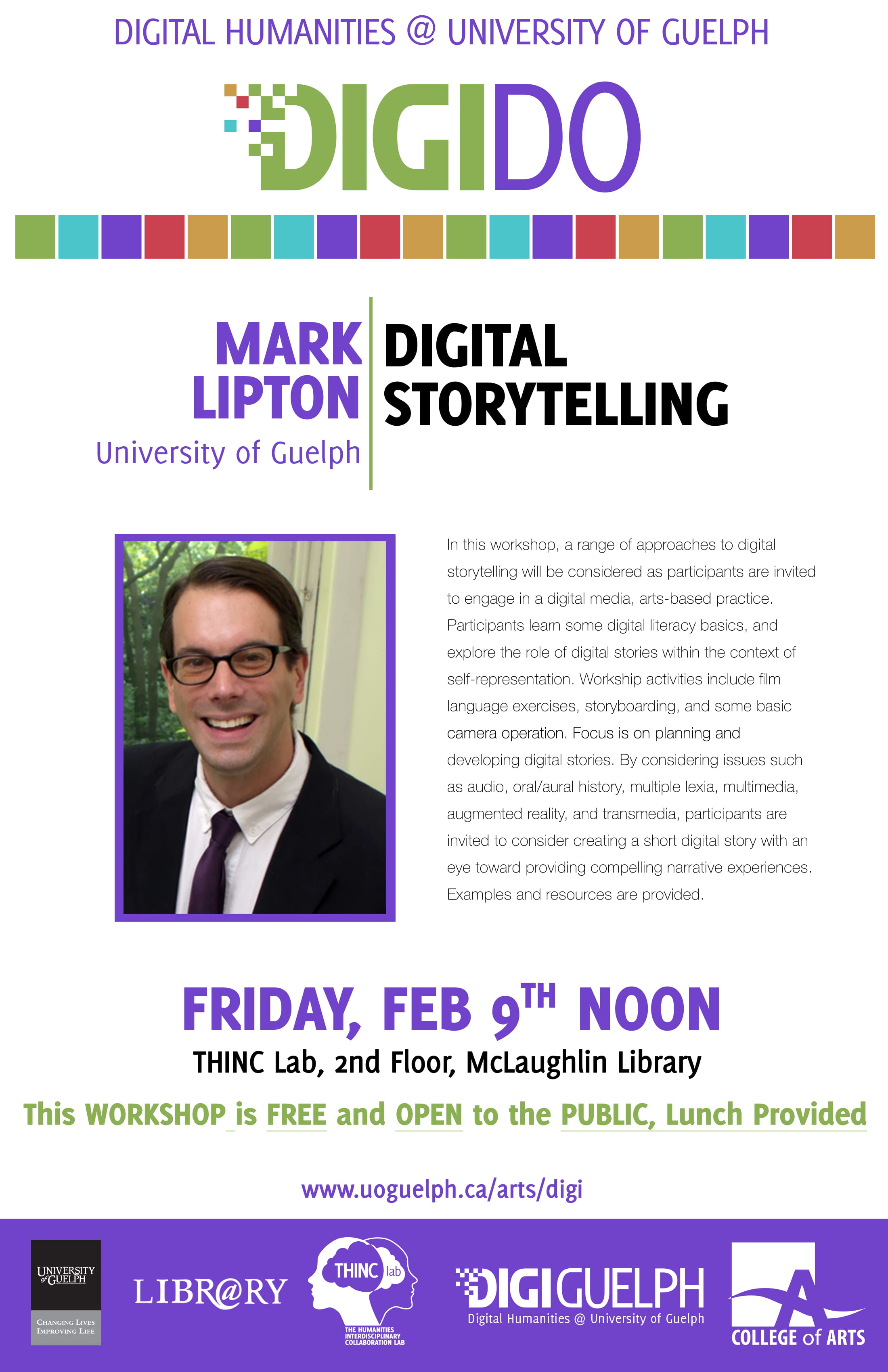 Title:
Digital Storytelling
Date:
Friday, February 9th
Time:
Noon
Location:
THINC Lab
Speaker:
Mark Lipton
Lunch will be provided
In this workshop, a range of approaches to digital storytelling will be considered as participants are invited to engage in a digital media, arts-based practice. Participants learn some digital literacy basics, and explore the role of digital stories within the context of self-representation. Workshop activities include film language exercises, storyboarding, and some basic camera operation. Focus is on planning and developing digital stories. By considering issues such as audio, oral/aural history, multiple lexia, multimedia, augmented reality, and tansmedia, participants are invited to consider creating a short digital story with an eye toward providing compelling narrative experiences. Examples and resource are provided. 
Register here: http://cal.lib.uoguelph.ca/event/3445973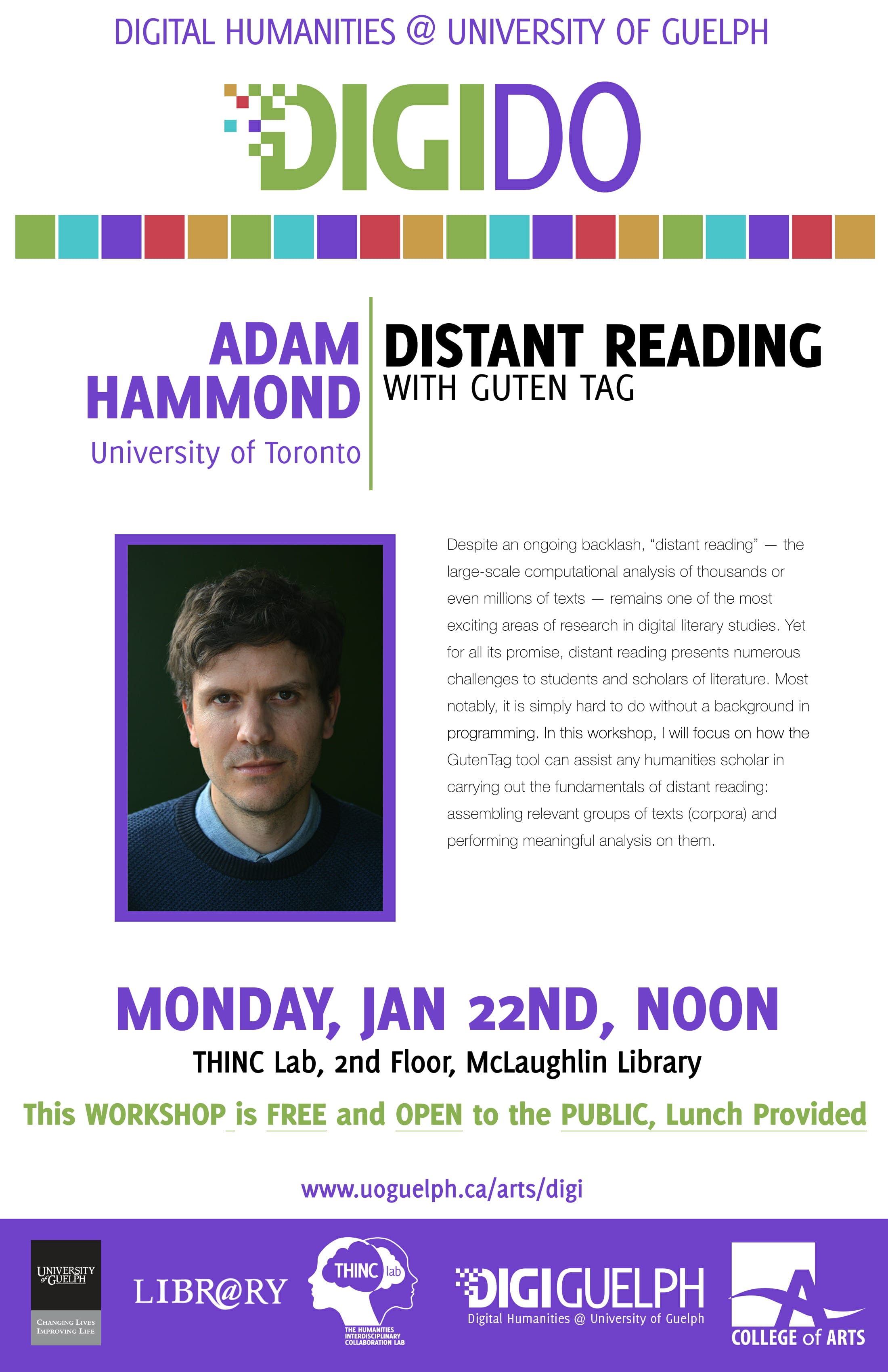 Title:
Distant Reading with Guten Tag
Date:
Monday, January 22nd 
Time:
Noon
Location:
THINC Lab
Speaker: 
Adam Hammond, University of Toronto
Lunch will be provided
Despite an ongoing backlash, "distant reading"— the large scale computational analysis of thousands or even millions of texts — remains one of the most exciting areas of research in digital literary studies. Yet for all its promise, distant reading presents numerous challenges to students and scholars of literature. Most notably, it is simply hard to do without a background in programming. In this workshop, I will focus on how the GutenTag tool can assist any humanities scholar in carrying out the fundamentals of distant reading: assembling relevant groups of texts (corpora) and performing meaningful analysis on them. 
Register here: http://cal.lib.uoguelph.ca/event/3444180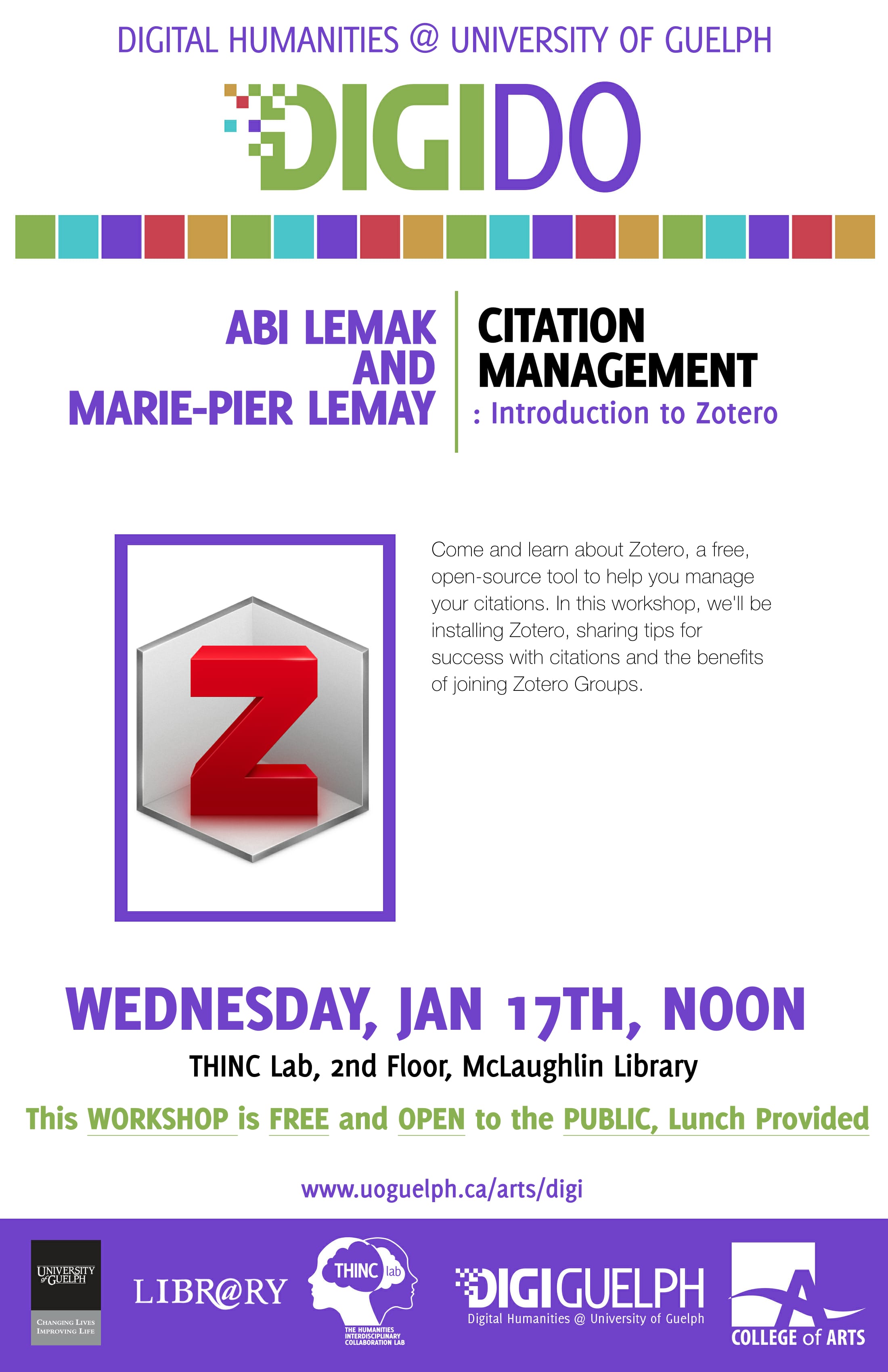 Title: 
Citation Management: Introduction to Zotero
Date: 
Wednesday, January 17th 
Time: 
Noon
Location: 
THINC Lab
Speaker: 
Abi Lemak and Marie-Pier Lemay
Lunch will be provided
Come and learn about Zotero, a free, open-source tool to help you manage your citations. In this hour-long workshop, we'll be installing Zotero and getting you going with some great tips.
Register here: http://cal.lib.uoguelph.ca/event/3443883
---
Fall 2017 DigiDo Series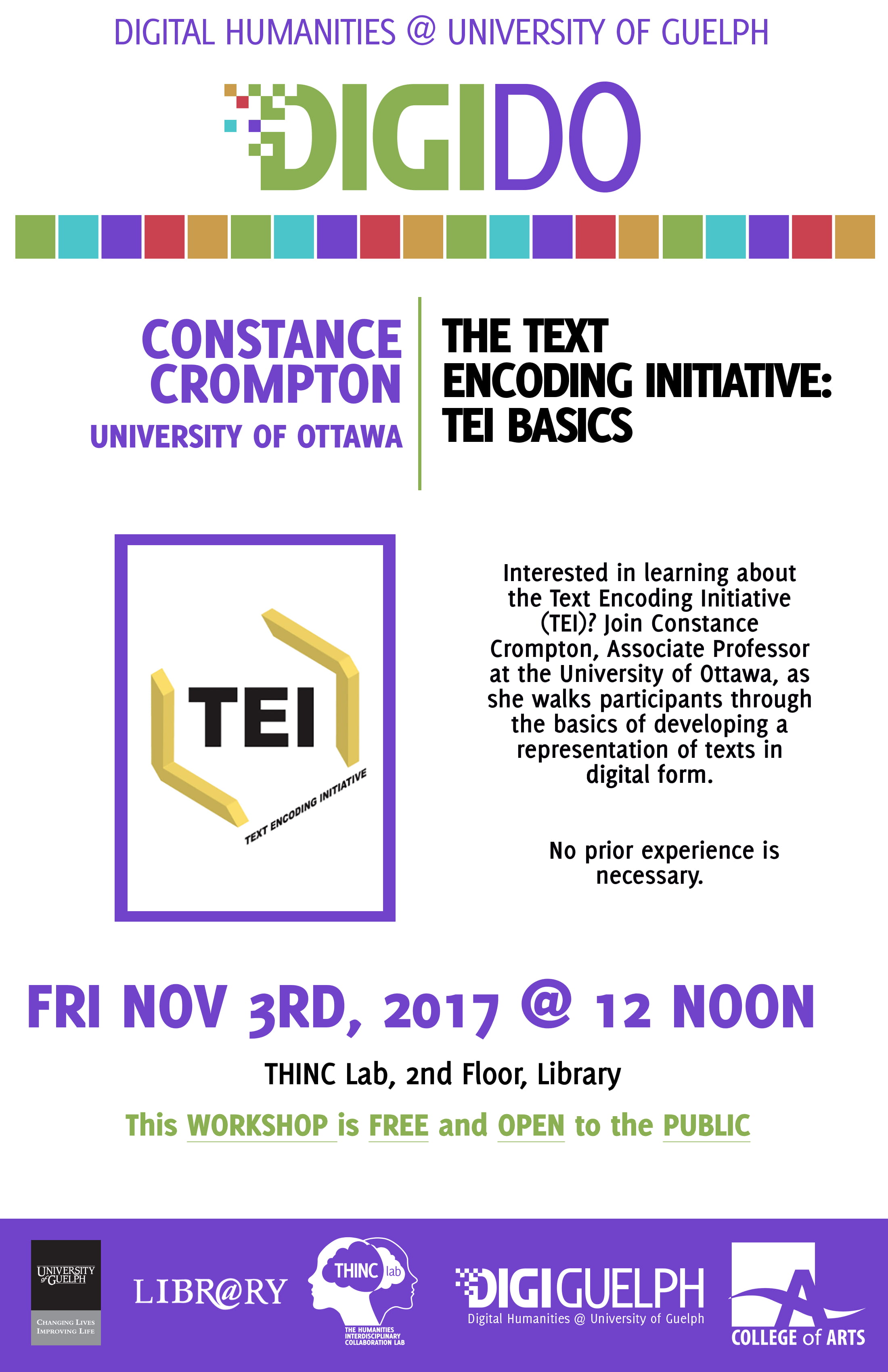 Title
: The Text Encoding Initiative: TEI Basics 
Date: Friday, November 3rd
Time: Noon
Location: THINC Lab
Speaker: Constance Crompton, University of Ottawa
Interested in learning about the Text Encoding Inititative (TEI)? Join Constance Crompton, Associate Professor at the University of Ottawa, as she walks participants through the basics of developing a representation of texts in digital form.
No prior experience is necessary.
Citation Management with Zotero w/ Kim Martin and Abi Lemak           
October 18th,12-1:30pm    
Third Annual Early Modern Recipes Online Collective Transcribe-a-thon
November 7th, 1-4pm