Guest Speaker: Fred Kudjo Kuwornu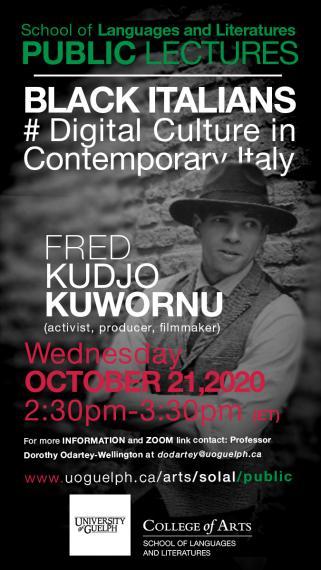 Details
This multi-media lecture is an introduction to issues of culture, race, identity, and citizenship in contemporary Italy drawing the new arena of social media. An entire generation of Black Italians, specifically artists, entrepreneurs and bloggers (especially millennials) has been affirming itself in Italian culture and society thus progressively gaining more visibility from the 1990s. This has helped to shine a spotlight on the Global Black Diaspora. Entrepreneurship has emerged as an important strategy for Black Italian Youth seeking to advance new narratives about Blackness, transforming Italian material culture, and the meaning of Italianness itself. Digital Media Art and Entrepreneurship is only one example of a nascent Black spatial politics in Italy.  
Fred Kudjo Kuwornu is an activist-producer-filmmaker, born and raised in Italy and based in Brooklyn. His mother is an Italian Jew, and his father a Ghanaian surgeon who lived in Italy since the early 60's. Fred Kuwornu holds a Bachelor's degree in Political Science and Mass Media. After his experience, working with the production crew of Spike Lee's "Miracle at St. Anna", Fred decided to research the unknown story of the 92nd Infantry "Buffalo Soldiers" Division, discovering and documenting the journey taken by the real 92nd Infantry veterans, and the entire African American segregated combat unit, which fought in Europe during WW II. Fred thus produced and directed the Award-winning documentary Inside Buffalo ("Best Documentary" at the Black Berlin International Cinema Festival). Inside Buffalo had viewings at the Pentagon, the Library of Congress and it received a letter of congratulations by President Barack Obama. In 2012, he released 18 IUS SOLI which examines multiculturalism in Italy but also specifically looks at questions of citizenship for the one million children of immigrants born and raised in Italy but are not yet Italian citizens. In 2016 he produced Blaxploitalian 100 Years of Blackness in Italian Cinema. He is currently developing a concept platform "Baq•IT" about Black Italians' History.
For more information and Zoom link contact: Professor Dorothy Odartey-Wellington at dodartey@uoguelph.ca.