The New Normal? The future of International Non-governmental Organizations in a post-COVID world
Location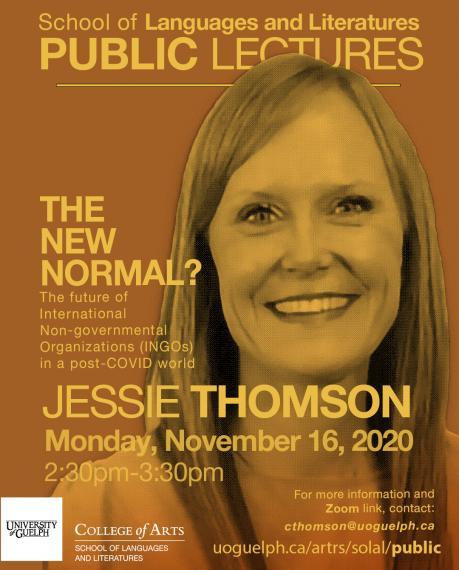 Details
Join the School of Languages and Literatures as we welcome guest speaker Jessie Thomson, the Vice-President of Strategic Planning (Interim) CARE Canada, as she presents her lecture: The future of International Non-governmental Organizations (INGOs) in a post-COVID world.
Jessie Thomson holds an Honours BA degree in Peace and Conflict Studies from the University of Toronto and a Master of Science degree in International Development Studies from the London School of Economics. Jessie has been working on issues related to international development and humanitarian assistance for more than 15 years. With a career spanning multiple sectors, including the Canadian public service, the United Nations, the Red Cross and Red Crescent Movement and now CARE Canada, Jessie brings a unique perspective on the critical operational and policy questions facing international development and humanitarian action. Jessie joined CARE Canada in 2011, focused on Humanitarian Assistance and Emergency Response. Now, as Vice-President of Strategic Planning, Jessie is leading the development of CARE Canada's next strategic plan.
For more information and Zoom link, contact: Clive Thomson at cthomson@uoguelph.ca.