When We Speak of Nothing with Dr. Olumide Popoola
Location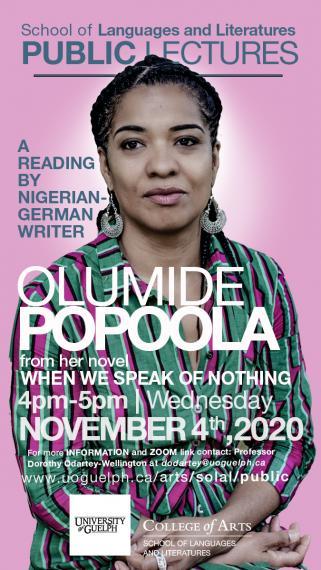 Details
The School of Languages and Literatures presents guest speaker Dr. Olumide Popoola in our upcoming lecture. Olumide is a Nigerian-German writer and her publications include essays, poetry, a novella, a play text, the short story collection breach, which she co-authored with Annie Holmes (Peirene Press, 2016), and the novel When We Speak of Nothing. Olumide has a PhD in Creative Writing and has lectured in creative writing at various universities.
She created and is leading the creative writing and mentoring scheme 'The Future is Back' for emerging LGBTQ+ writers, which is funded by the Arts Council England. Olumide presents internationally as author, speaker and facilitator. In 2019, Scottish Makar Jackie Kay named her as one of Britain's best Black and brown writers.
For more information and Zoom link contact, contact Professor Dorothy Odartey-Wellington at dodartey@uoguelph.ca.