In memory of Dr. Daniel Chouinard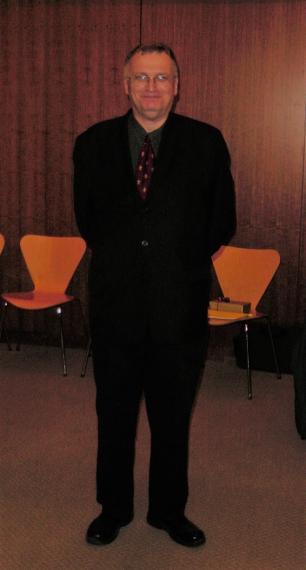 (English follows)
C'est avec tristesse que nous avons appris la nouvelle du décès de Daniel Chouinard, survenue en décembre 2021.
Après sa thèse doctorat à l'Université de Montréal, intitulée L'Anti-Roman de Charles Sorel: poétique d'une lecture; lecture d'une poétique,  Daniel Chouinard commença en 1984 une longue et fructueuse carrière de professeur de langue et de littérature françaises à l'Université de Guelph jusqu'à sa retraite en 2010.
Le 17e siècle français, époque si riche en héros littéraires, comme il les aimait, n'avait pas de secrets pour lui : il pouvait discourir avec une égale aisance sur les écrivains les moins connus de cette époque et sur des étoiles de première grandeur comme Racine ou Perrault. Toutefois, son univers littéraire ne s'est pas restreint au classicisme français : il a enseigné des cours sur le siècle des Lumières, sur le romantisme et sur la littérature de jeunesse qui, au fil des années, est devenue une passion et son second champ de recherches. Sa contribution à ce champ de recherches est remarquable : il a publié dans ce domaine de nombreux articles dans des revues telles que Canadian Children Literature (CCL), Tangence, Québec français, Les Cahiers de l'APFUCC ainsi que des chapitres dans divers ouvrages collectifs.
Daniel Chouinard a également occupé des fonctions administratives à l'Université de Guelph. Il a été tour à tour responsable des Études françaises et directeur de l'École des langues et des littératures pendant dix ans, de 1998 à 2008. Ces fonctions ont été pour lui l'occasion de montrer ses talents dans la gestion du personnel : il ne prenait jamais de décision de manière unilatérale et savait trouver le mot juste pour désamorcer de potentiels conflits et rassurer ses collègues.  Tous vantent sa gentillesse et son sens de l'humour.
Lecteur infatigable, grand amoureux des livres, Daniel Chouinard était le type même du professeur érudit, mais sans snobisme : il ne faisait jamais étalage de sa vaste culture classique. C'est au détour d'une conversation sur des sujets les plus banals qu'on pouvait découvrir sa fabuleuse mémoire de ces textes qui nous façonnent. Daniel Chouinard était un honnête homme, au sens classique du terme.   
Aux dires de sa veuve, Maryel Archambault, Daniel Chouinard a « aimé sa vie à Guelph ; il appréciait la région, ses vallons, les villages pittoresques entourant Guelph, enfin cette espèce de bien-être champêtre, sans façon, où la vie était agréable. » Le couple aimait beaucoup la proximité des grands lacs et les automnes dorés, propices aux excursions dans les petites villes.
Quant à ses collègues, ils garderont toujours le souvenir d'un homme calme, poli, attentionné, un homme à la conversation stimulante et toujours pleine délicatesse. Pour François Paré, qui l'a côtoyé pendant de nombreuses années, « Daniel Chouinard était d'une grande lucidité intellectuelle, toujours un peu en retrait des événements, mais toujours empreinte de générosité »
Paix à son âme.
It is with great sadness that we learned of the passing of Prof. Daniel Chouinard in December 2021.
In 1984, after completing his doctorate at the Université de Montréal, Daniel Chouinard embarked on a long and fruitful career as a professor of French language and literature at the University of Guelph until his retirement in 2010. The 17th century in France, an era so rich in the literary heroes he so admired, held no secrets for him: he was equally at ease discussing the lesser-known writers of that era as he was  discussing the lasting legacies of such luminaries as Racine or Perrault. However, his literary universe was not restricted to French classicism; he also taught courses on the Enlightenment, on Romanticism, and on Children's literature, which, over the years, became a second, cherished  field of research. Indeed, his contributions to this field of research are remarkable, with  numerous articles appearing  in journals such as Canadian Children's Literature (CCL), Tangence, Québec français, Les Cahiers de l'APFUCC and many book chapters published in various collective works.
Over the course of his career, Daniel Chouinard has also held important administrative positions at the University of Guelph. He served first as Head of French Studies and then, for ten years,  as Director of the School of Languages and Literatures from 1998-2008. In these positions, he demonstrated his exceptional interpersonal skills,  never making decisions unilaterally and always knowing how to find just the right word to defuse potential sources of conflict and  reassure his colleagues.  Everyone, students and colleagues alike, admired his kindness and sense of humour.
A tireless reader, a great lover of books, Daniel Chouinard embodied the erudite professor, but he never flaunted his vast classical culture. It was over the course of a conversation on the most banal subjects that one could discover his prodigious memory of those texts that shape us. Daniel Chouinard was an honest man, "un honnête homme" in the classical, and best, sense of the term.  
According to his widow, Maryel Archambault, Daniel Chouinard "loved his life in Guelph". She remembers how he appreciated the bucolic region, with its and picturesque valleys and villages and how the couple would often enjoy regular excursions to  surrounding areas.
As for his colleagues, they honour the memory of a calm, polite, attentive man, a man of scintillating conversation and uncommon tact. In the words of his longtime friend, François Paré, "Daniel Chouinard possessed a clear-sighted intelligence, away from the fray yet nevertheless marked by a deep generosity."
May he rest in peace.