Dawn Cornelio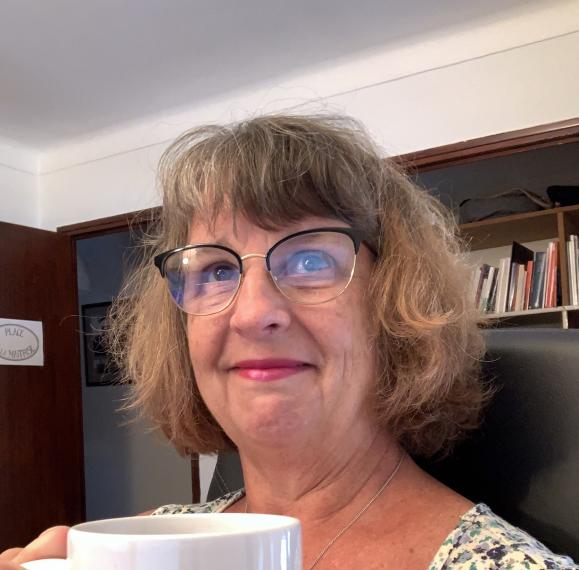 Professor, Graduate Coordinator for French Studies
School of Languages and Literatures
Description
Education
BA (Hons.), University of Connecticut
MA, University of Connecticut
PhD, University of Connecticut : Dissertation: Exploring Lyrical Circulation: Reading and Translation Jean-Michel Maulpoix's Une histoire de bleu (2001)
Fields of specialization
Traduction littéraire (théorie et pratique)
Autofiction et l'écriture féminine contemporaine
Les écrits de Chloé Delaume
Publications
Critical website
Work in Progress:
Sisters, are you with me?  A Translation of Chloé Delaume's Mes bien chères soeurs (2019). Forthcoming 2021 with New Dawn Editions.
Translated books:
Of course not! Chloé Delaume. U of Nebraska Press, 2017.
Nimrod: Selected Writings. Ed Freida Ekotta, U Michigan Press, 2018. (Translation of works in prose only.)
Pink Bra and Black Jacket. Rafaële Germaine. McArthur & Company, 2011.
Black Alley. Mauricio Segura. Biblioasis, 2010.
Gin Tonic and Cucumber, traduction de Gin Tonic et concombre de Rafaële Germain, McArthur & Company, 2010.
TransCanadian Sketchbook. Olivier Barrot. McArthur & Co, 2009.
A Matter of Blue. Jean-Michel Maulpoix, Boa Editions, 2005.
Selected chapters, articles and conference papers:
"La curation de sa création: l'évolution en ligne de Chloé Delaume", 20th and 21st Century French and Francophone Studies International Colloquium, 2021, online.
"Damned if she does, damned if she doesn't: la réception critique et populaire de quelques oeuvres de Chloé Delaume", Women in French UK Conference, 2021, online.
"Une mise à jour du féminisme de Chloé Delaume: des Mouflettes d'Atropos à Mes bien chères soeurs", French Cultural Studies Vol 31 Issue 4, 2020, pp 284-292.
"Des chaussures ensanglantées à un corpus éclaboussé: la présence de M Duras dans certaines oeuvres de C Delaume" in Descendance durassienne et écritures contemporaines, ed Catherine Rodgers, 2020, pp 91-110.
"Transgresser les limites du patriarcat: les clés de la révolution féministe d'après Chloé Delaume", in Transgression(s) in Twenty-First-Century Women's Writing in French, eds Kate Averis, Ègle Kackuté, Catherine Mao, 2020, pp 251-266.
Des pouvoirs et impuissances de l'autofiction chez Claire Legendre", Women in French UK Conference, 2019, Leeds, UK.
"Activism and Autofiction: Chloé Delaume's Response to the Patrick Le Lay Affair", Contemporary French and Francophone Studies. Vol.22.1, 2018, pp 15-22.
"New Possibilities for Translation: Care Theory as Criteria for Negotiation", in Translaboration: Translation as Collaboration. Ed Alexa Alfer, 2017, pp291-303.
"Collision and Collusion: contrasting representations of the translator-author relationship in contemporary French Fiction", TTR Vol. 29, 2016, pp 139-160.
"De Nathalie Dalain à Chloé Delaume: qui est qui?", Komodi 21, 2016, en ligne.
"Fragmentations des corps et des identités chez Chloé Delaume", @nalyses, Vol. 11, No. 1, Hiver 2016, en ligne.
Des seuils et des sables mouvants : Narration reflexive chez Brice Matthieussent.   20th / 21st Century French and Francophone International Studies Colloquium, St Louis (March 2016).
Absent presence: The Role of the Mother in the Work of Chloé Delaume.   Rocky Mountain Modern Languages Association, International conference, Santa Fe, New Mexico (Oct 2015).
"Elle se nomme Chloé Delaume: un parcours personnel et littéraire" in Protean Selves: 1st Person Narrators in 21st Century French and Francophone Fiction. Ed. Adrienne Angelo and Erika Fülöp. Newcastle: Cambridge Scholars Publishing, 2014. (pp 40–53). 
"I'm going back where I came from: Voyages in Languages and Prose in Marie Etienne's Sensò, la guerre and Silvia Baron-Supervielle's Le livre du retour" in Parcours de Femmes: Twenty Years of Women in French. Ed. Maggie Allison Angela Kershaw. 2010, (pp. 229-242)
Awards
UGFA Teaching Award, 2007
Award for Excellence in Teaching, College of Arts, 2006
Central Student Association Teaching Excellence Award, 2005