Dorothy Odartey-Wellington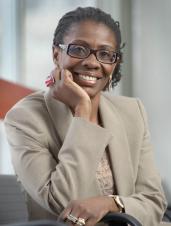 School of Languages and Literatures
Education
B. A., Honours,  University of Ghana, Legon
M.A., McGill University
Ph. D., McGill University
Fields of Specialization
Afro-Hispanic Literature
Contemporary Spanish Fiction
Fictional Narratives of Migration
Recent Publications
Chapters in books
Odartey-Wellington, D. (2016). "Newcomers and Host Nations: Literary Images Associated with Immigrants in Spanish Fictional Narrative". In César Dominguez; Anxo Abuín ; Ellen Sapega. (Ed.), A Comparative History of Literatures in the Iberian Peninsula. Vol II (pp. 112-124). John Benjamins.
Odartey-Wellington, D. (2015). "Postnatioanal or Postcolonial? Reading Immigrant Writing in Post National Europe: the case of Equatorial Guinea and Spain". In César Dominguez and Theo D'haen (Eds.), Cosmopolitanism and the Postcolonial: Literature and the New Europe (pp. 199-213). Leiden: Brill/Rodopi
Refereed Articles
"Odartey-Wellington, Dorothy.  (2017). " Walls, Borders, and Fences in Hispano-Saharawi Creative Expression". Research in African Literatures.  28.3.  (Forthcoming). Special Issue: Migratory Movements and Diasporic Positioning in Contemporary Hispano and Catalano African Literatures. Juliane Tauchnitz and Julia Borst, Guest Editors.
Odartey-Wellington, D. (2015). "Fictional and Street Narratives: The Textual Scaffolding of Contemporary African Cities". Matatu. Journal for African Culture and Society, 47, 153-174.
Odartey-Wellington, D. (2014). "Equatorial Guinea is Different': literatura colonial de Guinea Española en África Occidental. Revista Iberoamericana, 58 (248-249), 763-776.
Odartey-Wellington, D. (2012). "Ciudades soñadas y ciudades en las que es imposible soñar: la narrativa de Guinea Ecuatorial". Tintas: Quaderni di Letterature Iberiche e Iberoamericane, 2 (2012), 81-95.