Paola Mayer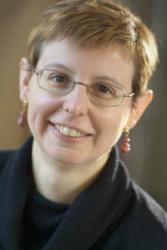 Associate Professor, Head of German Studies
School of Languages and Literatures
Education
B.A. University of Toronto
M.A. Princeton University
Ph.D. Princeton University
Fields of Specialization
German Romantic literature and thought
Myth and fairy tales in German culture, 18th -19th century
The uncanny and fantastic in German literature and theory
Research
Current Research Projects
Book:
Working Title: Spectral Realities: The Romantic Aesthetics of Fear.
Edited Volumes:
Commented edition: selected short fiction of Alexander Moritz Frey.

Traditions in German Literature: Romanticism, Humanism, Judaism. Essays in Memory of Hans Eichner.
Co-edited special issue of Oxford German Studies: Satires of Dehumanization 1918-1945.
Publications
Books
Jena Romanticism and its Appropriation of Jacob Böhme: Theosophy – Hagiography – Literature. Kingston & Montreal: McGill-Queen's UP, 1999.
Books Edited
Benedikte Naubert. Neue Volksmärchen der Deutschen. Edited, with Commentary and    Afterword by Marianne Henn, Paola Mayer & Anita Runge. 4 vols. Göttingen: Wallstein Verlag, 2001.
Refereed Articles
 "The Veiled Goddess and the Naked Truth: Revisiting Schiller's and Novalis's Adaptations of the Sais Myth." Germanisch-romanische Monatsschrift 61 (2011):  145-164..
"Religious Conversion and the Dark Side of Music: Kleist's Die Heilige Cäcilie oder die Gewalt der Musik and Hoffmann's Das Sanctus." Colloquia Germanica 40 (2009): 237-258.
"Variations on a Romantic Theme: The Education of the Artist in E.T.A. Hoffmann's Der Kampf der Sänger and Der Feind." Seminar 43:3 (2007): 280-300.
Reflections on Mythology: Eichendorff's Response to Schiller and Novalis." Forthcoming in Euphorion.
"Melusine: The Romantic Appropriation of a Medieval Tale," Germanisch-Romanische Monatsschrift 52.2 (2002): 289-302.
"Das Unheimliche als Strafe und Warnung: Zu einem Aspekt von E.T.A. Hoffmanns Kritik an der Frühromantik."  E.T.A.  Hoffmann Jahrbuch 8 (2000).  56-68.
"Reinventing the Sacred: The Romantic Myth of Jakob Böhme." German Quarterly 69.3 (1996): 247-59.
"Die unheimliche Landschaft: Ein Aspekt von Eichendorffs lyrischer Dichtung."          Athenaeum 5 (1995): 169-96.