Stéphanie Nutting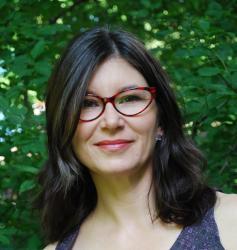 School of Languages and Literatures
Phone number:
(519) 824-4120 ext. 53168
Description
Education
BA (Hons.), University of Toronto.
MA, Queen's University at Kingston.
PhD, Queen's University at Kingston.
Field of specialization
Théâtre québécois et canadien-français.
Poésie québécoise et canadienne-française.
Esthétique des textes dramatiques.
Other academic activities
Coordonnatrice de l'échange Guelph-Chicoutimi, University of Guelph
Publications
Books:
Jean Marc Dalpé. Ouvrier d'un dire, sous la direction de Stéphanie Nutting et François Paré, Sudbury : Prise de parole, 2006.
Le tragique dans le théâtre québécois et canadien-français, 1950-1989, Lewiston : Edwin Mellen Press, 2000.
Chapters:
«Le conte urbain: Yvan Bienvenue, Jean Marc Dalpé et Fabien Cloutier» Le jeu des positions. Discours dans le théâtre québécois. Sous la direction de Louis Patrick Leroux et Hervé Guay. Québec: Editions Nota Bene, 2014, pp247-274
« On Doug Jones and Translating Outside », Writing Between the Lines : Portraits of Canadian Anglophone Translators, sous la direction d'Agnès Whitfield, Waterloo : Wilfrid Laurier Press, 2006,107-138.
« Mater/modernité dans l'écriture dramatique de Carole Fréchette. », Théâtres québécois et canadiens-français au XXe siècle : Trajectoires et territoires, sous la direction de Gilbert David et Hélène Beauchamp, Montréal : Presses de l'Université du Québec, 2003, 237-248.
« Introduction », Carole Fréchette : Three Plays – The Four Lives of Marie; Seven Days in the Life of Simon Labrosse and Elisa's Skin, Trans. John Murrell, Toronto : Playwrights Canada Press, 2002, i-vii.
« Entre chien et homme: l'hybridation dans Le chien de Jean Marc Dalpé », Les théâtres professionnels du Canada francophone. Entre mémoire et rupture, sous la direction de Hélène Beauchamp et Joël Beddows, Ottawa : Le Nordir, 2001, 277-290.
Articles :
«Joël Beddows, agent double» Francophonies d'Amérique. (33).2013, 13-35
«L'animal au théâtre ou la mise en jeu d'une altérité radicale». Annuaire théâtral (50/51), 2013, 155-169
« La poétique de la détection dans Provincetown Playhouse », Voix et images, 75, printemps 2000, 460-470.
« L'écologie du tragique : Fragments d'une lettre d'adieu lus par des géologues de Normand Chaurette », The French Review, 71, (6), mai 1998, 949-960.
Champs de recherche:
Mes recherches actuelles portent sur le conte et l'improvisation comme techniques de l'apprentissage du français, langue seconde. 
Je travaille aussi sur le potin comme mécanisme théâtral dans le domaine du théâtre québécois et franco-canadien.