Welcome to Guelph Engineering!
The University of Guelph engineering program is an interesting and exciting learning environment. There is a lot to learn as you enter your first year and we want to help you prepare and succeed. To help get you started please review the following information.
---
Selecting Your First Semester Courses
The first step is to select your first semester courses. It is important to reference your Student Registration Handbook and the How to use Webadvisor website.  The site will have tips on using WebAdvisor, which is the program you use to add courses. It includes possible errors you might encounter, and what to do when you encounter them. You should register as soon as possible as availability in desired selections will decrease over the course selection period. Use the course schedule worksheet to help you plan your schedule. Note that as there has been many changes to our course offerings for the Fall of 2020 because of COVID-19, you should refer to the University COVID-19 page for updates related to course registration.
The courses for your first semester, are the following:
ENGG*1100 – Engineering and Design I
CHEM*1040 – General Chemistry
MATH*1200 – Calculus I
PHYS*1130 - Physics with Applications
(Biological, Biomedical, Environmental, Water Resources) - ENGG*1500 - Engineering Analysis
(Computer, Engineering Systems and Computing) - ENGG*1410 - Introductory Programming for Engineers
(Mechanical) - CIS*1500 - Introduction to Programming
(Undeclared) - CIS*1500 - Introduction to Programming or ENGG*1410 - Introductory Programming for Engineers (depending on planned major)
Start with ENGG*1100.  There is only one lecture time.  The University opens space gradually so that all students will have access to conflict-free schedules.  There will likely only be a couple of options for this course open at a time.  Please note that each section of ENGG*1100 has two lab times, and you must attend both.
Next, pick your CHEM*1040 lecture timeslots.  There are different lecture sections for this course, but only some options will work with the ENGG*1100 section you have registered for already.  Add in the labs. 
Next, choose your MATH*1200 and PHYS*1130 sections.  Adjust CHEM*1040 if necessary.
Finally choose either ENGG*1500, ENGG*1410 or CIS*1500. 
---
Understanding Course Codes
Courses at the University of Guelph have letter identifiers for the department (for example CHEM or ENGG or CIS) and numbers indicating the course codes and section.   The groupings are separated by * - for instance, ENGG*1100*0112.  Each section has a lecture time (first two digits - 01 in this case) and may also have a lab or seminar (12 in this case).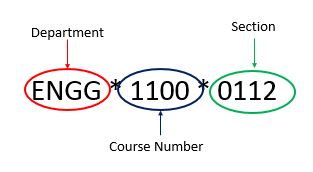 ---
Review Your Program Guide
On a regular basis, you should review the program guide for your major to ensure you are on track with the courses in your program. Please note that there are specific program guides for each cohort year. Your cohort year is the year you started in the program. For example, for students starting in the Fall 2020 semester, your cohort is year is referred to as 2020/2021. 
---
Didn't Take Grade 12 Physics or Chemistry?
Students who lack one of these credits should speak with the Engineering Program Counsellor (engcouns@uoguelph.ca) prior to selecting courses for the fall semester.
---
Personal Computers
During your degree, you'll use a wide variety of specialized software packages for design, simulation, and analysis. To access this software, the School of Engineering has 10 computer labs with a total of 425 computers which are loaded with everything you'll need to complete your coursework. All students have 24/7 access to computer labs using their student card so you will be able to do your work at whatever time suits your schedule.

Many new students have questions about what laptop is best for University. We strongly recommend a lightweight, Windows-based laptop. We also recommend what is called a business-class laptop which is typically more durable and has a better warranty. An example of this would be a Lenovo ThinkPad.

The reason we make recommend a Windows-based laptop is that most Engineering software is only available for the Windows platform. As a student, you'll be able to install some software on your own computer, but it won't work if you have a Mac. Since remote learning will be a significant component of your fall semester, having the software on your own computer will give you better performance than trying to use it through our remote access system.

When choosing a laptop, one of the most important things you should look for is something that you will be comfortable using extensively and carrying around with you for long periods. We recommend looking carefully at the size, weight, and screen size of the laptop before making a purchase. Many students carry their laptops in their backpack all day long and you want something that won't weigh you down.

If you have more questions about the computer labs, the software you will use, or purchasing a laptop, please feel free to contact the Engineering IT help desk and we'll do our best to help you out.
Computing and Communication Services provides IT services to the University of Guelph community. They have a support page for undergraduate students. This page provides useful information on network services, IT support and software available on campus. 
---
Orientation Events
SPRING ACADEMIC OPEN HOUSE
Every year, there is a Spring Academic Open House in May to present information to students and their parents about the transition to Guelph Engineering from high school. It also provides information on academic and non-academic resources available for students. Plan to attend this open house to help prepare you for the fall. This is a great opportunity to come and ask your questions!
2020 Welcome to Guelph Engineering
ACADEMIC ORIENTATION MEETINGS
Tuesday, September 8, 2020 - The B. Eng. Degree Program Orientation Presentation is an important introduction to the B.Eng. program, your faculty and your first year courses. Please plan to attend.
Wednesday, September 9, 2020 - The Meetings for Major presentations give you an introduction to your specific engineering discipline and the research that faculty are undertaking. This is also a good event for those undeclared students still deciding which program they want to declare as their major. 
---
Need some Help?
As there is lots to learn when you enter a new program, it is important and encouraged to ask for help. Your Academic Program Counsellors are available in the engineering counselling office to answer your questions. The Engineering Counselling Office can provide assistance with academic and personal issues that are influencing your academics. Please contact us anytime for assistance.
Send an email to the Counselling office. Our email address is : engcouns@uoguelph.ca
Book an appointment with one of the Engineering Program Counsellors. 
(Updated April 19, 2021)