Student Forward Food Conference A Success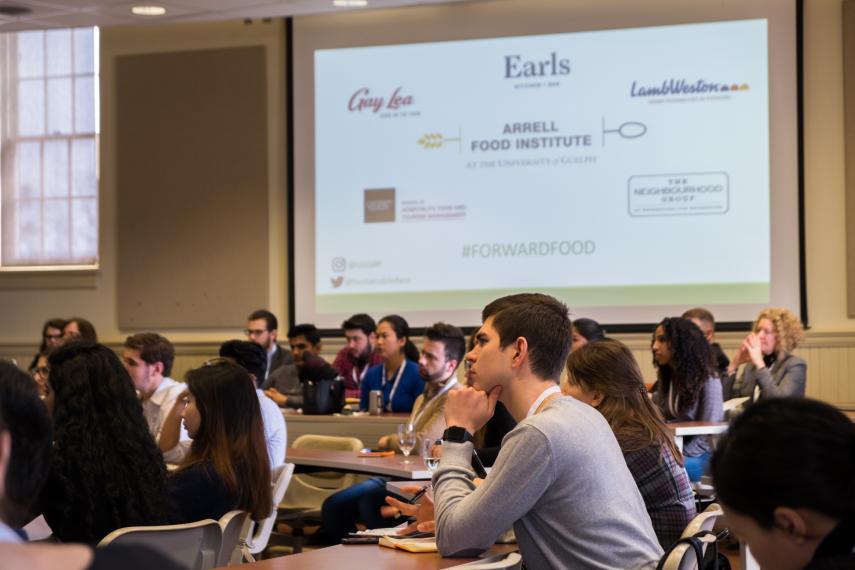 This past weekend, Saturday, March 16th, the University of Guelph hosted Forward Food - a Sustainable Food Systems Student Conference.
Students from eight different colleges and universities from across Southern Ontario were welcomed; including Humber College, Fanshawe College, Centennial College, Niagara College, Conestoga College, George Brown College, Ryerson University, and of course The University of Guelph. These students joined us from the hospitality and culinary programs of their respective schools to learn about the global issues facing our industry with respect to climate change and sustainable practices. The itinerary consisted of sixteen different speakers, including individual talks, two panels, a breakout session, and an international keynote.
The event opened with an industry overview by Restaurant's Canada President, Shanna Munro, followed by a captivating speech from Oceanwise's Executive Chef, Ned Bell. The students were exposed to trends in vegan/vegetarian dining on the Plant-Based Menus Panel, hearing insights from Chefs, Managers and Researchers. After indulging in Hospitality Services' impressively local and ethical catering,students had the choice of attending talks with Daniel Hadida of The Restaurant at Pearl Morissette and Court Desautels of The Neighbourhood Group of Restaurants. Next, was an eye-opening panel on The Corporate Impact from PepsiCo, Lamb Weston, Gay Lea and High Liner, the day concluded with a motivational speech from Jonathan Bloom, Author of American Wasteland and international advocate against food waste.
Among students, speakers, and invitees, everyone was able to enjoy an enlightening and empowering day. By the time the evening reception took place, the room was buzzing with excitement from a day of unique learning and inspiring discussion. Forward Food was intended to make a lasting impact on our food system's future leaders by opening them up to best practices in their industry and consumer demands for a better future. Hopefully, this event can continue annually to inspire a new generation of leaders for a sustainable world.

UGSRP Weblink
Share this page
News Topics