2022 HAFA HFTM Alumni Association Recipients Announced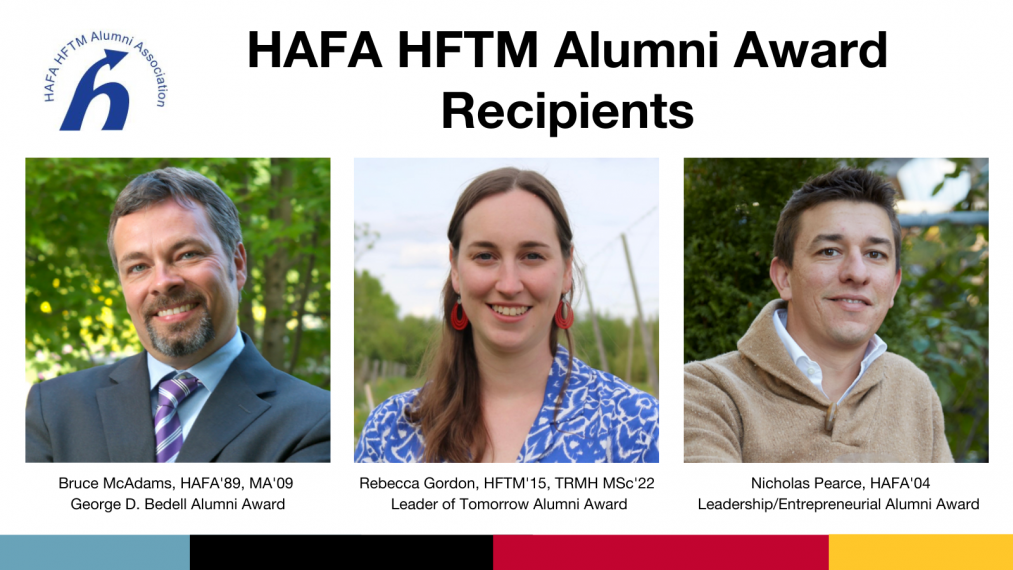 Annually, the HAFA/HFTM Alumni Association recognizes exceptional alumni for their outstanding achievements and commitment within the Hospitality and Tourism Industry. The three prestigious awards are presented to the winners at the association's annual fall social event.
Congratulations to the following, named 2022 HAFA Alumni Award Recipients! #HFTMproud #LangBusiness #UofG
George D. Bedell Alumni Award
This prestigious award has been revived to honour distinguished alumni of The School of Hospitality, Food and Tourism Management who have consistently shown professionalism, outstanding achievement and personal contribution to the school and to the field.   The recipient served as an inspiration to the industry as well as the school and its communities.
Bruce McAdams, HAFA'89, MA'09, Professor, Hospitality, Food & Tourism Management, U of G
Leadership/Entrepreneurial Alumni Award
This award identifies alumni who have demonstrated success within the diverse world of hospitality and tourism. The recipient has displayed excellence, innovation and leadership in his or her field and continues to contribute both to the school and the industry in years ahead. 
Nicholas Pearce, HAFA '04, Founder, Nicholas Pearce Wines
Leader of Tomorrow Award
The Leader of Tomorrow Award recognizes a recent graduate who embodies the culture of the industry and the school.  The recipient displays outstanding potential in his or her attitude and passion for the industry and will have a bright and shining future ahead.  Recipients have acted as an ambassador for the school and are eager to continue their participation with students and alumni as they grow in their career. 
Rebecca Gordon, HFTM'15, TRMH MSc'22, Anita Stewart Memorial Food Lab Coordinator/Graduate Research Assistant, HFTM - University of Guelph
---
The 2022 recipients will be recognized at the annual fall social. Details can be found here.
View a list of previous recipients.
All 2023 nominations are welcome and will be reviewed and selected by the HAFA/HFTM Alumni Awards Committee.
Share this page
News Topics