March 2021 Wellness Calendar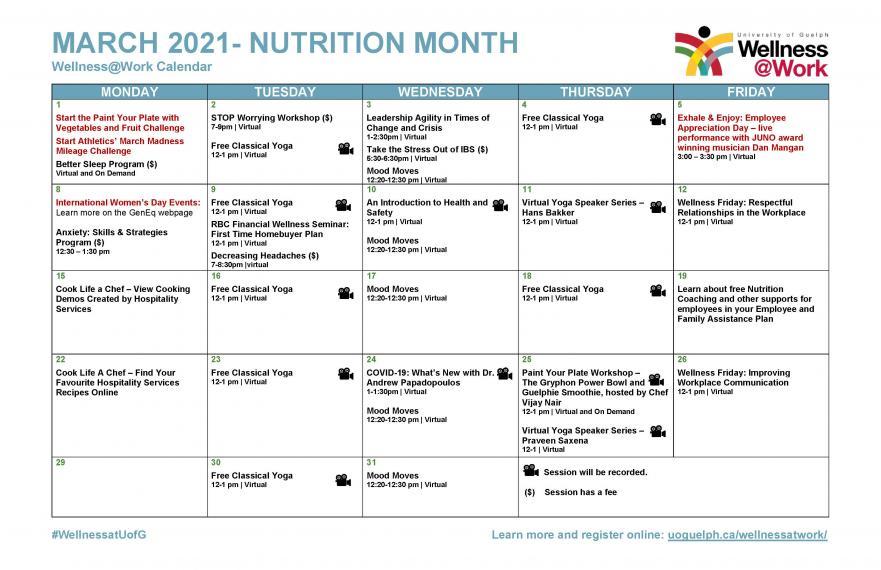 Winter, and the cold and darkness that comes with it, can be difficult for many people.  Winter during a pandemic provides additional challenges, such as sadness, nostalgia about life before COVID-19, uncertainty, and fear of loss, illness, and medical facilities. If you find you are experiencing changes in your mood, you are not alone.
University Wellness Supports
Supports are available from your Employee and Family Assistance Program and benefits plans if you, or an immediate family member, are in need to confidential, professional counselling for personal, family, relationship, and wellness issues.  You can also explore the COVID-19 Wellness Resources web page for a comprehensive listing of available wellness supports.
Did you know your Employee and Family Assistance Program also provides Life Smart Coaching? The program provides parenting, elder and family care support, relationship solutions, financial coaching, legal and advisory services, and support for grief and loss. Health Coaching is available for smoking cessation, nutrition and jump starting your wellness. Career coaching, pre-retirement planning and shift worker support is also available. One call is all it takes to get started. Call 1-800-663-1142 and/or create an account at homeweb.ca to access these resources.
Missed the U of G, Let's Talk event?  A recording and resources from psychological health and safety expert Dr. Joti Samra are now available.
Upcoming Wellness Opportunities
Wellness@Work provides wellness opportunities each month for you to connect with colleagues, learn new skills, and enhance your overall well-being. 
March is Nutrition Month
Cool weather usually means more comfort food. While it may be enjoyable, some people find that it can lead to lower energy and be harmful to their physical and mental health. Here are some ways to cope:
Move Your Body
More time indoors due to weather and COVID-19 restrictions can decrease regular exercise. This can lead to mood changes. Here are some ways to start increasing your activity level:
Join Athletics' March Madness Mileage Challenge. Schedule regular movement breaks to get more active.
Move as a virtual group by joining the Wellness Education Centre's virtual, 10 minute Mood Moves stretch and movement breaks every Wednesday.
Attend an event offered by the U of G Yoga and Meditation Collective. Check out their exciting 2021 speaker series to learn and discuss important topics in yoga.
Other Wellness Opportunities
EXHALE & ENJOY: Employee Appreciation Day Event - A live performance with Dan Mangan
U of G faculty and staff are invited to sit back, relax, and enjoy a live virtual performance from Dan Mangan, a two-time JUNO award winning Canadian musician.  Tune-in on Friday March 5, 2021 from 3:00 p.m. – 3:30 p.m. Invite others in your household to watch along with you and enjoy this opportunity to connect and take a break from your busy day.
GREAT at U of G
Don't forget to submit your nominations for the February "G" Thanks! Kudoboard to show your appreciation or recognition for a colleague, team, or leader. Each nominee will be entered into a draw for the monthly prize box!