IF…Interdisciplinary Feminisms Series

IF is an interdisciplinary, intersectional and (mostly) internal speaker series to get conversations about gender and sexuality studies going across campus.
We are currently planning our talks and workshops for Fall 2023. Please contact dhguelph@uoguelph.ca if you are interested in being involved.
---
Winter 2020 IF Speaker Series
Manomin Stewardship and Growing-up Anishinaabe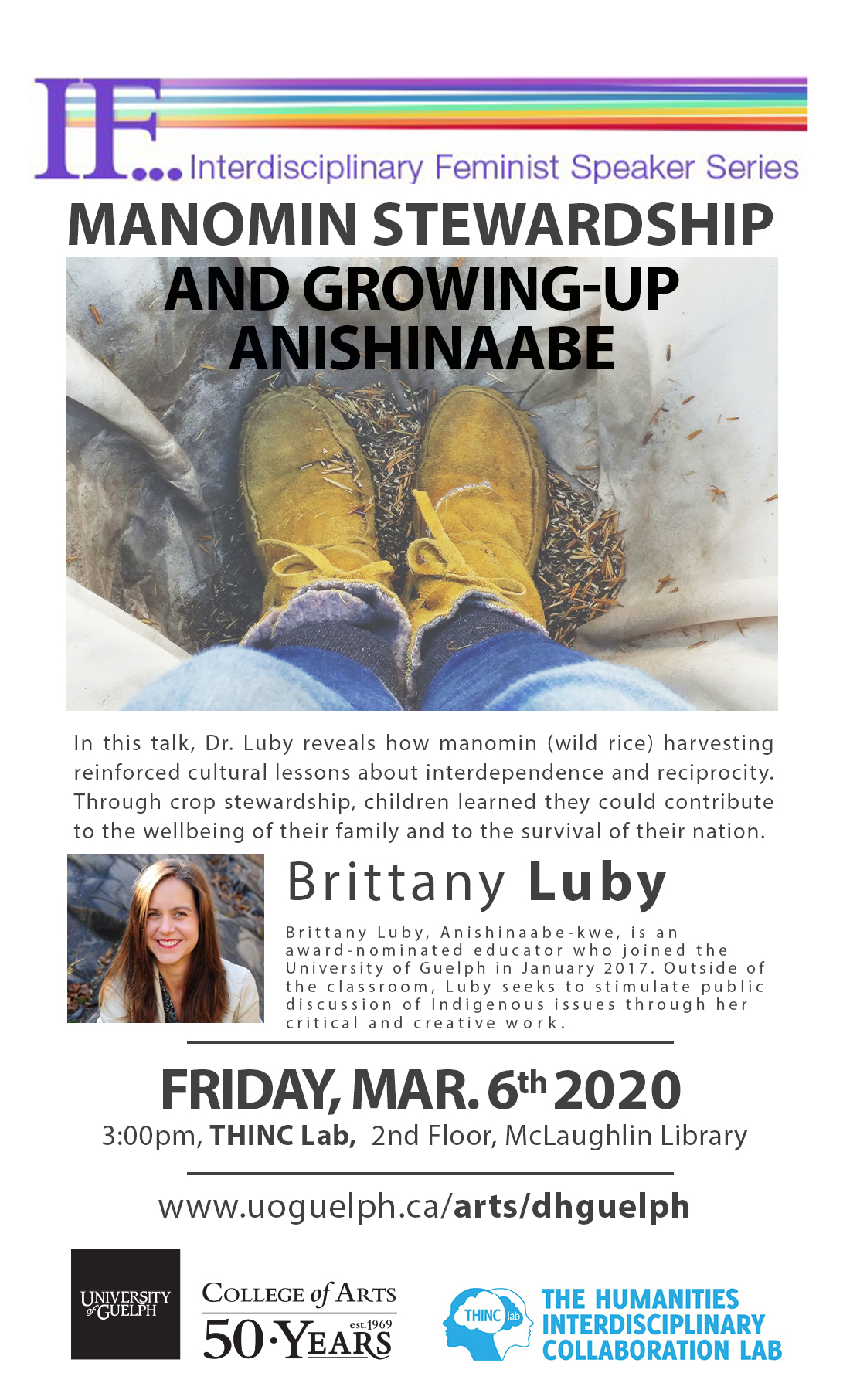 Speaker: Brittany Luby
Date: March 6
Time: 3:00pm
Location: Thinc Lab, 2nd Floor, McLaughlin Library
In this talk, Dr. Luby reveals how manomin (wild rice) harvesting reinforced cultural lessons about interdependence and reciprocity. Through crop stewardship, children learned they could contribute to the wellbeing of their family and to the survival of their nation.
Brittany Luby, Anishinaabe-kwe, is an award-nominated educator who joined the University of Guelph in 2017. Outside of the  classroom, Luby seeks to stimulate public discussion of Indigenous issues  through her critical  and creative work. Her historical work can be found in periodicals such as the  Canadian Bulletin of  Medical History and the  Canadian Journal of Native Studies. Encounter, a piece of historical fiction for children, is available through Tundra and Little, Brown Books for Young Readers.
---
Winter 2019 IF Speaker Series
#MeToo, Motivated Ignorance, and the Epistemic Value of Storytelling 
Speaker: Karyn Freedman, Philosophy
Date: February 13th
Time: 3:30pm-5pm
In this paper Freedman explores the epistemic value of #MeToo testimonials for the teller, when believed; for the marginalized hearer, when experiences like hers are represented by others; and for society at large, when dominant narratives are disrupted. 
Smack it in the Air: How Female Hip-Hop Artists are Taking Back the Booty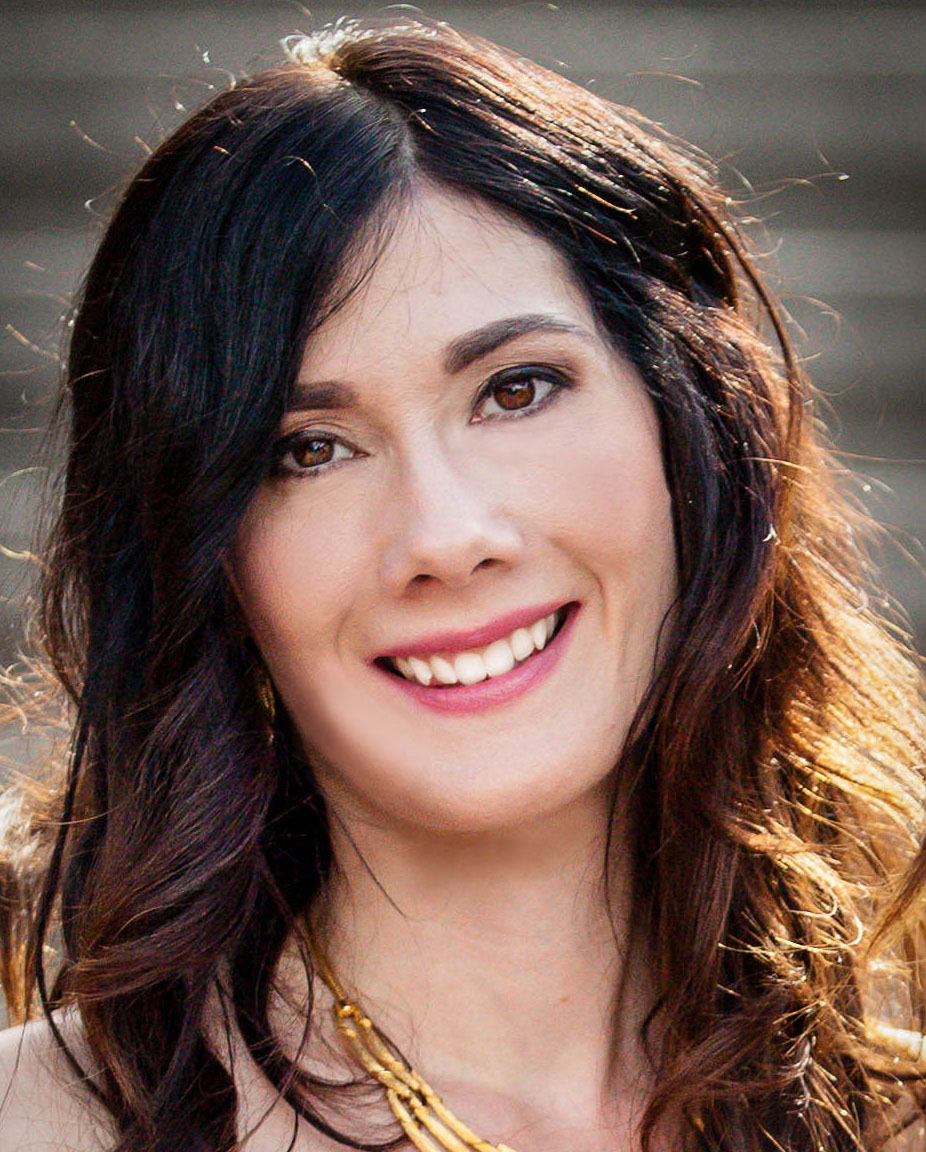 Speaker: Alyssa Woods, SOFAM
Date: February 27th
Time: 3:30-5pm
This talk explores the recent trend of female artists who have appropriated and re-imagined the "booty video". Employing strategies of parody and hyperbole, artists such as Beyoncé, Lily Allen, and Nicki Minaj have reclaimed the discourse surrounding the female body from within the hyper-masculine norms of hip-hop culture.
Winter 2019 IF... Brown Bag Lunch Series
Still Getting the Dirt on Feminism (A Compost Tour)
Karen Houle (University of Guelph)
Date: May 3
Time: 12-2pm
Location:  Meet at The Cannon in Branion Plaza for 12pm, for a compost-collecting parade through campus to the Organic Farm.
Register here: https://cal.lib.uoguelph.ca/event/3498168
Join us at the Organic Farm on Campus with Karen Houle (University of Guelph).  We'll tour the farm together, talk about compost, death, healthy earth practices as well as life, and growth, and we'll connect these things to our working senses of "feminism."
There will be maps showing locations of compost bins on campus and you can learn about volunteer opportunities at the farm. 
Come one, come all, and celebrate Mother Earth.
Emoji Spells: Online Rituals for the Digital Age
Meg Wilson (SETS)
Date: February 15th
Time: 12-1pm
Cut 'n Paste: A hands-on discussion of Feminist Zines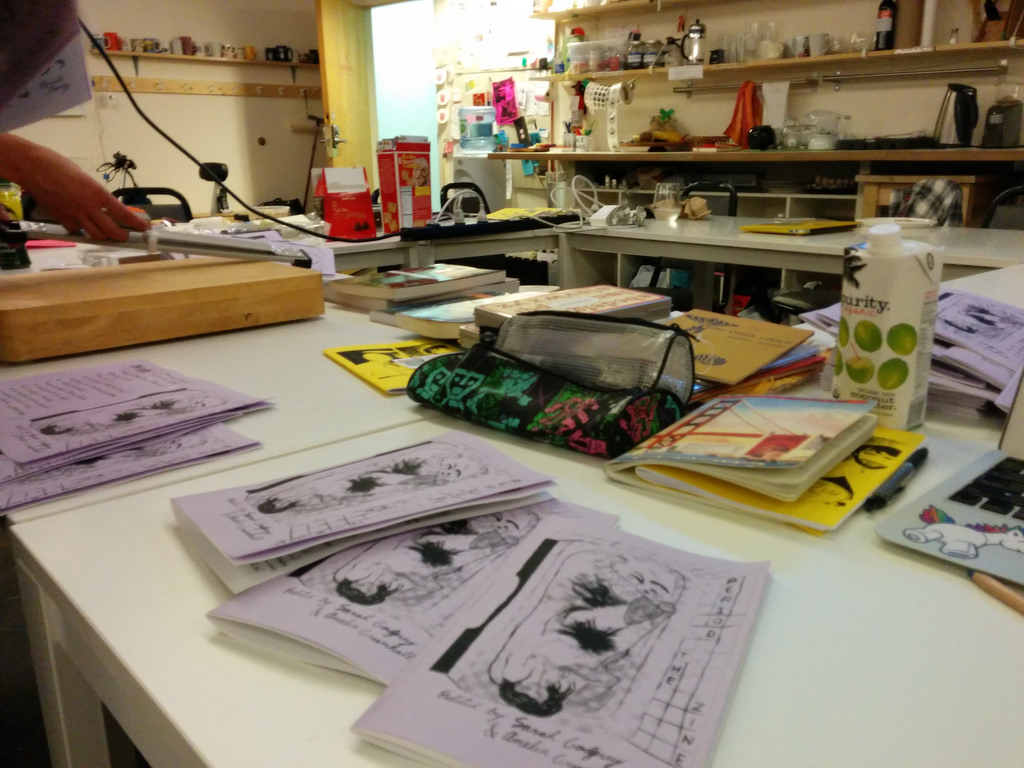 Melanie Cassidy (McLaughlin Library)
Date: March 1st
Time: 12-1pm
A look at the history and context of zines and the power and privilege both embedded in, and exercised through, zine production.
---
Fall 2018 IF... Brown Bag Lunch Series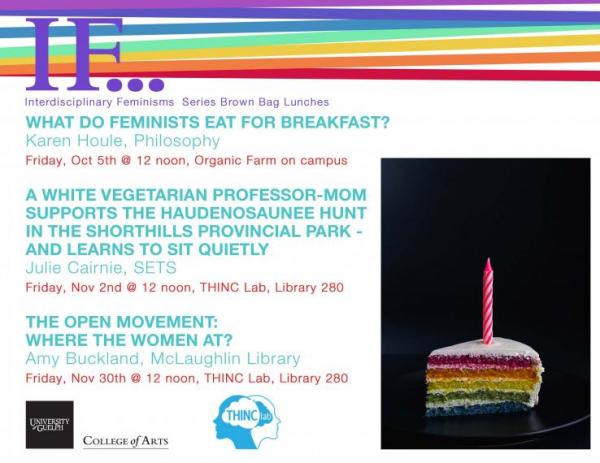 Title: What do Feminists Eat for Breakfast?
Speaker: Karen Houle
Date: Oct 5th
Time: 12 noon
Register here: http://cal.lib.uoguelph.ca/event/3462845
*** Please note, this discussion will take place at the Organic Farm on campus***
Title: A White Vegetarian Professor-Mom Supports the Haudenosaunee Hunt in the Shorthills Provincial Park -- and Learns to Sit Quietly
Speaker: Julie Cairnie
Date: Nov 2nd  
Time: 12 noon
Register here: http://cal.lib.uoguelph.ca/event/3462846
Title: The Open Movement: Where the women at?
Speaker: Amy Buckland
Date: Nov 30th
Time: 12 noon
Register here: http://cal.lib.uoguelph.ca/event/3462847
Fall 2018 IF.. Speaker Series
  
 On Sept 27th at 3:30 pm, Kim Anderson will kick off the semester with her talk Creating Indigenous Feminist Space
 In this talk, Dr. Anderson will discuss how she has been engaged in embodied place-making with Indigenous women in campus in the Guelph and Waterloo region.
 As a founding member of the Kika'ige Historical Society (with Lianne Leddy and Brittany Luby) Dr. Anderson has engaged in two performance art pieces in response
 to the "fathers of confederation" and Canada 150 events. She will show films and share art work out of these and other events as a starting place to theorize
 Indigenous feminist embodiment and place in an era of reconciliation.
 Register here : http://cal.lib.uoguelph.ca/event/3462758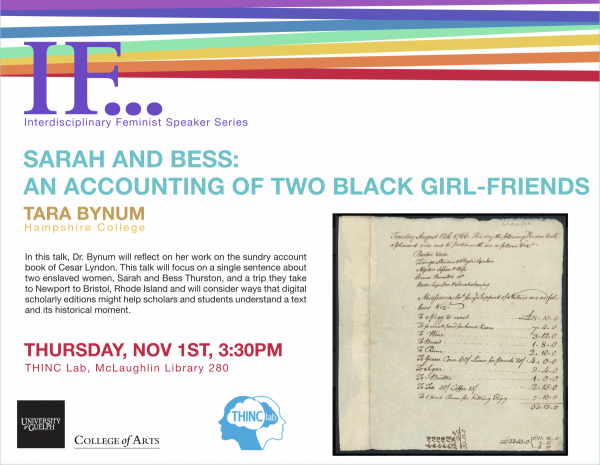 On November 1st, Tara Bynum will join us for her talk Sarah and Bess: An Accounting of Two Black Girl-Friends.
In this talk, Dr. Bynum will reflect on her work on the sundry account book of Cesar Lyndon. This talk will focus on a single sentence about two
enslaved women, Sarah and Bess Thurston, and a trip they take to Newport to Bristol, Rhode Island and will consider ways that digital scholarly
editions might help scholars and students understand a text and its historical moment. 
Register here: http://cal.lib.uoguelph.ca/event/3464704
Winter 2018 IF... Brown Bag Lunch Series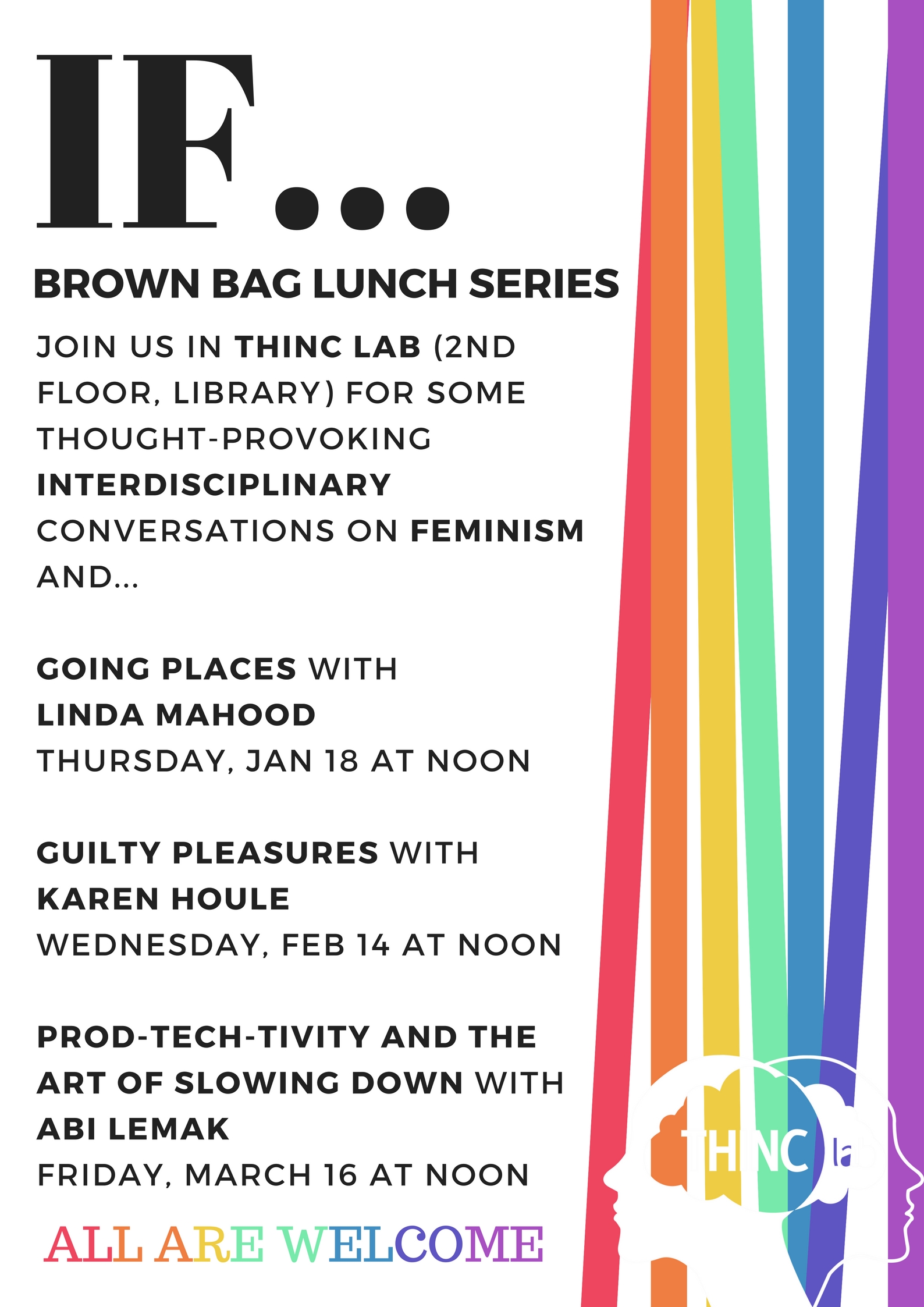 Title
: Going Places
Date: Thursday, January 18th
Time: Noon
Location: THINC Lab
Speaker: Linda Mahood
Title: Guilty Pleasures
Date: Wednesday, February 14th
Time: Noon
Location: THINC Lab
Speaker: Karen Houle
Title: Prod-Tech-Tivity and the Art of Slowing Down
Date: Friday, March 16th
Time: Noon
Location: THINC Lab
Speaker: Abi Lemak
---
Winter 2018 IF... Speaker Series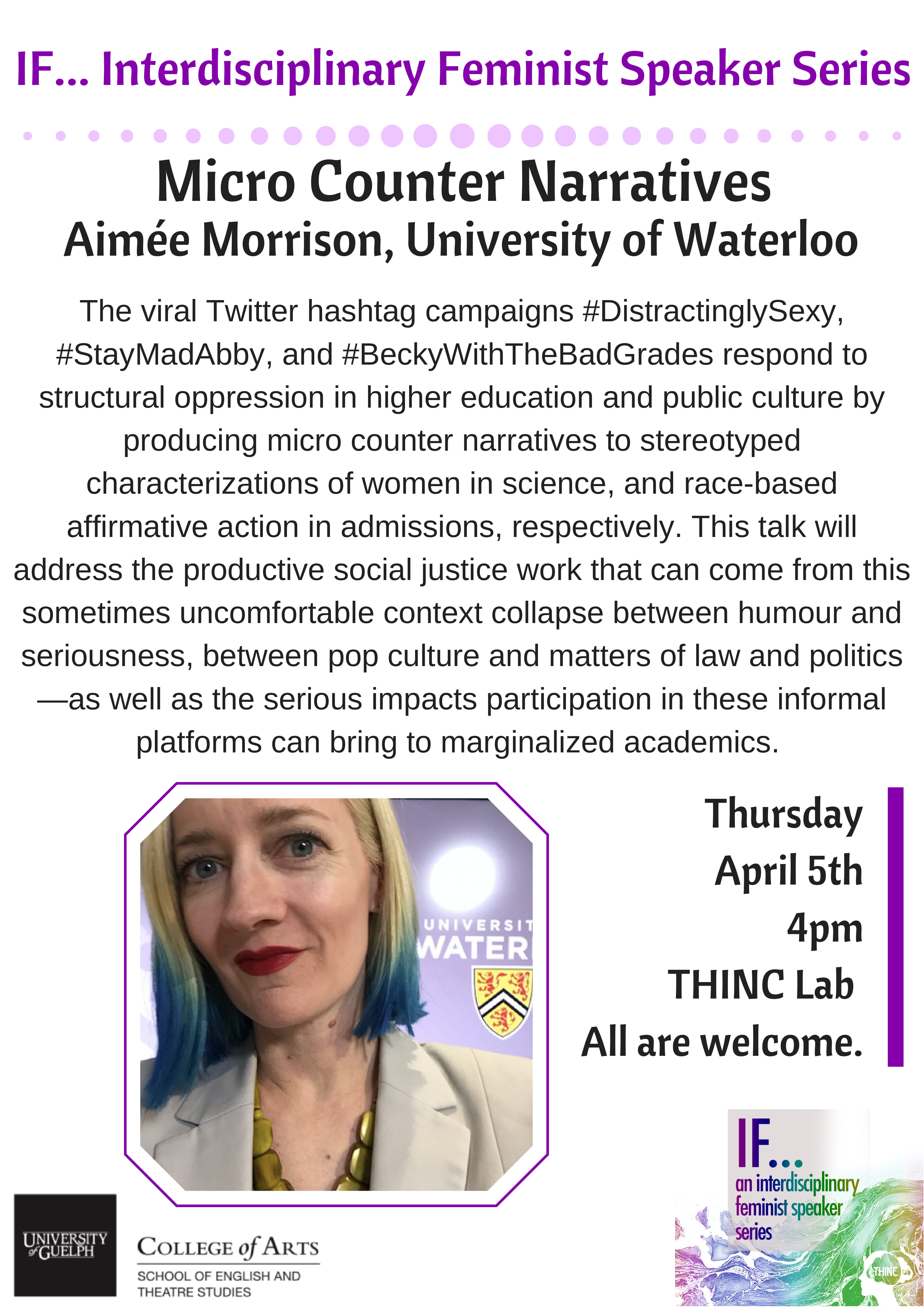 Title
: Micro Counter Narratives
Date: Thursday, April 5th
Time: 4pm
Location: THINC Lab
Speaker: Aimée Morrison, University of Waterloo
The viral Twitter hashtag campaigns #DistractinglySexy, #StayMadAbby, and #BeckyWithTheBadGrades respond to structural oppression in higher education and public culture by producing micro counter narratives to stereotyped characterizations of women in science, and race-based affirmative action in admissions, respectively. This talk will address the productive social justice work that can come from this sometimes uncomfortable context collapse between humour and seriousness, between pop culture and matters of law and politics—as well as the serious impacts participation in these informal platforms can bring to marginalized academics.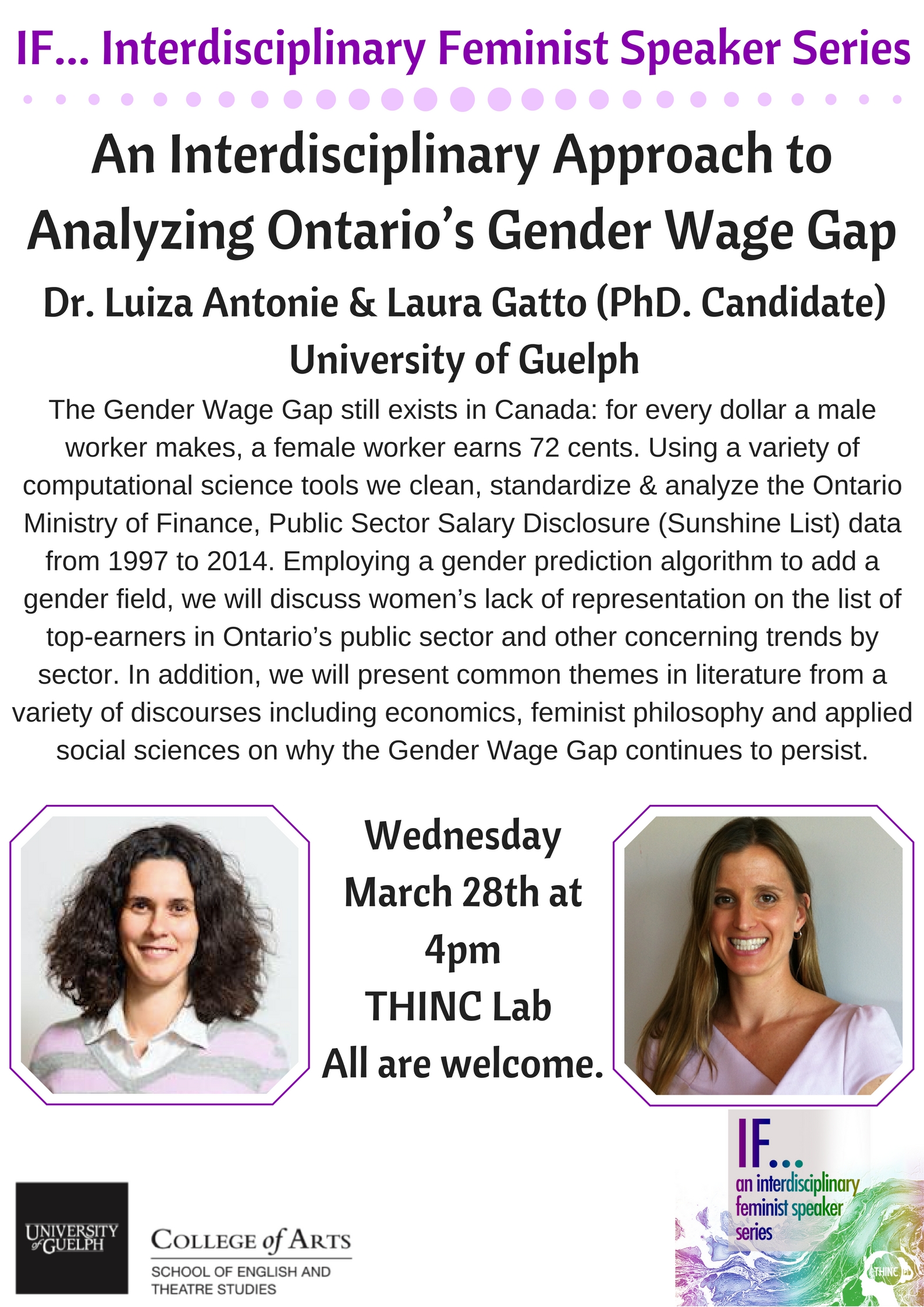 Title
: Analyzing Ontario's Gender Wage Gap
Date: Wednesday, March 28
Time: 4pm
Location: THINC Lab
Speaker: Luzia Antonie & Laura Gatto (PhD Candidate), University of Guelph
The Gender Wage Gap exists in Canada: for every dollar a male worker makes, a female worker earns 72 cents. Using a variety of computational science tools we clean, standardize & analyze the Ontario Ministry of Finance, Public Sector Salary Disclosure (Sunsine List) data from 1997 to 2014. Employing a gender prediction algorithm to add a gender field, we will discuss women's lack of representation on the list of top-earners in Ontario's public sector and other concerning trends by sector. In addition, we will present common themes in literature from a variety of discourses including economics, feminist philosophy and applied social sciences on why the Gender Wage Gap continues to persist.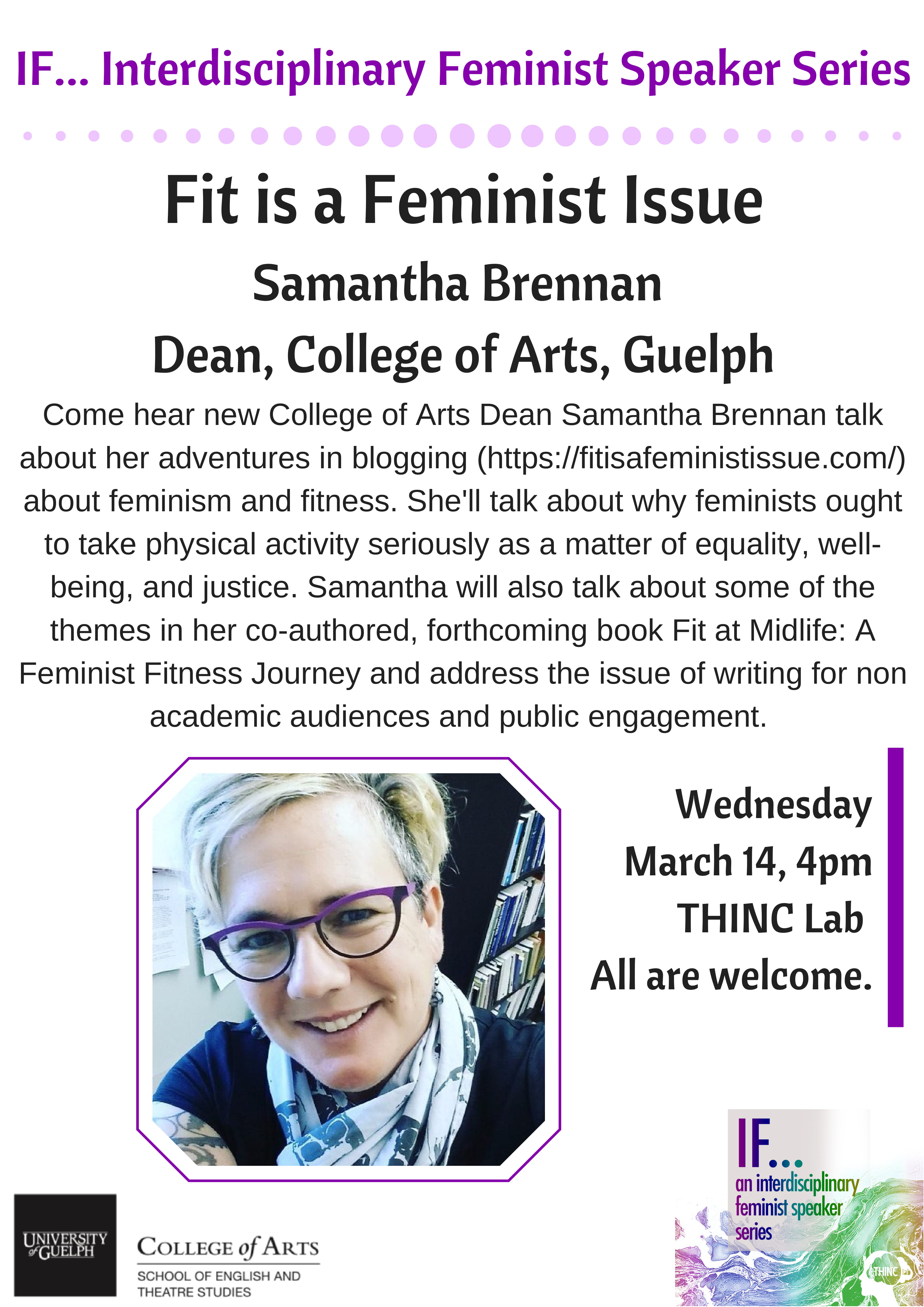 Title
: Fit is a Feminist Issue
Date: Wednesday, March 14th
Time: 4pm
Location: THINC Lab
Speaker: Samantha Brennan, University of Guelph (Dean, College of Arts)
Come hear new College of Arts Dean Samantha Brennan talk about her adventures in blogging (
https://fitsisafeministissue.com/
) about feminism and fitness. She'll talk about why feminists ought to take physical activity seriously as a matter of equality, well-being, and justice. Samantha will also talk about some of the themes in her co-authored, forthcoming book 
Fit at Midlife: A Feminist Fitness Journey 
and address the issue of writing for non academic audiences and public engagement.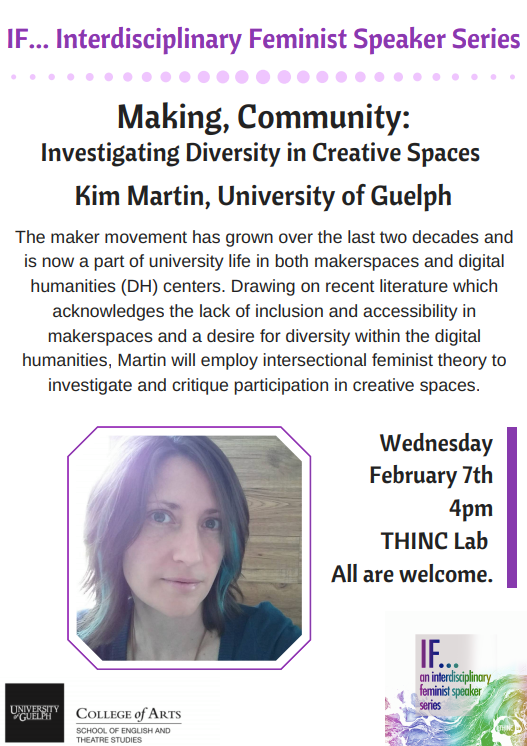 Title: Making, Community: Investigating Diversity in Creative Spaces
Date: Wednesday, February 7th
Time: 4pm
Location: THINC Lab
Speaker: Kim Martin, University of Guelph
The maker movement has grown over the last two decades and is now a part of university life in both makerspaces and digital humanities (DH) centers. Drawing on recent literature which acknowledges the lack of inclusion and accessibility in makerspaces and a desire for diversity within the digital humanities, Martin will employ intersectional feminist theory to investigate and critique participation in creative spaces. 
---
Fall 2017 IF... Speaker Series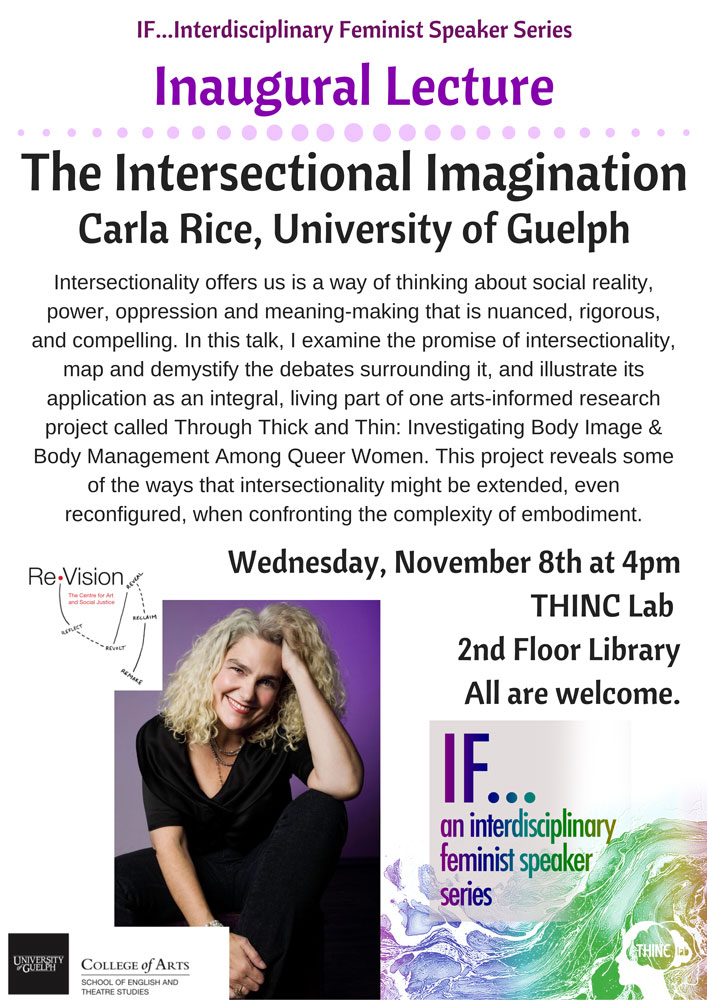 Title
: The Intersectional Imagination
Date: Wednesday, November 8th
Time: 4pm
Location: THINC Lab
Speaker: Carla Rice, University of Guelph
Intersectionality offers us is a way of thinking about social reality, power, oppression and meaning-making that is nuanced, rigorous, and compelling. In this talk, I examine the promise of intersectionality, map and demystify the debates surrounding it, and illustrate its application as an integral, living part of one arts-informed research project called Through Thick and Thin: Investigating Body Image & Body Management Among Queer Women. This project reveals some of the ways that intersectionality might be extended, even reconfigured, when confronting the complexity of embodiement.