Fiona Edmonds at Scottish Studies 2021 Frank Watson Lecture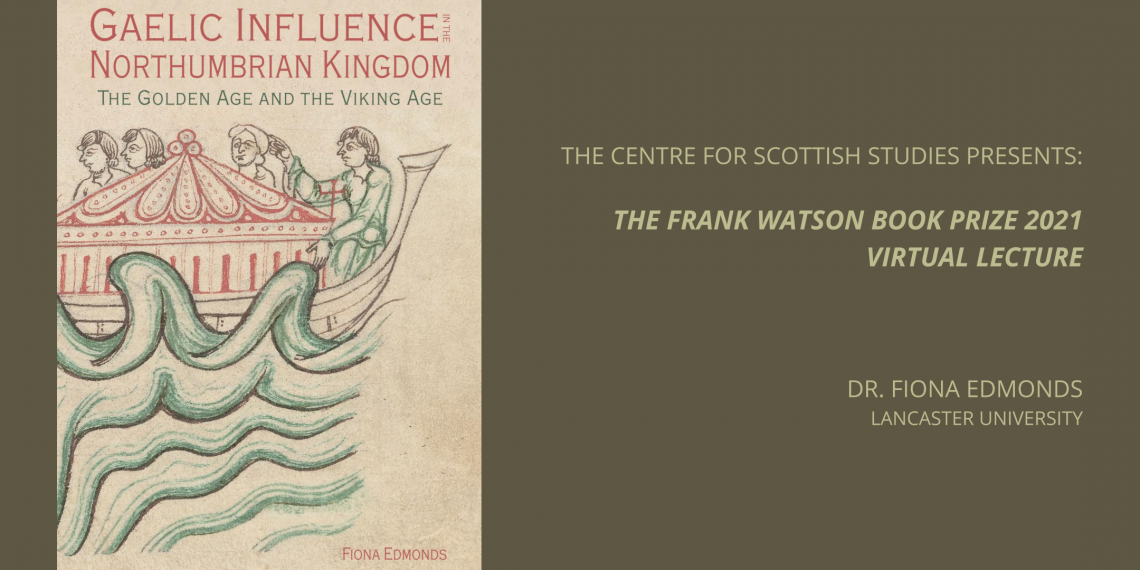 Details
The Centre for Scottish Studies is pleased to share with you details for the Frank Watson Book Prize 2021 - Virtual Lecture, Thursday 3 November, 3:00-4:00pm (EDT). 
Professor Fiona Edmonds will give a lecture that draws on the highlights of her book Gaelic Influence in the Northumbrian Kingdom: The Golden Age and the Viking Age, Studies in Celtic History 40 (Boydell and Brewer, 2019). 
Fiona Edmonds is Professor in Regional History and Director of the Regional Heritage Centre at Lancaster University (UK). 
The book tells the story of Northumbria, a kingdom that encompassed northern England as well as parts of southern Scotland. It explores influences that emanated from the Gaelic-speaking world, including Ireland, the Isle of Man, Argyll and the Scottish kingdom of Alba. The book encompasses Northumbria's 'Golden Age', the kingdom's political and scholarly high-point of the seventh and early eighth centuries and culminates with the kingdom's decline and fragmentation in the Viking Age, which opened up new links with Gaelic-Scandinavian communities.
The Frank Watson Book Prize is awarded by the Centre for Scottish Studies in odd-numbered years for the best monograph, edited collection and/or book-length original work on Scottish History published in the previous two years. 
The event is free and early registration is encouraged, as tickets are limited. 
Details and registration can be found using the Eventbrite link:
https://www.eventbrite.ca/e/gaelic-influence-in-the-northumbrian-kingdom...
Centre for Scottish Studies
scottish@uoguelph.ca 
www.uoguelph.ca/arts/scottish
Twitter: @ScottishStudies
Facebook: ScottishStudies
Instagram: @UoGCSS