our alumni
Alumni Gateway Seminars  
Each semester the Department invites some of our recent
graduates back to campus to talk about their careers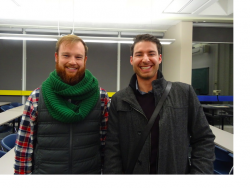 Each semester the History Department invites some of our recent graduates back to campus to talk about their careers. Our Fall 2016 Gateway Seminar, 27 October, featured Monica Finlay (MA 2011) researcher and analyst for Edelman, the world's largest communication-marketing company; Graham Shular (BAH 2012) occasional teacher in the Thames Valley District School Board; and Robbie Berardi (BAH ‎ 2012) teacher/interpreter specialising in blacksmithing at the Waterloo Region Museum. All speakers expressed how valuable a History degree is since research and communication skills are easily transferrable to a variety of fulfilling careers.  Photo: Graham Shular & Robbie Berardi
Our Winter 2016 Gateway Seminar featured Sonja Missio (BAH, History'08), a Prospect Researcher and Information Officer at North York General Foundation, and Samuel Sharp (BAH, History'12, MA History'15), a Historical Interpreter at the Gibson House Museum and a Program Instructor at Colborne Lodge Museum, Toronto.
 
Our Winter 2015 Gateway Seminar featured two recent graduates of our program: Joe Cull (BA '12), who is an archaeologist working in the Toronto area after earning an Archaeology M.A. at University College Dublin, and Lauren Katsuno, who is a teacher in Guelph.
 
Fall 2014: History Education, Diverse Careers
Barb Legault (BA '04, MA '07) and Eamon O'Flynn (BA '08) share their experiences putting their Guelph degrees to work by pursuing higher degrees at University of Toronto and Western University, and using their training in History to land positions at the Ontario Ministry of Tourism, Culture and Sport for Barb, and at the Perimeter Institute for Theoretical Physics for Eamon.
Fall 2013:  A Life in Foreign Affairs, featuring Brett Thompson 
Brett (BA '07) shares his experience as a History graduate navigating the world of graduate school, internships, and the workforce as a policy analyst at the Department of Foreign Affairs, Trade and Development in Ottawa. Brett will discuss how his Guelph History degree has shaped his career.
 What our alumni say...
Dr. Kris Gies (PhD '10) is a marketing and sales specialist at University of Toronto Press. In November, 2013 he published a piece in University Affairs on alternative careers for PhD's.
Dr. Jason Wilson (PhD '13) is a historian of Canadian music. The Globe and Mail recently interviewed him about his work, musical and historical: "Toronto's reggae roots are explored this weekend with Harbourfront's Island Soul festivities and the Irie Music Festival (with a ceremonial opening at Nathan Phillips Square on Friday with appearances by acts from the Queen Street West reggae scene in the 1970s and '80s). We spoke with Juno-nominated reggae-jazz keyboardist and historian Jason Wilson about the city's Jamaican dance music past." Read the interview at the Globe and Mail
A few of our graduates, making their mark all over the world...
> journalism / film / publishing / public relations
Jessica Clarke (BA '08) - producer, writer, on-air presenter, TV Cogeco, Milton/Halton Mills
Bradley Crawford (MA '11) - National Post
Joey Czikk (BA '09) - media startup BetaKit
Josh Dehaas (BA '08) - Maclean's Magazine
Dr. Kris Gies (PhD '10) - sales & marketing, Univ. of Toronto Press
Christian Grafen (BA '11) - account executive, Rouge Media Group, Toronto 
Monica Finlay (MA '11) - account manager, Edelman Toronto Public Relations
Emmanuel Hogg (BA, MA '08) - Executive Director, Les Publications des Histoire sociale/Social History, Carleton University
Eamon O'Flynn (BA' 08) - External Relations Specialist, Perimeter Institute for Theoretical Physics, Waterloo, ON
Will Pascoe (BA '93) - freelance filmmaker
Megan Pickard (MA '10) - editorial assistant, Univ. of Toronto Press
> libraries / museums / archives 
> music
> post-secondary / higher education
> business / private sector
Margaret Bennett (BA '06) - Financial Security Advisor, Freedom 55 Financial
Matt Cecchini (BA '07) - Residential Appraiser, Northern Ontario Appraisals Ltd.
Joe Cull (BA '12) - Researcher & Archaeologist, Stantec (Environmental Services)
Anthony Kocsis (MA) - Dollarama, Senior Director, H.R., Montreal
Ian McPhedran (MA '05) - owner, Extra Butter Coffee, Toronto
Jordan Porter (BA '08) - client manager, Cinefidès, Chengdu, China
Richelle Roth (BA '09) - Scotiabank, Analyst - Learning Programs
S. Christie Whyte (BA '11) - project manager assistant, Leda Restoration
> civil service / higher education administration
> NGOs
Cameron Klapwyk (BA '09, MA '12) - Career Development Practitioner student - Conestoga College, previously Communications Coordinator at Prison Fellowship Canada
Nicholas Miniaci (BA '13) - research and policy analyst, Egale Canada Human Rights Trust
> law / justice
> pursuing advanced degrees