Undergraduate Programs in History
History students at Guelph earn one of the most versatile degrees available.
More and more, professions and professional schools look for young people with broad training, adaptable skills and clear judgment, rather than a narrow field of training. Our graduates are flexible, intelligent, polished communicators, researchers and problem solvers who follow their passions in business, law, education, civil service, education, journalism and the arts. And they make us very proud! Visit our Alumni page in Links.
We offer:
- options for study covering the globe, from ancient to contemporary history
- thematic courses on topical issues like food and health, politics and revolution, environmental change, crime and justice, popular culture, and more
- our excellent work study program
- our transformative semesters abroad program in Paris, London, Shanghai, Kraków
- mentorship by dedicated and approachable professors who love what they do
From Joe Cull, one of our Honours History students:
      "Many people have asked me during my undergrad 'what do you do with a History degree?'
      I always reply 'essentially anything.' 
      I am currently working as an Archaeologist at an engineering company carrying out Cultural Resource Management (CRM) surveys. This job has allowed me to travel across Ontario's rural landscape and see some of the most beautiful places that have been lost to history. The sites that I work on can range in time from first contact to the colonial era or, in some cases prehistoric, archaic, and paleolithic. Some of which I will never forget!
      Take initiative; the future is incredibly bright for students with a History Degree."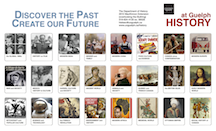 Download our Undergraduate brochure
  For current undergraduate degree requirements
   visit the degree requirements page. 
For more information about undergraduate work and registration procedures, please contact one of our current Undergraduate Program Advisors:
Dr. Kevin James
1011 Mackinnon Extension
(519)824-4120 ext. 53226
advisorhist@uoguelph.ca
Dr. Reneé Worringer
1004 Mackinnon Extension
(519)824-4120 ext. 52442
advisorhist@uoguelph.ca