History Society Ghost Walk in Downtown Guelph
Location
meet at Guelph Central Station (79 Carden St.)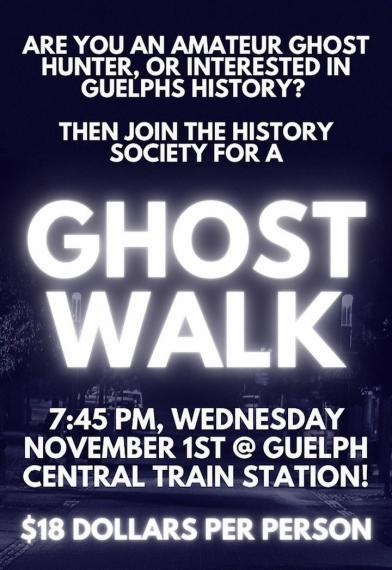 Details
GHOST WALK:
Join the History Society for a historical ghost walk discovering the spooky history of downtown Guelph!
On Wednesday, November 1st, the History Society and Ghost Walk of Guelph is organizing a haunted, historical ghost walk of downtown Guelph! This event is open to anyone interested in Guelph's spooky history! Tickets cost $18 per person and must be e-transferred to historysocietyuofg@gmail.com. Members are asked to meet at Guelph Central Station (79 Carden St.) at 7:45 p.m.
To secure your spot on this fantastic tour, RSVP  using this link https://docs.google.com/forms/d/e/1FAIpQLScwlj1dTfdFlJz_pLfBpBg_17wIu6zDWYfPp6L4wmnJVjNZ9g/viewform?usp=sf_link by October 29!
We look forward to seeing you there!