Launch! New Food History Exhibit - Healthy, Happy, Wholesome: Cooking & Wellness in Canadian History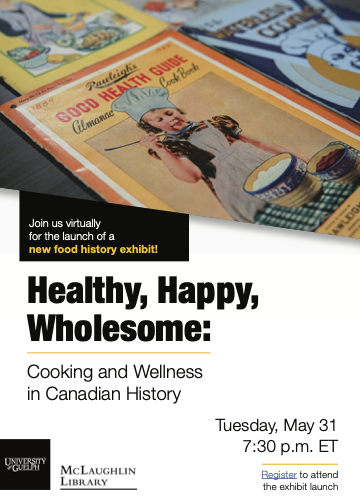 Details
You're invited to join us virtually on Tuesday, May 31 at 7:30 p.m. ET for the launch of our new cookbook themed digital exhibit "Healthy, Happy, and Wholesome: Cooking and Wellness in Canadian History" in partnership with the Culinary Historians of Canada.  
Inspired by the conversations about health stemming from the COVID-19 pandemic, the University of Guelph history students who created this digital exhibit invite you to explore how Canadians thought about healthy eating and wellness in the past by examining cookbooks from the 19th and 20th centuries. The exhibit is a project by students taking HIST*3240: Food History.
The event will include a brief virtual tour of the exhibit and formal remarks from: 
·       Dr. Rebecca Beausaert, U of G Adjunct Professor in the Department of History 
·       Ashley Shifflett McBrayne, Acting Special Collections Librarian 
·       Dr. Catherine Carstairs, U of G Professor in the Department of History 
·       Gary Draper, Donor of many of the featured cookbooks 
·       Anne Lindsay, O.C., Home economist and Canadian food writer 
·       Fiona Lucas, Culinary Historian and Co-Founder of the Culinary Historians of Canada 
Register to attend the exhibit launch. 
Hope to see you there! 
Rebecca Beausaert, PhD (she/her)
Adjunct Professor
Department of History
University of Guelph