'From Our Mothers' Kitchens': Cooking in Rural Canada - Digital Exhibition Launch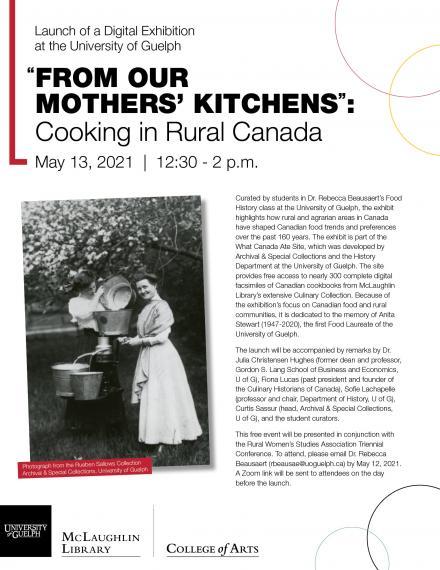 Details
Curated by students in Dr. Rebecca Beausaert's Food History class at the University of Guelph, the exhibit highlights how rural and agrarian areas in Canada have shaped Canadian food trends and preferences over the past 160 years. The exhibit is part of the What Canada Ate site, which was developed by Archival & Special Collections and the History Department at the University of Guelph. The site provides free access to nearly 300 complete digital facsimiles of Canadian cookbooks from McLaughlin Library's extensive Culinary Collection. Because of the exhibition's focus on Canadian food and rural communities, it is dedicated to the memory of Anita Stewart (1947-2020), the first Food Laureate of the University of Guelph.
The launch will be accompanied by remarks by Dr. Julia Christensen Hughes (former dean and professor, Gordon S. Lang School of Business and Economics, U of G), Fiona Lucas (past president and founder of the Culinary Historians of Canada), Dr. Sofie Lachapelle (professor and chair, Department of History, U of G), Curtis Sassur (head, Archival & Special Collections, U of G), and the student curators. 
This free event will be presented in conjunction with the Rural Women's Studies Association Triennial Conference. To attend, please email Dr. Rebecca Beausaert (rbeausae@uoguelph.ca) by May 12, 2021. A Zoom link will be sent to attendees on the day before the launch.