Physical Education in Northern Scotland: Wade Cormack at Scottish Studies Colloquium
Location
132 MacKinnon Bldg., University of Guelph main campus
Details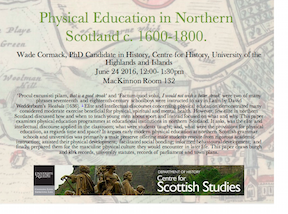 The Centre for Scottish Studies at the University of Guelph presents its Roundtable Series for the summer! Friday 24 June, 12:00-1:30pm: Wade Cormack, PhD Candidate in History at the University of the Highlands and Islands (UHI) and Guelph alumnus, will give a talk titled "Physical Education in Northern Scotland c. 1600-1800."
"This paper examines physical education programmes at educational institutions in northern Scotland. It asks, was the elite and intellectual discourse applied in the classroom; what were students taught; and, what were the provisions for physical education, as regards time and space? It argues early modern physical education at northern Scottish grammar schools and universities was primarily a male preserve offering male students respite from rigorous academic instruction; assisted their physical development; facilitated social bonding; informed behavioural development; and finally, prepared them for the masculine physical culture they would encounter in later life. This paper draws burgh and kirk records, university statutes, records of parliament and town plans."
The Roundtable Series talks are held in MacKinnon Room 132. As usual, drinks and snacks will be available. This event is open to the wider community and free of charge.
For more information, visit
https://www.uoguelph.ca/scottish/events/roundtables and our FB page,
https://www.facebook.com/scottishstudies/
You can also follow us via Twitter! @scottishstudies