Rural Women's Studies Association 14th Triennial Conference
Location
This is a virual conference. More details to follow.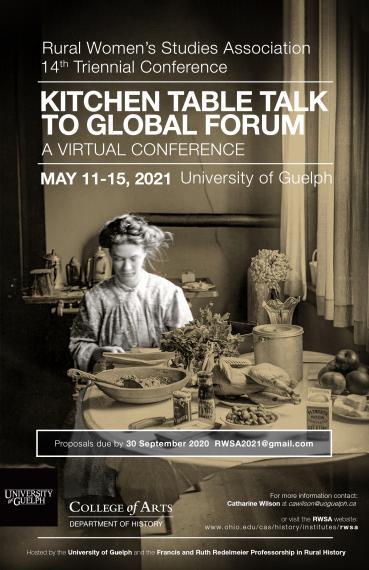 Details
From May 11 to 15, 2021, the RWSA is hosting their 14th Triennial Conference, Kitchen Table Talk To Global Forum Virtual Conference at the University of Guelph.
The RWSA is an international association to advance rural women's / gender studies in a historical perspective. We welcome public historians, archivists, graduate students, rural organizations and communities as conference participants, as well as scholars from diverse fields, including sociology, anthropology, literature, Indigenous Studies, and history. 
We encourage submissions focusing on:
Rural women and mental health

Rural women and food justice

Indigenous women

Rural women and food tourism

Rural women and technological and biological innovation

Food production, preparation, rituals, hospitality, etiquette and display

Table talk issues concerning family, community, politics, legislation, and markets
For more information, please contact Catharine Wilson at cawilson@uoguelph.ca.
Proposals due on: September 30, 2020
Email to RWSA2021@gmail.com