The Scottish Inn: Historical and Comparative Perspectives: Prof. Daniel Maudlin, Dr. Vaughn Scribner and Theresa Mackay (moderated by Prof. Kevin James) - Scottish Studies virtual talk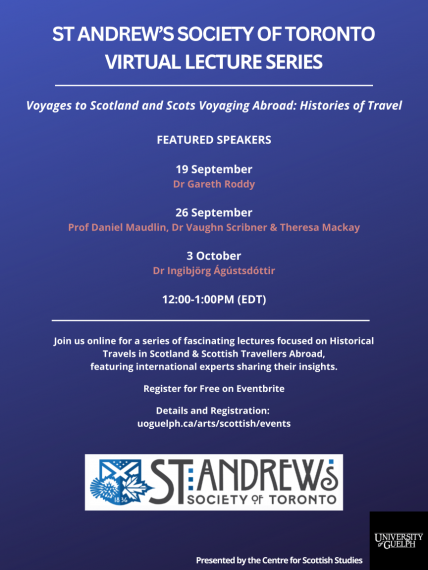 Details
Join the Centre for Scottish Studies online this fall for a series of fascinating lectures focused on Historical Travels in Scotland & Scottish Travellers Abroad, featuring international experts sharing their insights.
Registration is free!
Voyages to Scotland and Scots Voyaging Abroad: Histories of Travel
Featured Speaker:
Tuesday 26 September 2023, 12:00-1:00pm (EDT)
Prof. Daniel Maudlin, Dr. Vaughn Scribner and Theresa Mackay (moderated by Prof. Kevin James) 
The Scottish Inn: Historical and Comparative Perspectives
Eventbrite - Details and Registration (26 September 2023) 
    Later this semester...
Tuesday 3 October 2023, 12:00-1:00pm (EDT)
Dr. Ingibjörg Ágústsdóttir
Isobel Wylie Hutchison and Iceland
Eventbrite - Details and Registration (3 October 2023)
for more information contact:
Centre for Scottish Studies
University of Guelph
scottish@uoguelph.ca 
uoguelph.ca/arts/scottish 
Twitter: @ScottishStudies
Facebook: ScottishStudies
Instagram: @UoGCSS