Alan Gordon interviewed on Canada 150 in The Ontarion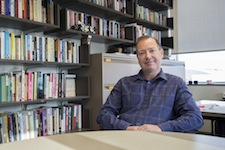 This week our acting Department Chair and historian of Canada, Dr. Alan Gordon, is interviewed in The Ontarion.
History: Canadian Confederation celebrates sesquicentennial in 2017
2017 marks the 150th year of the Confederation of Canada; where in 1867, the British North America Act was given royal assent by Queen Victoria, and created the Dominion of Canada.
The Canadian Government has already announced a yearlong initiative to celebrate the sesquicentennial of the Confederation of the nation, beginning with the New Year's Eve celebration in Ottawa, branded under the "Canada 150" banner. The Ontarion discussed the significance of the sesquicentennial with University of Guelph history professor, Dr. Alan Gordon. "It's part of democratic citizenship to know where you are coming from, what this country is about and how it developed," said Gordon in regards to the importance of celebrating this milestone. Gordon discussed the challenges in celebrating the Canadian Confederation.
...read the rest of the story at The Ontarion.