PhD Candidate Lisa Cox Co-Author of New History of the OVC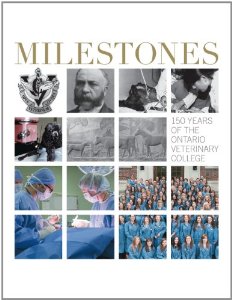 With 150 years of history come a number of stories, images and successes, and the Ontario Veterinary College (OVC) will celebrate all of these with the release of a new book this Alumni Weekend. Milestones: 150 Years of the Ontario Veterinary College includes photos and details from the opening of the first veterinary college in Canada and the United States to today's OVC. The book will be available for purchase during Alumni Weekend, and later on Amazon.com. Co-authors Lisa Cox, a PhD history candidate, and OVC associate dean Peter Conlon dug through the University archives and interviewed former faculty and donors to find the 150 most interesting stories. "I think the biggest challenge when creating a book like this is to determine the balance between historical and modern," said Cox. "We're talking about a school that was so critical to the professionalization of veterinary medicine, so there are many historical achievements. But we also have some great modern successes, so a significant issue is finding ways to integrate both into the book."
Read the rest of the story...