Rebecca Beausaert on Canadian Culinary History Exhibit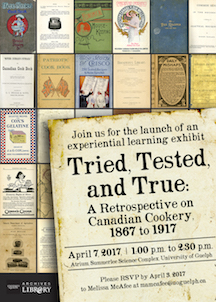 The Canadian Culinary History Exhibit opens April 7 in McLaughlin Library on the University of Guelph main campus. All are welcome to attend the opening!
From Guelph Today:
Cooks are an essential bridge between farmers and consumers, and always have been.
With creativity and resourcefulness, they turn ingredients into meals. They make raw commodities useful.
And many of them regularly turn to their cookbooks for help.
Modern cooks aren't so tied to their kitchens. Today, about 35-40 per cent of the food dollar goes to food eaten outside the home.
But not so in the good old days. Then, most cooks (typically women) had few options other than to prepare almost everything themselves. Cooking was more than a leisurely pursuit, and cookbooks – especially those called domestic manuals -- encompassed activities in, and sometimes beyond, the kitchen.
For example, The Housewife's Library, published in Guelph in 1883, proudly purports to be "furnishing the very best help in all the necessities, intricacies, emergencies and vexations that puzzle a housekeeper in every department of her duties in the home."
Such books fascinate thoroughly modern food historian and adjunct professor Dr. Rebecca Beausaert, who teaches the food history course (HIST*3240) at the University of Guelph, home of one of the most extensive special culinary arts collections in North America. "These books give you a glimpse into Canadian society back then," she says. "They were well used, and they shed light on the holistic role of the newly minted housewife and how she had to take so much into her own hands, not just the health and nutrition of her family."
Read the rest of the story at Guelph Today