Recent Grad Katie Anderson Speaks on Ontario Agricultural Animal History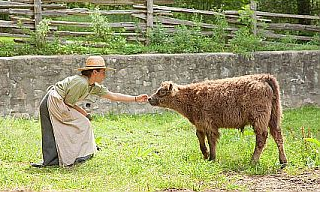 Recent graduate Katie Anderson (MA '14) is giving a presentation on July 4th at Doon Heritage Village of the Waterloo Regional Museum on her Master's Thesis research, completed here in the Department last year. Katie's talk is part of the "History Under the Trees" event sponsored by the Waterloo Historical Society, which this year is themed: "Barnyard Genealogy: Livestock in Early Twentieth Century Ontario." Katie's excellent thesis, "'Hitched Horse, Milked Cow, Killed Pig': Pragmatic Stewardship and the Paradox of Human/Animal Relationships in Southern Ontario, 1900-1920" contributes to the Department's strengths in Canadian rural history. Katie is also currently a teacher-interpreter at Joseph Schneider Haus, and just finished a Bachelor of Education. 
For more on "History Under the Trees" visit Doon Heritage Village.