So They Want Us to Learn French - Matthew Hayday's New Book is Here!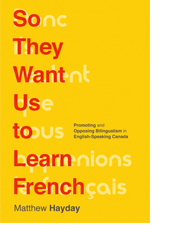 Dr. Matthew Hayday has just published new research with UBC Press:
So They Want Us to Learn French:  Promoting and Opposing Bilingualism in English-Speaking Canada
Since the 1960s, bilingualism has become a defining aspect of Canadian identity. And yet, fifty years after the Royal Commission on Bilingualism and Biculturalism was formed and with over forty years of federal government funding and supports for second-language education, relatively few English Canadians speak or choose to speak French. What happened? Why has personal bilingualism failed to increase as much as attitudes about bilingualism as a Canadian value? Historian Matthew Hayday explores the various ways in which bilingualism was promoted to English-speaking Canadians from the 1960s to the late 1990s. He analyzes the strategies and tactics employed by organizations on both sides of the bilingualism debate. Against a dramatic background of constitutional change and controversy, economic turmoil, demographic shifts, and the on-again, off-again possibility of Quebec separatism, English-speaking Canadians had to respond to the bilingualism issue and face the decision of whether they and their children should learn French. So They Want Us to Learn French places these personal and national experiences within a historical, political, and social context. For anyone interested in language, education, national identity, and Canadian political history, this book provides a vivid narrative of a complex, controversial, and fundamentally Canadian question.