David Lawrence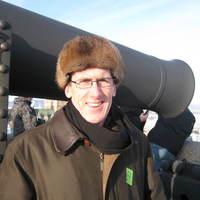 Education
Ph.D. University of Toronto, 2006
M.A. Kings College, University of London, 1992
M.A. University of North Carolina-Greensboro, 1987
B.A. Wake Forest University, 1984
Professional
Sessional Instructor, University of Guelph, 2015-2019
Sessional Instructor, York University, 2008-2019
Sessional Instructor, Wilfrid Laurier, 2019
Sessional Instructor, Trent University, 2011-2015
Sessional Instructor, University of Toronto, 2003-2009
Fellowships
Folger Library, O.B. Hardison Fellowship, 2014
Huntington Library, Francis Bacon Foundation Fellowship, 2011
Yale Center for British Art, Visiting Scholar Award 2011
SSHRC Postdoctoral Fellowship, 2009-2011
Research
Early Modern and Modern Military History
Early Modern and Modern Britain
Urban History and Civic Military Performance
Elite Culture and Print Culture in Early Modern Britain
Merchants and Mercantile Culture
European History 1500-present
World War I and World War II
Masculinity
Publications
The Complete Soldier: Military Books and Military Culture in Early Stuart England, 1603-1645. Leiden: Brill, 2009.
"The Honourable Artillery Company Quarterage Book, 1628–1643: New Evidence of the Company's Pre-Civil War History," Journal of the Society for Army Historical Research (forthcoming)
 "The HAC Quarterage Book, 1628-1643: Annotations, Marginalia and the Social History of the Company on the Eve of the English Civil War," Journal of the Honourable Artillery Company (pending)
"Reappraising the Elizabethan and Early Stuart Soldier: Recent Historiography on Early Modern English Military Culture," History Compass, 9/1 (2011): 16–33.
"Great Yarmouth's Exercise: Urban Militarism and Civic Military Performance in Early Stuart England," in Worth and Repute: The Play of Gender in Late Medieval and Early Modern Europe, edited by L. Woods and K. Kippen. Toronto: University of Toronto Press, 2010.
"The Evolution of the English Drill Manual: Soldiers, Printers and Military Culture in Jacobean England." In Negotiating The Jacobean Printed Book edited by A. P. Langman, Aldershot, UK: Ashgate Publishing, 2011.
"History Didactics in the Post-Cold War World: Central Asia, the Middle East and China," The History Teacher, Volume 33, Number 4, August 2000, pp. 1–26. (with L. Forsyth and D. Gould)
Recent Book Reviews:
Review of The English People At War in the Age of Henry VIII by Steve Gunn. Renaissance Quarterly (pending)
Review of Crusade Propaganda in Word and Image in Early Modern Italy: Niccolò Guidalottos' Panorama of Constantinople (1662) by Nirit Ben-Aryeh Debby. Renaissance and Reformation, Vol. 39 No. 3 (2016): 174–176.
Review of The English Civil War: A Military History by Peter Gaunt. Michigan War Studies Review, Vol.  61, July, 2016. http://www.miwsr.com/2016-074.aspx
Review of Fatal Rivalry: Flodden 1513 by George Goodwin. Renaissance Quarterly, Vol. 67, No. 2 (Summer 2014), pp. 624–625.
Review of The Business of War: Military Enterprise and Military Revolution in Early Modern Europe by David Parrott. Michigan War Studies Review, Vol. 58, July, 2013. http://www.miwsr.com/2013-058.aspx