Edward Smith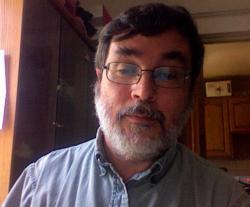 Office:
2003 Mackinnon Extension / Guelph-Humber 208
Education
Ph.D.: University of Guelph, 2000
M.A.: McMaster University, 1993
B.A.: McMaster University, 1998
 
Professional
Sessional Instructor, University of Guelph and University of Guelph-Humber, 2000-
 
Research
Religion and society in the Atlantic world
Religious beliefs and practices of ordinary believers
I am currently writing a book length essay on religion and society in the Atlantic world from 1500 to the present. It will be designed for use on websites and eReaders as an interactive enhanced eBook. This format is ideal for a textbook, and presents history in a more realistic form allowing for the depth which marks humanity and its social existence that is more difficult to present in a traditional linear text. A preliminary version is already in use for the students of Hist2260DE.
My particular interest lies in studying the multifarious points of contact and intermingling between religion and society in history, with a special emphasis on religion at the grass roots as something one does, rather than merely assents to in terms of doctrine. I borrow this from the importance of 'lived experience' in gender studies.        - Ted
 
Publications
Healers and Healing in the Dundas Valley (Dundas: The Dundas Historical Society Museum, 2009).

Dundurn Castle: Sir Allan MacNab's Hamilton Home (Toronto: James Lorimer and Company, 2007).
with Dr. G. Patrick Sweeny, M.D., Diseases and Doctors: Medical Practice in Burlington, Ontario 1791-1961 (2005).
Hamilton's Doctors, 1932-1982 (Hamilton: Ambrose McGhie Medical Museum, 2004).
"Working Class Anglicans: Religion and Identity in Victorian and Edwardian Hamilton, Ontario," Histoire Sociale/Social History 36, no. 71 (May 2003): 123-144.
"History of the Hamilton Association for Community Living" [pamphlet] (Hamilton: HACL, 2003).
By Design: The Role of the Engineer in the History of the Hamilton-Burlington Area (Hamilton: Hamilton Engineering Interface Inc., 2001).
Sacred Heart - A History [a history of the Church of the Sacred Heart of Jesus, Hamilton, Ontario in the parish 75th anniversary volume.] (Hamilton: Sacred Heart of Jesus Parish, 1996).

"150 Years of Vision, Faith, and Courage: The Chamber's Amazing Story," in the 150th anniversary issue of Panorama, The Official Publication of the Hamilton & District Chamber of Commerce 22 (June/July 1995).